Two cars of a Metro train uncoupled while traveling between Union Station and NoMa-Gallaudet Friday with over 100 people aboard. No injuries were reported, but D.C. Fire and EMS was going to evaluate two passengers.
The train was carrying 108 people out of Union Station about 12:20 p.m. when two cars separated, D.C. Fire and Metro said. The two front cars disconnected from the back cars of the train, a photo shows.
"It was a big jolt and then the train just stopped," said passenger Xavier Cavanaugh.
Metro called it an "undesired uncoupling." The train was then stalled outside Union Station, according to Metro.
All passengers have been removed from the trains.
"I was stuck on train 6079 for three hours," said Andy Footman, a passenger on the uncoupled train. "People were getting agitated."
"I'm glad everybody was safe, that's the most important thing," Footman said.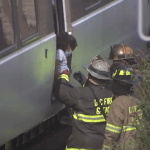 "We sat there almost three hours," rider Gloria Cross-Porter said. "Metro did not say anything to us. They just left us as if we were fools."
Passengers said they were concerned about cramped conditions and ventilation during the pandemic. Some passengers said they opened the doors to let in air.
"We were asking what's going on," Porter said. "We could not do anything because we weren't even sure. They didn't tell us anything
At the time of the train's uncoupling, a small fire on a railway tie ignited but was extinguished by a Metro employee, officials said.
"There appeared to have been a very small fire on a rail tie at that same time. That was extinguished by a Metro employee with a fire extinguisher," a D.C. Fire and EMS representative said.
Metro said in a statement that once it was determined there was no immediate danger to people on board the train, it was about executing the safest evacuation, not the fastest. No injuries were reported.
Metro planned to send the front cars ahead to NoMa-Gallaudet and the rear cars back to Union Station.
Red Line service remained temporarily suspended between Gallery Place and Rhode Island Avenue for several hours on Friday. As of 5:30 p.m. service has been restored.
Several trains were turned back after the incident, according to @MetrorailInfo on Twitter. Shuttle buses were provided, and regular Metrobus service was available.
Porter didn't see a shuttle, so she caught a taxi.
"It was an awful experience, and the way we were treated was down right bad," Porter said.
She said she plans to file a complaint with Metro and hopes there's better communication with passengers if something like this happens again.
The cause of the uncoupling is under investigation, Metro says.
Stay with News4 for more on this breaking news
Correction (Oct. 9, 2020 5:30 p.m.): An earlier version of this story reported a total of 103 passengers on the train. The final passenger count has been updated to 108.