If you saw the Maslin family walking down the street, you might think, "What a beautiful family." And you'd be right. But there is so much more to their story than that.
Six and a half years ago, young father Thomas "TC" Maslin was robbed and brutally attacked as he walked home to Capitol Hill after a Washington Nationals game. His attackers shattered his skull with a baseball bat, leaving him with a severe traumatic brain injury that left him unable to talk, read or use the right side of his body.
In the D.C. region and beyond, our hearts ached for Maslin and his wife, Abby, and 2-year-old son, Jack.
Today, Maslin's recovery continues, and Abby Maslin has released a memoir. Jack is now 8 years old, and he has a little sister, Rosie, who's 2 years old.
Maslin told News4 his years of therapy have led to major victories. He's back at work in his former position as an environmental analyst. And his injury is not immediately apparent.
"It's sort of a — what's the term? Invisible injury. Because you wouldn't see [it] walking down the street, but if you listen to me or sit with me for long enough, you might catch it eventually," he said.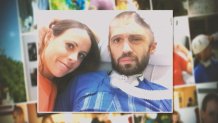 His first goal was simply to be able to read to his son.
Local
Washington, D.C., Maryland and Virginia local news, events and information
"I saw the value of having a son, having my wife, having my health, and I just kept my eyes on the prize of getting back to that," he said.
Abby Maslin was right there with him.
"If I hadn't kept the idea in my heart that this was possible, I don't know that we would be here," she said. "I think the hope is what has kept us working so tirelessly over all these years."
Their son has been important to Maslin's recovery too.
"Jack has been a light throughout the entire journey," Abby Maslin said. "He was the constant reminder that life goes on, that life is vibrant, that there is light in the world during really, really dark days."
The Maslins are back to living in their old neighborhood, in Capitol Hill, and Abby Maslin teaches at the same elementary school she left years ago to help her husband recover.
She recently released a book about their experience. It's called "Love You Hard: A Memoir of Marriage, Brain Injury, and Reinventing Love."
"This is a book about brain injury, but it's a book for anybody who had to reinvent their life," she said.
The memoir describes the terrible shock of her husband's injury, the pain of his long recovery and what an emotional journey it has been for them all. It takes its title from something Maslin said to his wife when he couldn't find the right words.
"I look into his eyes, stunned to silence. TC's broken language has punctured the heart of the matter: Love is hard," Abby Maslin wrote.
All these years after the random act of violence on Aug. 12, 2012, life is not back to normal for the Maslin family. Maslin has aphasia, in which speaking can be difficult. He tires more easily, and the long-distance runs he used to love are gone forever.
But the couple says they face life without fear, and with new priorities.
"Pre-injury, I was very future-oriented, in terms of planning and financially and career and the kids and houses and things like that. Now, I think I'm way more in the present moment," Maslin said.
His wife echoed the sentiment.
"There was no perfect before. There's no perfect now. We had a beautiful life before. We have a beautiful life now," she said.
Here's when you can see Abby Maslin talk this month about her book:
Tuesday, March 12, 6:30 p.m.
Launch party
East City Bookshop
645 Pennsylvania Ave. SE
Washington, D.C.
Sunday, March 24, 2 p.m.
Bards Alley
110 Church St. NW
Vienna, Virginia
Thursday, March 28, 7 p.m.
Curious Iguana
Frederick, Maryland
Saturday, March 30, 6:30 p.m.
Old Town Books
Alexandria, Virginia