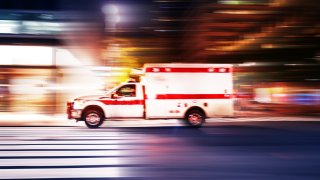 Six people were transported to the hospital on Saturday after police said it appeared a vehicle left the roadway and struck pedestrians on a sidewalk in Gaithersburg, Maryland.
Around 7:45 p.m., pedestrians were struck on Goshen Road and Girard Street, according to Montgomery County Fire and Rescue Service Chief Spokesperson Pete Piringer.
Gaithersburg City Police said a preliminary investigation revealed that silver Jeep Cherokee lost control after making a right turn onto N Summit Avenue from Odendhal Avenue.
The six people treated were a family and included several children, Piringer said in a tweet. Their injuries were not life-threatening. 
The driver of the Cherokee, 25-year-old Elder Ramos Hernandez of Gaithersburg, was charged with driving under the influence and related charges.
This is a developing story. Refresh for updates.