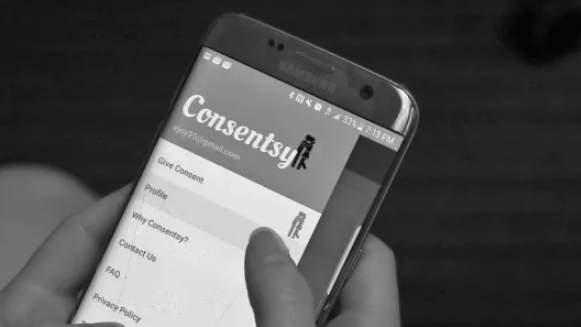 This story was reported as part of The New Boundaries project at American University. Go here to see the full project, at newboundaries18.org.
Want to have consensual sex? There's an app for that – a few, actually.
Consent apps allow the involved parties to use their cellphones to record themselves authorizing specific sexual acts. Recordings can take various forms – text, audio or video – and are stored online for safekeeping.
And the records don't just sit there collecting digital dust; they can be retrieved by police if someone reports a sexual assault.
But can recordings from consent apps hold up in court?
The answer: most likely no, Andy Horwitz, director of the Criminal Defense Clinic at Roger Williams University School of Law, told The New Boundaries.
"Consent has to happen at the point of physical contact. Whether you consent in the past is irrelevant to whether or not you presently consent," he said.
"If you fast forward to a trial in which someone is accused of unwanted sexual contact and someone claims they have written consent, unless consent is at the moment of actual consent, it doesn't establish anything," Horwitz said.
Eric Shamis, an assistant Commonwealth's attorney in Loudoun County, Virginia, said courts could take consent app use into consideration.
"When sexual assault charges are investigated, consent apps would be one of many factors examined," he said. "They won't change how sexual assault laws in Virginia are applied."
Relying on Technology
Can giving consent be condensed in a few mobile apps? The possibility leaves some skeptical.
"My concern would be there is an assumption that is being made through [a consent] app," said Susie Chase, an executive director with the anti-abuse nonprofit One Love.
The organization was founded in memory of Yeardley Love, a University of Virginia student who was killed in 2010 by her abusive boyfriend. It works, in part, to teach young people about boundaries.
"We can't think of consent as a blanket. It needs to be an active, ongoing conversation, not a static, one-time yes," Chase said.
Legally, consent is complicated.
"Will [consent] apps do more damage than good? My guess would be yes," said Horwitz, of the Roger Williams University School of Law. "It can create misunderstandings of what consent is, how it works and when it is legally relevant."
The Apps
Despite fears about legal implications, these apps don't allow widespread consent at any time. Consent can be revoked at any time, the apps' websites all are careful to point out.
So if apps cannot guarantee consensual sex, what purpose do they serve?
For Consentsy, the goal is to start a conversation before sex and provide a record of an assault does occur.
"We wanted to facilitate a reason for two people to communicate," said Christopher Sutton, one of the app's co-creators.
After downloading Consentsy, a user records a video of themselves reading a script aloud.
"Rather than a generic finger swipe or signature, we have pre-designed text so that people can use this as a springboard for what they want, and to come to an understanding," Sutton said.
After recording, the video is encrypted and stored in the cloud, only retrievable by law enforcement agencies. None of Consentsy's creators or users can access the videos.
"We don't want any person at some later date to use these video recordings as a trophy or release it for some way not intended," Sutton said.
Like Consentsy, Yes to Sex aims to foster dialogue on consent, but also on safe sex practices.
Entrepreneur Wendy Mandell Geller said she created the app to make it easier to talk about sexually transmitted diseases, protection and boundaries. Saying "yes" or "no" can be easier to do using an app than in person, she said.
After downloading Yes to Sex, two parties anonymously create an audio recording that is stored in the cloud for a year. In the recording, both parties say "yes" to sex, and say a randomly generated safe word that appears on screen.
"We need to create forms and mediums that sexually active adults can use or be exposed to about consent," Geller said. "Handing them a flyer or talking to them at orientation isn't enough."
For these very reasons, Yes to Sex caught the attention of Keith Labelle, who teaches bystander intervention at the University of Rhode Island.
"[The Yes to Sex] app teaches students and people about consent before engaging in the act. Often that conversation gets lost or never happens in the first place," he said. "It's not a complete prevention plan, but I think it's a good start."
Labelle is working on integrating the app into University of Rhode Island trainings. He said he expects other colleges to use it as well.
"We want to prevent all sexual assaults, but even if we can only prevent one, then it's one that has been prevented that wouldn't have been if it weren't for this technology," he said.
App Developers Hit Challenges
An app called Guardrail was designed to help survivors of sexual assaults. However, it's not currently available.
Guardrail would let survivors record a video describing what happened to them. Then, the video would be encrypted and stored offline. It only would be retrievable by police. It was developed by the Institute for the Study of Coherence and Emergence, an nonprofit that analyzes how context influences social situations.
"We learned from Harvey Weinstein that there are two things going on: Perps intimidate and threaten victims to get the behavior they want, and they coerce silence," said Michael Lissack, the executive director of the group. "What Project Guardrail does is remove perps' ability to count on that silence."
Lissack said he wants the app to deter sexual assaults, as well as help survivors.
He said he wants to see changes in how we talk about sex.
"Consent is the wrong word. Consent means giving someone permission to do something to you or on your behalf. But sex is not something done to you, it's something done with you," he said. "This wrong word forces the discussion in a particular direction. The question has to be about with, not to."
The makers of Guardrail worked on the app for more than three years, but it's still in the beta phase. Two other apps – I've Been Violated, an app for recording information about a sexual assault, and We Consent, a social experiment consent app – also are no longer available for download.
"We need a corporate sponsor. We have run out of money. We are a nonprofit," said Ren Brown, deputy director of the group that created Guardrail.
Guardrail isn't the only app hit by challenges.
Good2Go, one of the earliest consent apps, is now defunct, while one of the newest consent apps, LegalFling, has yet to materialize despite a promised debut in February 2018.
LegalFling's website says: "The app will be available for Android and iOS when we have enough supporters for our Project."