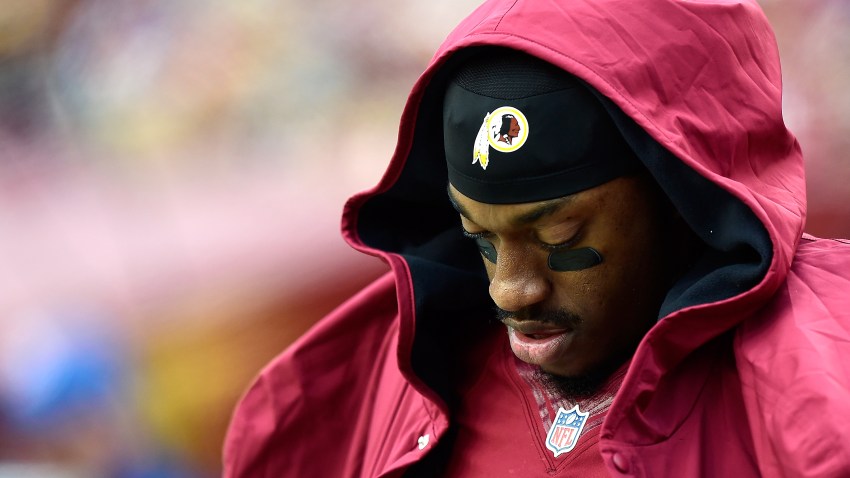 Let's talk about the Redskins' embarrassing, atrocious, despicable, pathetic and asinine loss to the 1-8 Buccaneers at home Sunday.
With Robert Griffin III throwing two interceptions (one returned for a touchdown) and being sacked six times, fans have seemingly had enough of the quarterback most of those same fans anointed as the franchise savior two years ago, chanting "We Want Colt [McCoy]!" during the game.
"We want Colt," fans are starting to chant. — Mike Jones (@MikeJonesWaPo) November 16, 2014
Man the we want colt chants are real here — Dan Steinberg (@dcsportsbog) November 16, 2014
A few fans chanting 'We want Colt!' — Tarik El-Bashir (@TarikCSN) November 16, 2014
McCoy, who started the season as Washington's third-string quarterback, usurped Kirk Cousins after the backup could not go more than two plays -- a rough estimate -- without turning the ball over, leading the Redskins to two victories against the Titans and rival Cowboys. Since Griffin returned from his ankle injury before the bye week, the Redskins have lost both games.
NBC analyst Rodney Harrison has seen enough of Griffin, saying on-air Sunday evening that "If you need six more games to determine if he's going to be your future quarterback, you need a new coach and a new scouting department." Griffin himself recognizes that he has to be better as well.
What do you think? The season is a disaster and Griffin is not the transcendent franchise-altering talent we hoped he would be. What would you do?
---
Follow Adam on Twitter @AdamVingan and e-mail your story ideas to adamvingan (at) gmail.com.