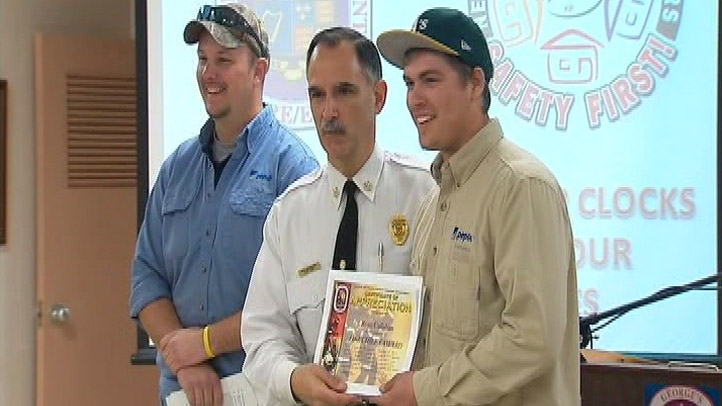 A group of Pepco workers received the Prince George's County Fire Chief's Award for extinguishing a house fire and saving a child's life.
The honors went to lead line mechanics Donny Pfeifer and Sean Cecil and line mechanic Ryan Callahan.
On Oct. 17, the employees were preparing electric service for a home being renovated on Ritchie Marlboro Road in Upper Marlboro, Md., when they noticed smoke coming out of the house. Upon further investigation they saw flames through the windows. Callahan and Pfeifer grabbed fire extinguishers off their truck and went into the smoke-filled house to put out the fire that had started in the kitchen. They went upstairs, found a toddler sleeping and got him to safety.
Fire officials credited the Pepco workers' quick actions and disregard for their own safety for saving the life of a toddler sleeping in the home.
"It's exciting, but we were in the right place at the right time," Pfeifer told News4 after the award ceremony. "You're kind of set back by all the praise but if you really think about it, if we weren't there, it could have really gotten out of control and the young kid could have lost his life."
The ceremony was held at the Cranford-Graves Fire Services Building in Landover Hills, and Pepco did not go empty-handed. During the ceremony, the utility also made its annual donation of 700 smoke alarms to the Fire/EMS Department for distribution.