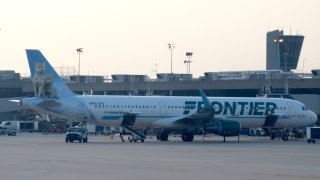 A passenger on board a plane at Reagan Washington National Airport on Saturday opened a plane door, slid down an emergency slide and made it onto the airfield before being arrested.
The passenger was on Frontier Airlines Flight 536 when they opened a door and deployed the slide just before noon, airport officials said.
"The passenger deplaned the aircraft via the slide and was immediately stopped on the airfield and taken into custody by Airports Authority police," officials said in a statement.
Other passengers exited the plane parked at Gate 7 using stairs at a rear door.
The "disruptive" passenger had tried to open the door as the plane was still in flight, approaching the airport, sources told NBC News. They slid down the slide as they tried to evade law enforcement.
Information was not immediately released on the passenger's name or what preceded their trip down the slide.
The flight originated in Denver, Frontier's website said. 
Local
Washington, D.C., Maryland and Virginia local news, events and information
A Jet Blue flight attendant famously slid down a plane's emergency slide in 2010 after shouting "I quit" and grabbing two beers off a beverage cart. 
Stay with NBC Washington for more details on this developing story.