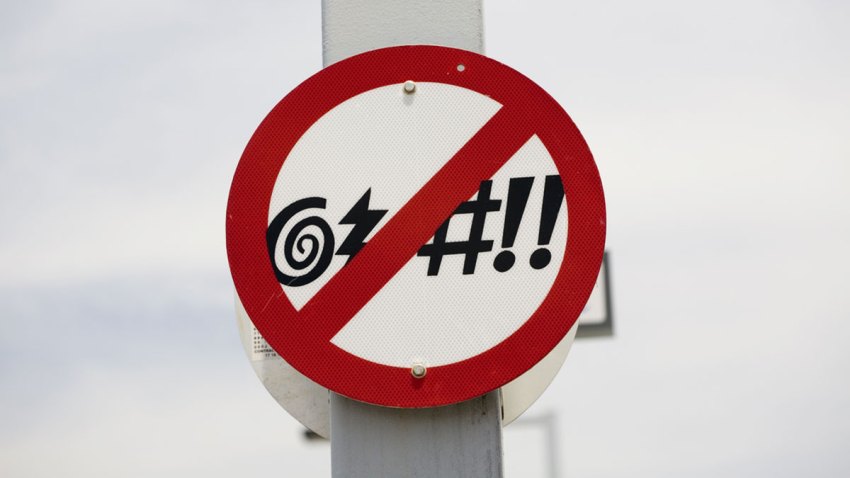 Signs politely requesting "No Profanity Please" are soon to grace every block of the boardwalk in Ocean City.
The Ocean City Council made the ruling at a meeting Monday "for what's ultimately an unenforceable suggestion," reports DelMarVaNow.com.

The idea came to officials by way of Virginia Beach, where brightly colored, cartoon-inspired signs display symbols representing profanity with a red slash through them.
Ocean City's signs, meanwhile, will be far more deferential, with a soothing, seaside color scheme. "No Profanity Please," they plead. In a smaller font below that, they gently remind passersby, "Be Courteous."
If it's not too much trouble, and all.
While a Virginia Beach city ordinance and Virginia law make it a misdemeanor in certain cases for someone to "profanely curse or swear" in public, an Ocean City attorney told DelMarVaNow.com that the First Amendment means it's not uniformly possible to outlaw swearing in public places.

So think of the signs like a public version of a swear jar... except you won't be dropping in any money.
"It wasn't going to be anything fineable. It's just a general reminder," said Councilwoman Mary Knight, who pitched the idea in January. "The idea is that it shows that Ocean City cares. Families will see it. People will remember, 'when I see it, maybe I shouldn't use colorful language' that some folks use."
The signs will also be available to any business owner who wants to post them.