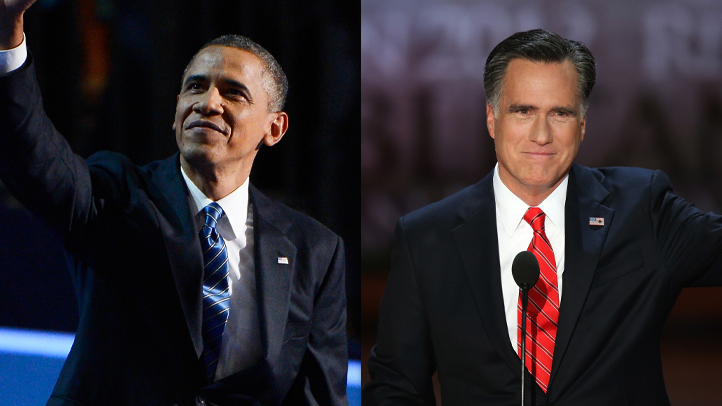 Virginia remains a toss-up. That's the takeaway from a new NBC/WSJ/Marist poll from the battleground state released Monday.
Just two days before what is shaping up to be a very tight presidential election, President Obama and Republican challenger Mitt Romney remain in a statistical tie for the Commonwealth's crucial 13 electoral votes. Obama holds a narrow 48 to 47 percent edge among likely voters. (There's little change with registered voters – President Obama's advantage grows a point to 48 to 46 percent.)

Three weeks ago, the results were reversed in the poll with Romney holding a 48 to 47 percent edge.

The president continues to benefit from better feelings about the direction of the country. While more people think the country is headed in the wrong direction (49 percent) than the right path (46 percent), that's an improvement from just three weeks ago when the spread was 10 points (53 percent wrong direction, 43 percent right path).

That's a consistent trend seen in the battlegrounds and national polls since Labor Day. Voters had been saying the country was off on the wrong track by much wider margins.

There also continues to be a slight gender gap with the president leading Romney 51 to 45 percent among women, but that gap has been cut in half since last month. That's about the margin Obama won by in Virginia in 2008 over Sen. John McCain: seven points.

But more men said they support the president this month than last. Last month, Romney led by 15 points with men; this month, it's 5 points. McCain beat Obama with men by 4 points in 2008 in Virginia.

Obama's approval is 49 percent, a point better than his ballot score. Seven in 10 Virginians said they approve of the president's handling of Hurricane Sandy.

Geography is key to either side's victory Tuesday. The president needs to run up big margins in the D.C. suburbs. He leads by 17 points, 56 to 39 percent, there. But in the swing Northern Virginia exurbs, Romney holds a narrow edge: 49 to 47 percent. Romney also leads by 5 points in the Central/Western part of the state, is up 8 in the swing Richmond/Eastern part of the state, and is tied with Obama in Tidewater.

Romney leads by 5 with independents, but Obama leads by 12 with moderates. In 2008, Obama won independents by a point and moderates by 17.

In the Senate race, Democrat Tim Kaine continues to edge Republican George Allen 49 to 46 percent, a 2-point improvement for Kaine.

The poll was conducted Nov. 1-2. Poll takers interviewed 1,165 likely voters, and the poll has a margin of error of +/- 2.6 percentage points. The party ID in the poll is +3D. In 2008, it was +6D.