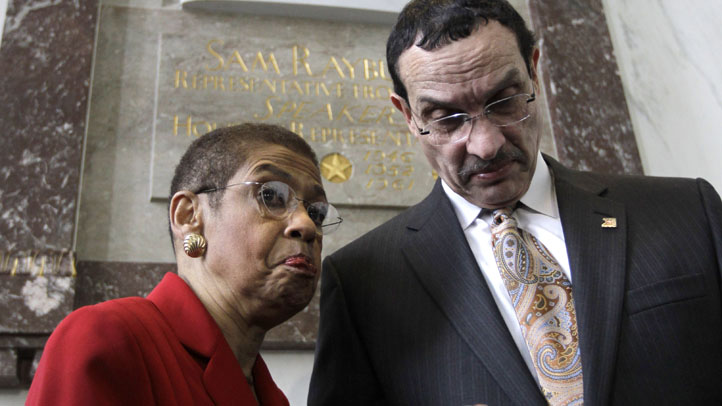 District heavyweights are trying to get their push for D.C. statehood national prominence, but the Democrat party isn't having it.
Mayor Vincent Gray and local Democratic party leader Anita Bonds are concerned that Del. Eleanor Holmes Norton won't get a slot at the convention to speak at the upcoming convention.
The two wrote a letter to DNC Chair Debbie Wasserman-Schultz pleading their case, but according to Loose Lips, a spokesman for the mayor said the DNC hasn't been forthcoming with its response and has continued to dole out speaking spots to prominent women, but so far none to Norton.

Loose Lips pointed out that given Missouri Senate candidate Todd Akin's recent incendiary comments about rape, it would make sense for Norton to speak. One of her key talking points would undoubtedly be about congressional Republican's recent efforts to try and prohibit the District from spending its own money funding abortions for poor women.
According to the Washington Times, D.C. statehood was part of the party's platform in 2000, but in 2004 and 2008 the party promoted "equal rights to democratic self-government and congressional representation for the citizens of our nation's capital."
Mayor Gray wants it back on the platform this year.
Statehood is far from being included on the GOP platform. The party reportedly dismissed any talk of greater voter rights on its platform and tried to relax gun laws in the largely blue city. Gray had originally said he would go to the RNC to prove that he was willing to reach out to unlikely allies, but has since abandoned his plans to focus on the DNC.

IN OTHER NEWS:

* Another McDonnell staffer joins Bolling's team.
* An op-ed columnist for the Baltimore Sun writes: "For a governor who once described slot machines as a "morally bankrupt" way to fund education, Mr. O'Malley's transformation to casino supporter is especially troubling."
* ThinkProgress on Karl Rove's latest attack ads against Tim Kaine.
* At a campaign stop in Roanoke, Rep. Paul Ryan slams Obama over "you didn't build that."
* Virginia election officials are starting to prepare voters for the state's new voter ID law, which was just approved by the DOJ.
* Mayor Gray unveiled the first D.C. taxi cab equipped with a new smart meter that accepts credit card payment.