What to Know
Krista Woods of Ashburn is among the "mom-preneur" finalists on The Today Show's "next big thing" contest.
Woods invented GloveStix in her battle against smelly sports gear.
The winner of Today's "next big thing" contest will get to sell their product live on QVC.
A Virginia mom's invention has been named The Today Show's "Next Big Thing."
Krista Woods of Ashburn, Virginia, created GloveStix to deodorize the smelly sports gear of her three athletic kids.
Woods first showed off her product on The Today Show Thursday morning as a semi-finalist in the the national search for the "next big thing" with QVC. She was named the winner the next day.
She will now get to sell her product on QVC's show "Saturday Morning Q" Saturday.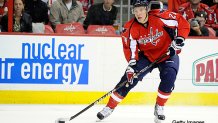 "It wasn't one moment; it was like, years of moments. Years of odors and years of smell," Woods told NBC Washington in a video interview.
Local
Washington, D.C., Maryland and Virginia local news, events and information
Woods said she'd tried many odor-busting products before, but it was one fateful, three-hour car ride with her son's stinky lacrosse gear that pushed her over the edge. The smell just wouldn't go away.
She couldn't wash her son's gloves because doing so would ruin the fit. And after using a new spray that advised wearers to wash their hands immediately after use, she grew concerned about the safety of some of these methods.
So after that car ride with her youngest son, she said, "I turned to my husband and said, 'This is not right. This is not normal. This smell... us parents have to deal with this and I'm not going to deal with this anymore! Someone has to do something about this. I'm going to invent something.'"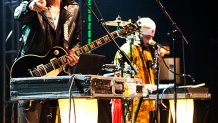 After months of research -- "I googled my life away for months" -- Woods came up with the design idea, her husband helped make the prototype and her son tested it in his lacrosse gloves.
"We've come to find out that kids don't really like to stink, either," Woods said, laughing.
When the smell disappeared, she and her husband knew they could take her idea further.
Thursday morning, Woods was among three "mom-preneur" finalists on The Today Show in the Products to Help Moms Get Organized category. There were a total of nine finalists and three categories. A winner from each category moved forward to the final stage Friday.
Woods was named the winner after a short deliberation between the judges.
GloveStix has been on the market for eight months and will be available through QVC this weekend. It's also available in 19 stores in seven states.
The easy design means that users just need to slide GloveStix into the smelly equipment and leave it. While GloveStix started out for sports gloves, Woods found that many customers have used them for shoes, knee pads and equipment bags.
The product sells for $29.99 on the official GloveStix website; deodorizing refill bags are $7.95 per pair.
"I have a lot of parents that are like, 'Wow, I can finally put my kids' shoes back in the mud room or his gear back in the mud room. Or, I can finally leave the gear bag in the car without getting in the next morning and having the entire car smell.' So that has been a very rewarding process," she said.
Woods just hopes that GloveStix can "help people deal with the funk a lot better."