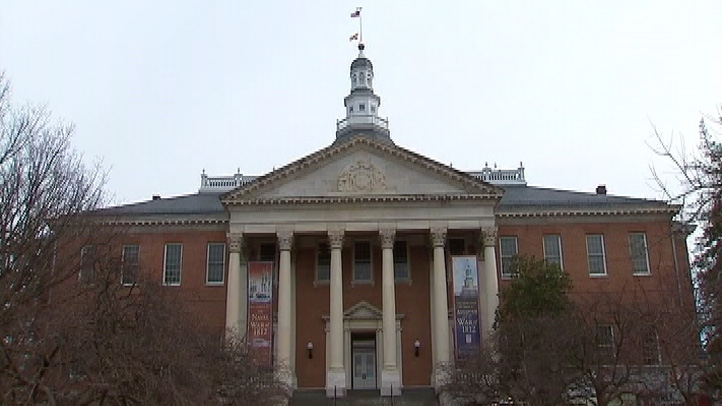 The Maryland General Assembly is sailing into the last day of this year's legislative session on Monday under unusual circumstances: Bills tackling the budget, gun control, repealing the death penalty and other major issues already have been sent to Gov. Martin O'Malley for his signature.

The Democratic governor - who is weighing a potential presidential run in 2016 - has pulled off a string of major wins, making it easy to consider this session his most successful, with one left to go in his second term.

O'Malley has succeeded in repealing capital punishment after falling short in 2009. His push to put Maryland on a path to develop offshore wind also was approved this year, despite two straight years of failing to pass a bill. His gas tax proposal - a nonstarter last year - cruised to passage, raising gas taxes in the state for the first time in 20 years. The governor, a former Baltimore mayor who has struggled in Annapolis to maintain record spending on schools during tough times, will even get to sign a major funding deal for Baltimore schools, enabling the city to issue about $1 billion on bonds to build 15 new schools and renovate up to 40 others.

A major gun control bill pushed by O'Malley - a tough-on-crime politician since his days in the mayor's office - also passed. It tightens already strong gun laws into some of the nation's toughest. Handgun purchasers will need to submit fingerprints to get a license. People involuntarily committed to a mental health facility will be prohibited from owning a gun. There will be a limit on magazines to 10 bullets, and 45 assault weapons will be banned.

The state budget has been a headache for O'Malley for years. Now, it's nearly free of a budget deficit that was about $2 billion a few years ago and, unlike last year, there will be no late-night drama with it.

The Legislature also approved a bill to further implement federal health care reform by expanding Medicaid eligibility. The state will use an existing 2 percent tax on state-regulated insurance plans to pay for the Maryland Health Benefit Exchange.

Lawmakers will have plenty to do during their last day, but there is no urgency in the air. The House of Delegates isn't even scheduled to convene until noon.

The Senate is set to vote on a plan to develop a medical marijuana program in the next few years. The measure would create a state commission to oversee medical marijuana programs at academic medical research centers that decide to participate.

A stubbornly difficult measure to change the impact of a court ruling last year that designated pit bulls as an "inherently dangerous'' breed has a significant difference to work out. Under the House bill, dog owners would need to prove by a preponderance of the evidence they had no prior knowledge their dog was prone to biting. The Senate position requires dog owners to prove it by clear and convincing evidence, a higher standard. A previous measure to address the court ruling failed in the August special session that focused on expanding gambling.

The Court of Appeals decision brought an outcry from pet owners and animal rights activists who said it focused on a single breed and made it harder for homeless pit bulls to be adopted. Opponents of the ruling also say a strict liability standard on landlords has forced pet owners to choose between their pets and their homes.
Copyright AP - Associated Press