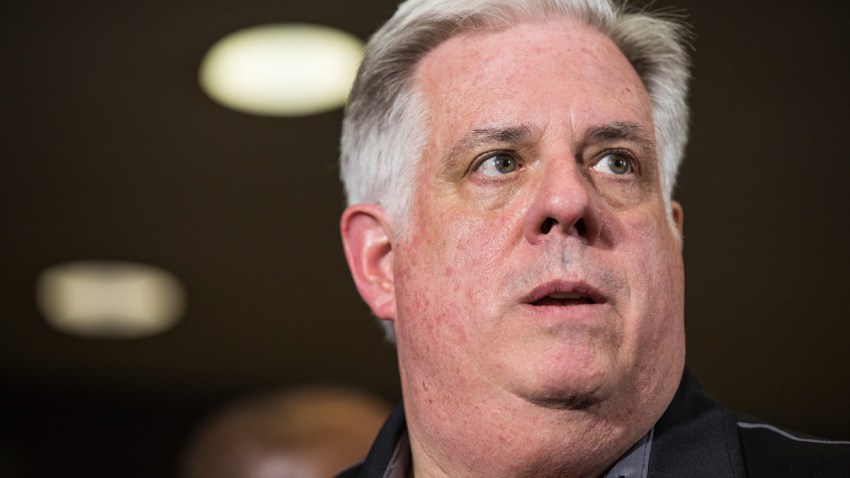 Maryland Republican Gov. Larry Hogan said Tuesday he's "completely disgusted with national politics in both parties.'' He said it's way too soon to announce support for a presidential candidate.
The governor responded to a question at a news conference about whether he would support GOP front-runner Donald Trump if the businessman wins the GOP presidential nomination.
"Look, I think we're at least eight months away from the election," Hogan said. "Quite frankly, I'm completely disgusted with national politics in both parties, Democrats and Republicans -- not paying much attention."
Instead, Hogan said he was focusing on Maryland, where the legislature is more than halfway through its annual 90-day session. As for presidential politics, Hogan said he was avoiding predictions, endorsements or involvement.
"I don't know who the Republican nominee is going to be. I don't know who Democratic nominee is going to be. I don't know if we're going to have a third party candidate, so it's way too early to speculate about who I might consider once I pull that curtain, but I'm not going to get involved. I'm going to stay focused here in Maryland."
Hogan, a Republican in a state where Democratic voters outnumber Republicans 2-1, continues to have high poll numbers in Maryland. During his 2014 campaign for governor, Hogan received strong support from New Jersey Gov. Chris Christie, himself a presidential candidate until last month when he dropped out and made a surprise endorsement of Trump.
Christie, also a Republican governor who faces a Democrat-led legislature, has been criticized at home for his Trump endorsement, with six New Jersey newspapers saying he should resign over his endorsement.
Hogan had endorsed Christie's presidential bid, and hours before Christie announced his Trump endorsement, Christie called Hogan. The Maryland governor was making stops in southern Maryland and said he never connected with Christie's calls.
"We traded phone calls a couple of times and never really talked, so I have no idea what he was thinking on that one," Hogan said Tuesday.
Copyright AP - Associated Press