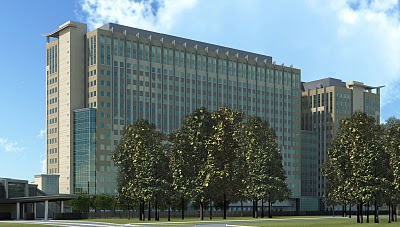 Lawmakers in Virginia want the Pentagon to slow down the transfer of thousands of defense workers to the Mark Center in Alexandria, Va.
U.S. Senators Jim Webb and Mark Warner, as well as Congressmen Jim Moran and Gerry Connolly, wrote a letter to Defense Secretary Leon Panetta.
The letter said the transfer should wait until road improvements can be made to accommodate traffic. They said in the letter that , "according to traffic analyses produced by the Department of the Army, the DOD Inspector General, the Virginia Department of Transportation, and others, a relocation of this magnitude will cause failing levels of service to local roadways, including I-395, without significant transportation improvements."
In particular, the lawmakers asked for the following in their letter:
Provide a list of any changes, and the justification for such changes, that have been made to the July 2010 BRAC #133 Transportation Management Plan.
Brief our offices in full detail on the measures the Department will take to reduce traffic congestion around the Mark Center should DOD-generated traffic produce failing levels of service to the intersections surrounding the BRAC site. We believe the DOD should consider using mandatory traffic-mitigation measures, such as alternative work schedules and telecommuting, to avoid failing levels of service at key intersections.
Publish its impact measurements of the increased traffic volume at 30-day intervals for full public review.
Nearly 5,000 defense workers are being transferred to the facility by the end of the year. The remaining employees arrive in 2012.
Right now, transportation improvements won't be finished until 2013.