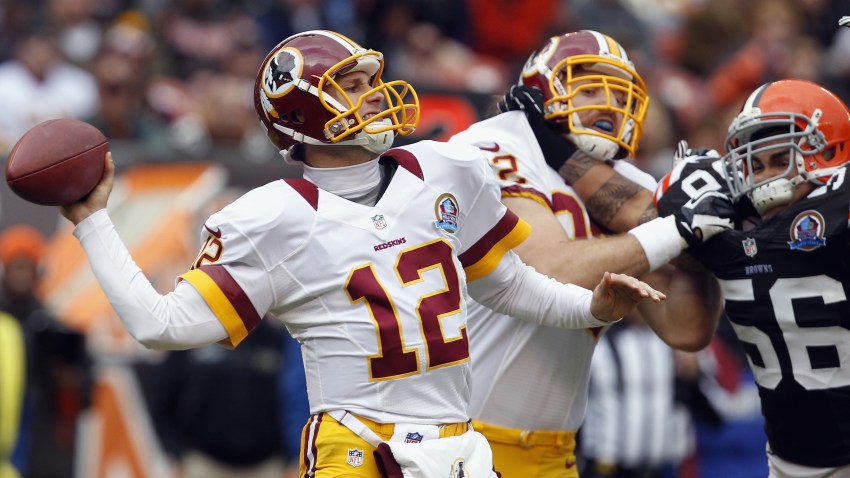 No Griffin, no Bob-lem. Get it? Robert? Bob? Just keep reading.
With two RGIIIs watching from the sideline -- bet you didn't know that Rex Grossman is Rex Daniel Grossman III - Kirk Cousins shook off some early-game jitters and led the Redskins to a 38-21 victory over the Cleveland Browns, giving them their first five-game winning streak in seven years.
Cousins finished 26-of-37 for 329 yards and two touchdowns, overcoming a first-quarter interception that led to a Browns touchdown on the ensuing play. Alfred Morris ran for two touchdowns and Leonard Hankerson caught two of his own for the Redskins.
Yet, while Cousins performed admirably in relief of the injured Griffin, it was a mixture of the Washington's strong defensive play and Cleveland's offensive ineptitude (minus Travis Benjamin's 69-yard touchdown catch in the fourth quarter) that dictated the flow of the game. The Redskins picked off Brandon Weeden twice and kept themselves in the game despite Cousins's shaky start. Rob Jackson in particular stood out with one interception and one sack.
The Redskins' win, coupled with the New York Giants' 34-0 loss to the Atlanta Falcons, gives them a share of first place in the NFC East with two games remaining. If you can believe it, the last time that Washington was in first in its division this late into the season, the Arizona Cardinals were still in the NFC East. It was also the same year that the Redskins won their last division title: 1999.
Speaking of the NFC East, the Redskins' remaining games are both within the division, the first of which is next Sunday in Philadelphia against the Eagles.
---
Follow Adam on Twitter @AdamVingan and e-mail your story ideas to adamvingan (at) gmail.com.