For decades neighbors believed a triangular lot bordered by three northeast D.C. streets was a park, but a developer surprised the neighborhood by starting to build a house there weeks ago.
The little plot of land is bordered by North Capitol Street, Blair Road and Madison Street.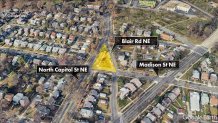 The three-story, single-family home upsets some neighbors.
"I think it's ridiculous to build a house right there, but what do I know," Michael Young said.
The project seems to have all the necessary permits, but it also appears to be built right on top of the sidewalk.
Local
Washington, D.C., Maryland and Virginia local news, events and information
"These steps are built on the sidewalk that we just gave up, as you can see," neighbor Bernice Rink said. "When they first started building, the sidewalk collapsed."
After News4 began calling city agencies and alerting them to the position of the house on the sidewalk, an official with the Department of Transportation said the issued a stop work order to investigate, prompting some celebration from the neighbors.
Inspectors arrived just before 6 p.m. and started taking measurements and pictures.
The person representing the developer used to be the zoning administrator. The two have been in a number of controversial development projects.