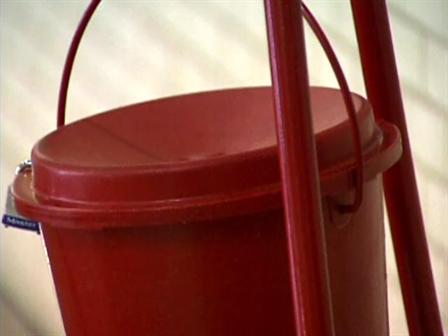 "Clink." That's the sound of a golden gift dropping anonymously into a Salvation Army kettle in Fairfax, Va. Thursday.
A $50 coin was discovered among the loose change Friday morning by
Capt. David May
, the commanding officer at The Salvation Army Fairfax Corps. It was appraised at Cameo Coins and Collectibles in
Vienna, Va.
for $1120.
The gold coin came from a red kettle outside the Safeway grocery store at Courthouse Plaza on Willard Way. The bell ringer didn't see who dropped the valuable donation. She didn't even notice the golden sparkle.
If this story sounds familiar, it's for a good reason. Last week, the Salvation Army discovered a coin worth about $1,100 at a donation kettle in Annapolis, Md.
The two gold coins were found just an hour away from each other. However, they were in kettles from different Salvation Army chapters.
The most recent gold coin is the first of its kind this year to a Red Kettle within The Salvation Army's National Capital Area Command, an area consisting of Washington and the city of Alexandria, and Arlington, Fairfax, Prince William, Montgomery and Prince George's counties. Last week's gold coin was found in Anne Arundel County.
The Salvation Army National Capital Area Command is in the midst of its final weekend of this year's Red Kettle. They still are $700,000 --well, $698,880 with the gold coin -- away from their goal of $1.5 million.
The donation will certainly help, but the big snowstorm could keep donations low at those red kettles. The Salvation Army also takes donations online at www.SalArmyDC.org.