Standardized test scores are up for students in the D.C. area, according to a national report released Tuesday.
D.C., Maryland and Virginia students have improved their scores in the past decade on an annual standardized test measuring math and reading in the fourth and eighth grades, data published by the National Center for Education Statistics says.
Maryland fourth graders have seen their scores in both subjects fluctuate by small margins in the decade leading up to 2017. The state's eighth-grade scores have been on a slight decline since 2013. In Virginia, student scores are characterized by small increases and plateaus over the 10-year period.
With standardized test scores on the rise in D.C. public schools, the city is taking steps to bridge the gap between its historically low scores and the national average.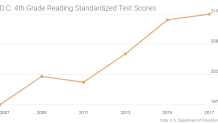 In 2007, D.C. fourth graders scored a substantial 25 points lower than the national average on the math test. Similarly, they scored 23 points below average for reading in the same year. But in 2017, however, the fourth graders raised the city's average score to about 7 points below the national average in both subjects.
Despite the District's educational strides in the past decade, the data still shows D.C. is ranked lowest among the states in the nation for the percentage of eighth graders who are "at or above proficient" levels on the reading exam.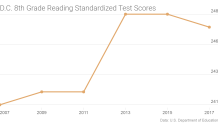 With math, there is more good news. A comparison with city school systems across the country shows D.C. had the largest score improvement between 2015 and 2017 for the eighth-grade math exams.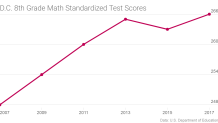 These scores come from the National Assessment of Educational Progress, which has measured student test scores across the country for decades. Run by the U.S. Department of Education's Institute of Education Sciences, the math and reading tests were first administered online last year.