Dramatic dashcam video released by the Stafford County sheriff shows the pursuit on Interstate 95 of a man suspected of gunning down his wife, then opening fire on police and shooting himself in the head as he attempted to flee.
Gregory Lee, 42, shot at two law enforcement officers when they pulled him over in a black SUV Dec. 28 in connection with the fatal shooting of his wife, 36-year-old Melissa Dee Lee, in Fredericksburg, Virginia, according to the Stafford County Sheriff's Office.
After the shooting, Lee led officers on a pursuit on I-95. Dashcam video from Deputy Cody McCormick's cruiser shows a Virginia State Police trooper in pursuit of the SUV.
"(McCormick's) entering on to the interstate, getting behind the black SUV, the Ford Explorer, not knowing that just 2 miles down the road the subject had fired upon the trooper," Sheriff David Decatur said.

After a few miles on I-95, the SUV swerved into the middle lane. Then suddenly the driver angled into the left lane and stopped.
"He comes back almost at like a 45-degree angle, trying to get a position to fire a shot, which he did," Decatur said.
McCormick saw a handgun pointed out the window and drove on the right shoulder to dodge a bullet. A bullet went through his windshield and headrest, and McCormick thought he may have been shot, having been cut by glass from the windshield, but he continued the pursuit.
Local
Washington, D.C., Maryland and Virginia local news, events and information
"And I believe in my heart there was divine intervention involved," Decatur said.
A few miles later, the SUV crashed and rolled over near mile marker 142.
The dashcam video shows an armored vehicle arrive as deputies tried to determine if Lee was still a threat.
Deputies believe Lee shot himself in the head. He was taken to Inova Fairfax Hospital, where he died.
Melissa Dee Lee died after being shot three times in the chest at the England Run North Apartments complex on Heron Drive. Police described the shooting as a domestic dispute.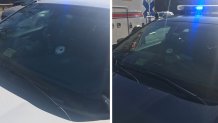 Gregory Lee had a criminal history that included guilty pleas for DUI, marijuana possession, hit-and-run and destruction of property charges dating back to 2006, the sheriff's office said. The Virginia state sex offender registry showed Lee registered as a sex offender in 1999 after being convicted of attempted rape. The victim was an adult.
The registry listed a Fredericksburg auto shop as Lee's employer.