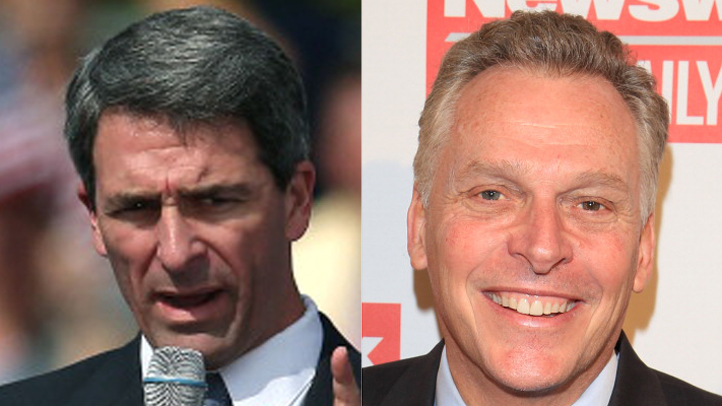 Democrat Terry McAuliffe said Thursday that his Republican gubernatorial rival's positions on family law and other social issues will hurt Virginia's economy, but Attorney General Ken Cuccinelli said McAuliffe is the one pursuing "job-killing policies."
Although the candidates for Virginia governor did not share the stage during a forum on energy issues Thursday morning, they spent much of the time attacking each other, as they have at previous joint appearances during the divisive campaign.
McAuliffe went first, holding up a copy of an article in The Washington Post that detailed Cuccinelli's ties to fathers' rights advocates, who believe men are treated unfairly in divorce and custody cases.
"We cannot move Virginia forward by holding women back," said McAuliffe, a businessman and Democratic fundraiser. "Ken Cuccinelli's social agenda is more than just extreme. It is bad for business."
Cuccinelli accused McAuliffe of straying from the topic at hand, but he still found time to repeat his usual attacks against the Democrat, calling him an untrustworthy Washington insider who rented out the Lincoln bedroom to donors during Bill Clinton's presidency and later helped the Clintons buy a house in upstate New York.
"I'm glad to be here to actually talk about what this forum is actually about, energy, because I actually have an energy policy," Cuccinelli said.
Cuccinelli hammered McAuliffe over a comment in 2009 about how he did not want to see any new coal plants in Virginia. McAuliffe has backed away from that stance and now emphasizes the job-creating potential of new technologies that mitigate the environmental impact of burning coal. McAuliffe also now supports offshore drilling, which he opposed in the past, saying he has been persuaded that it can be done safely. Virginia's Democratic senators also support offshore drilling.
Cuccinelli said McAuliffe can't be trusted to fight for the coal industry or for drilling.
"The war on coal is a war on our poor," Cuccinelli said. "They don't have a lot of other options."
He also criticized McAuliffe's goal of moving 25 percent of Virginia's energy production to renewable sources.
"Those are job-killing policies. My opponent likes to talk about all these obscure and unrelated things to business, connect them to me and say that they'll keep businesses out of Virginia," Cuccinelli said.
A Quinnipiac University poll released last week showed McAuliffe with a 6-point lead over Cuccinelli and a 12-point lead among women voters. McAuliffe sought to press that advantage by talking about Cuccinelli's decision to represent fathers'-rights advocate Ron Grignol Jr. in a custody dispute after he took office as attorney general. He also brought up Cuccinelli's opposition while a state senator to increasing child support payments by tying them more closely to inflation and his refusal as attorney general to support the federal Violence Against Women Act.
Cuccinelli said he explained his role in the Grignol case in 2010. He said it involved child witnesses whom he didn't feel comfortable handing over to another attorney.
McAuliffe also criticized Cuccinelli for trying to block Gov. Robert McDonnell's signature transportation initiative and for opposing an expansion of the Metro subway to Dulles International Airport. He said traffic in northern Virginia and Hampton Roads is killing productivity and driving businesses away.
McAuliffe also said he would be a governor "who values scientific research." He has accused Cuccinelli of conducting a "witch hunt" against a University of Virginia climate scientist. After the forum, Cuccinelli ducked a question on whether he believes human activity contributes to climate change.
Cuccinelli also brought up the Securities and Exchange Commission investigation of McAuliffe's former company, GreenTech, for actions that took place while McAuliffe was chairman. McAuliffe has not been identified individually as a subject of the investigation, but Cuccinelli said it creates a cloud over him.
"Are Virginians prepared to vote for somebody like Terry, who's still involved in a federal investigation on Election Day?" Cuccinelli asked. "I don't think that's a comfortable position for Virginians."
Thursday's forum was sponsored by the Consumer Energy Alliance, a nonpartisan group that includes energy producers and consumers and advocates for a balanced energy policy, including more access to offshore fossil fuels and expansion or alternative energy.
RELATED COVERAGE ON NBCWASHINGTON.COM:

Copyright AP - Associated Press