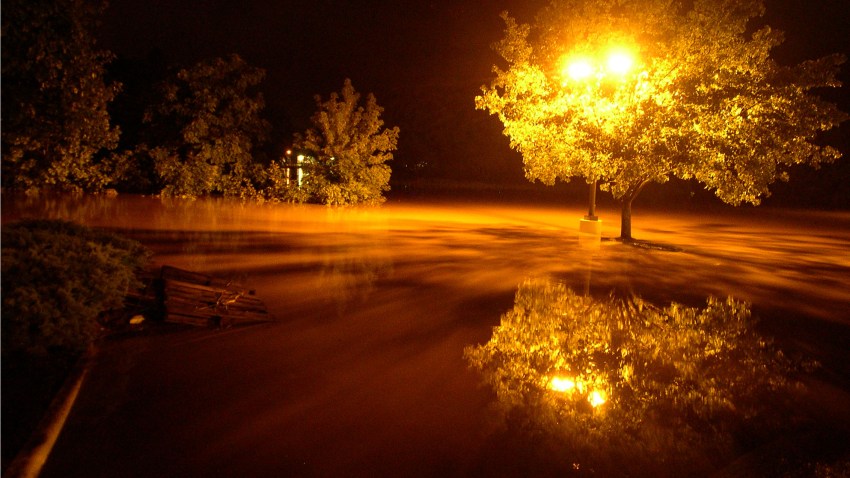 Heavy rain overnight resulted in several road closures and the evacuation of a motel in Culpeper.
Around five and a half inches of rain fell Sunday night into Monday morning, Culpeper Spokesman Wally Bunker said -- and 40 to 50 guests staying at the Sleepy Hollow Motel in the 400 block of James Madison Highway had to be evacuated because of flooding due to the rain.
Emergency responders reported seeing chest-deep water in some rooms.
Jason Critchfield and his fiance Tiffany Breath woke up to water seeping under their door.
"The first moment it was kind of a big puddle that came in and it was that realization that this water was coming and it was coming very, very fast," Breath said.
Critchfield said the water was waist-high at one moment. He and another man pulled about 20 people to safety as the water rose higher and higher.
"We had trees, boards, nails, barbed wire... everything was going through that water, but we had to figure out a way to get these people out of here and we did. We're very lucky," Critchfield said.
The Red Cross is assisting those who were evacuated.
Across the street at Tractor Supply, pallets could be seen floating across the business' parking lot. Officials say Yowell Meadow Park and Wine Street Memorial Park were also under water and were blocked off.
The flooding prompted the closure of Culpeper Public Schools. A make-up day will not be scheduled for students.
The following roads are closed in the area:
Orange Road between Laurel Street and Sunset Lane
The 400 block of Madison Road near Gayheart's Pond
Crews with Public Works spent the morning pushing mud from a mudslide from a southbound lane of James Madison Highway south of Belle Avenue. Virginia Avenue at Fourth Street was closed briefly but reopened once the water receded.
A cool front will sweep across the region from the west, triggering more thunderstorms. Some afternoon storms may be severe with damaging winds and flooding rain.
---

Get the latest weather from NBCWashington.com:
Download our NEW free weather apps for iPad and iPhone. You can also follow us on Twitter and Facebook, and sign up for our e-mail newsletters.