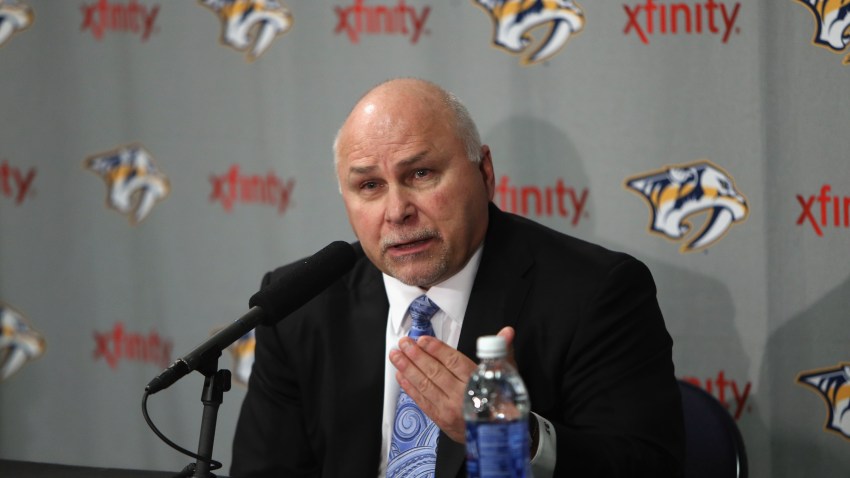 The Washington Capitals hired Barry Trotz as their next coach Monday, the franchise's fourth since the start of the 2011-12 season. He replaces Adam Oates, who was fired on April 26 after two seasons.
"I am very excited to join the Washington Capitals and want to thank [team owner] Ted Leonsis, [president] Dick Patrick and [new general manager] Brian MacLellan for this opportunity," Trotz said in a statement. "This is a great organization with a strong foundation and a tremendous fan base. I look forward to working with this group of talented players and the quality front office staff this team has assembled."
Trotz spent the past 15 seasons guiding the Nashville Predators since their inception, which made him the longest-tenured coach from the start of a current NHL franchise. The 51-year-old has ties to the Capitals organization as a former scout beginning in the late 1980s and coach in Washington's minor-league system in the early to mid-1990s. In 1994, he led the Portland Pirates to a Calder Cup championship in the American Hockey League.
The Predators fired Trotz on April 14 after they failed to qualify for the postseason in consecutive years for the first time since the 2001-02 and 2002-03 seasons.
Well-regarded throughout the NHL, Trotz is known as a demanding yet approachable coach and his experienced voice will be a departure from what the Capitals are used to; Trotz is the first coach with previous NHL head coaching experience that Washington has hired since Ron Wilson in 1997. Each of the Capitals' past five coaches -- Bruce Cassidy, Glen Hanlon, Bruce Boudreau, Dale Hunter and Oates -- were all first-timers upon their respective hirings.
"In Barry, we are getting an experienced and well-respected coach whose presence and tutelage will benefit our players," Patrick said in a release.
During his time in Nashville, Trotz utilized a conservative style of play that prioritized defensive responsibility. Yet even with his defensive reputation, Trotz has expressed a willingness to tailor his game plan to accentuate the strengths of his personnel.
Trotz rarely had offensive firepower at his disposal with the Predators. The franchise has only had four 30-goal scorers in its history, the lowest amount in the NHL since its inaugural season in 1998-99. That will not be the case in Washington, where the likes of Alex Ovechkin (whose career-low 32 goals are one fewer than the Predators' single-season franchise record of 33) and Nicklas Backstrom will be available to him.
Trotz will look to establish some semblance of structure to a team that looked rudderless far too often last season, and how all parties adjust will be paramount to Washington's sucesss.
Trotz will be formally introduced Tuesday.
---
Follow Adam on Twitter @AdamVingan and e-mail your story ideas to adamvingan (at) gmail.com.