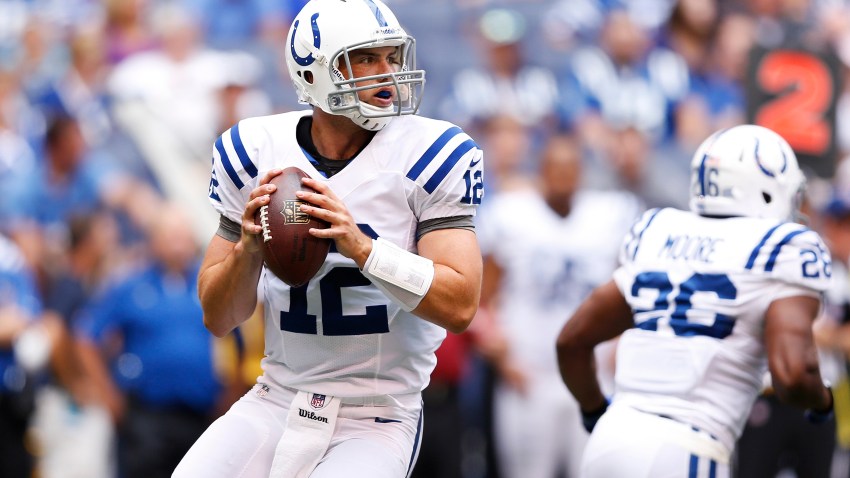 While Washington Redskins quarterback Robert Griffin III has seemingly been receiving the majority of the attention, there happens to be another rookie quarterback in the NFL tasked with the large responsibility of turning a franchise around.
In Indianapolis, Andrew Luck, who was selected before Griffin as the top overall pick at April's NFL Draft, has big pads to fill. For the first time since 1997, the Colts enter the season without Peyton Manning under center. Perhaps not the most enviable position for a 22-year-old fresh out of college to be in, but one that Luck seems to be taking on without any hesitation.
Consider Luck's first preseason game Sunday. In a 38-3 win over the St. Louis Rams, Luck's first career NFL pass ultimately became his first career NFL touchdown.
RGIII went 4-of-6 for 70 yards and a touchdown in his debut Thursday, while Luck went 10-of-16 of 188 yards and two TDs (though his 63-yard touchdown pass to Donald Brown was similar to Griffin's 20-yarder to Pierre Garcon -- a dump-off that went long distance -- and he played much longer than Griffin). Advantage: Luck.
Okay, so perhaps I exaggerated a little bit and maybe my opening was a little too serious for a post about preseason football, but since Luck and Griffin went 1-2 in the draft, they will likely be compared all season long. Why not get started early?
Speaking of starts, Luck and RGIII will probably do so against each other August 25 when the 'Skins and Colts meet at FedEx Field in preseason action.
---
Follow Adam on Twitter @AdamVingan and e-mail your story ideas to adamvingan (at) gmail.com.