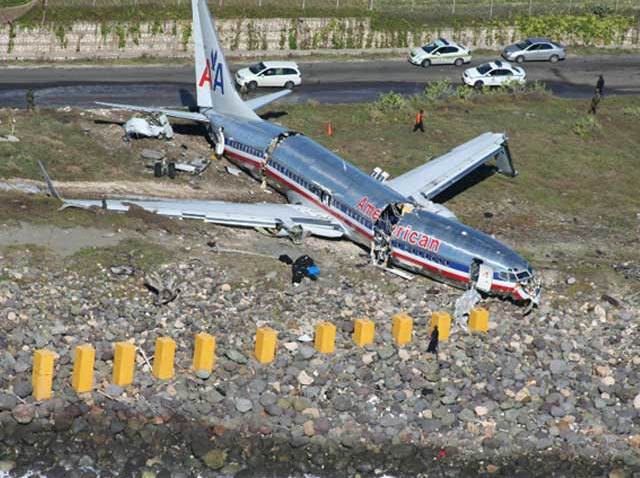 An American Airlines flight from Miami with more than 150 aboard overshot a runway while landing during a heavy rainstorm in Kingston on Tuesday night, injuring more than 40 people, officials said.
The Boeing 737-800, which originated at Reagan National Airport in Washington, D.C., had taken off from Miami International Airport at 8:52 p.m. It was carrying 148 passengers and a crew of six, American said. The majority of those aboard were Jamaicans going home for Christmas.
Flight 331 skidded across a road at Norman Manley International Airport around 10:22 p.m. The plane halted at the edge of the Caribbean Sea, apparently prevented from going into the water only by the upward slope of the sand. The nose of the jet was less than 10 feet from the water.
"When we landed it was pouring rain and it was evident that we were skidding," passenger Natalie Morales Hendricks, of Annapolis, Md., told the "Today" show. "Everyone's overhead baggage started to fall and, litereally, it was like being in a car accident."
Some 91 people were hurt and were taken to three nearby hospitals with broken bones and back pains, Information Minister Daryl Vaz told The Associated Press. Four people were seriously injured, said Paul Hall, senior vice president of airport operations.
Only two people were admitted to the hospital for evaluation, said American Airlines spokesperson Tim Smith. The others were treated and released. No one received critical or life-threatening injuries.
"It is indeed a miracle," Jamaican police inspector Steve Brown said. "The front is gone ... one of the engines of the plane broke into several pieces. We are surprised that the plane never caught fire and that people inside survived without a scratch."
Smith was unable to say how many passengers from the Reagan flight stayed on through the stopover in Miami but that it's safe to assume that some people did disembark.
Officials from the National Transportation Safety Board left from Reagan Wednesday shortly to head to the crash scene.
The plane's fuselage was cracked, its right engine broke off from the impact and the left main landing gear collapsed, said Tim Smith, an American Airlines spokesman at the company's headquarters in Fort Worth, Texas. Most of the injuries were cuts and bruises and none were life threatening, though he had no further details, he said.
Some passengers leaving the plane were seen with cuts on their faces or bloody lips. Some looked visibly shaken as they bustled out of the terminal wrapped in red blankets, while others ducked under umbrellas to escape the heavy downpour.
Passenger Pilar Abaurrea described a chaotic scene when the plane hit the ground with a loud crash skidded along the runway.
"All of a sudden, when it hit the ground, the plane was kind of bouncing, someone said the plane was skidding and there was panic," Abaurrea of Keene, New Hampshire, said in a telephone interview.
As the crew opened the emergency exits and people scrambled to get off, 62-year-old Abaurrea and her husband, Gary Wehrwein, noticed a number of people with injuries, including one person who had a cut on his head from falling baggage.
Abaurrea said she had pain in her neck and back from the impact, and her husband had pain in a shoulder from falling luggage, but they were otherwise unhurt. "I'm a little bit shook up but OK," she said.
Abaurrea said the flight was very turbulent with the crew being forced to halt the beverage service three times before finally giving it up. Just before landing, the pilot warned of more turbulence but said it likely wouldn't be much worse than what they had experienced so far, she said.
Smith said it was too soon to provide details about the extent of the damage to the aircraft.
The airport has not reopened because of concerns that the plane's tail might be hindering visibility, Security Minister Dwight Nelson told Radio Jamaica.
Some 400 passengers were waiting for their flights to be cleared for takeoff, he said.
Heavy rains that have pelted Jamaica's eastern region for four days are expected to dissipate by Thursday. Authorities said the rains washed away a 7-year-old girl on Tuesday and led to a bus accident in which two people died.
Anyone who believes they have family members or friends aboard Flight 331 may contact American Airlines at (800) 245-0999 for calls originating in the United States; for calls originating in Jamaica, use (800) 872-2881.