What to Know
It is illegal to ride dirt bikes or ATVs on D.C. streets. Residents are fed up with riders who block traffic.
D.C. police seek to arrest 245 persons of interest shown in surveillance images.
Riders recently stopped an ambulance transporting a sick child, and dragged a police officer.
D.C. police are cracking down on people who illegally ride dirt bikes and all-terrain vehicles on city streets -- and they're asking for help from the public.
Surveillance images of 245 persons of interest were released Thursday by the Metropolitan Police Department, which is offering a $250 reward for tips. All of the photos can be viewed in a document on the police department's website.
Residents of D.C., Maryland and Virginia are fed up with dirt bike and ATV riders who swarm streets, Police Chief Cathy Lanier said. Riders recently hit and dragged a D.C. police officer and stopped an ambulance transporting a sick child.
"We have had enough, our community has had enough, and the riders that we can identify, we are going to aggressively prosecute," she said. "The bikes we have seized will be destroyed."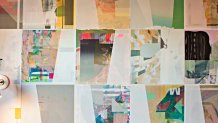 Lanier spoke Thursday morning at a meeting of law enforcement officials from across the region, including members of the Prince George's County Police Department, Maryland State Police and United States Park Police.
It is illegal to ride a dirt bike or ATV on D.C. streets, sidewalks, alleyways and trails. Riders have hit police officers and civilians, and 14 riders still are sought in connection with the May 2015 shooting death of reporter Charnice Milton.
A D.C. police officer was hit over the weekend by a group of ATV and dirt bike riders, as News4 previously reported. Lanier said the officer is off-duty after being injured.
"They made contact with his bike and dragged him," the police chief said.
Local
Washington, D.C., Maryland and Virginia local news, events and information
Officers recovered an ATV involved, but have not identified the rider.
How to Report an ATV or Dirt Bike Rider
If you see an ATV or dirt bike being operated illegally in D.C., take note of how you can describe the rider, vehicle and location, police say on the department's website. Call 202-727-9099 and report what you saw.
If your tip leads to the identification of the rider and the seizure of the vehicle, the MPD's Command Information Center will give you a tip-tracking number you can use to collect a $250 reward.
How DC Officials Are Cracking Down on 'Menacing and Dangerous' Riders
Dirt bikes and ATVs confiscated in D.C. will be destroyed starting in May, Lanier said.
"We want to be able to turn these into scrap," Deputy Mayor for Public Safety and Justice Kevin Donahue said.
D.C. officials are pursuing legislation that would strengthen their ability to keep dirt bikes and ATVS being ridden illegally. The vehicles can be destroyed if they are found without serial numbers or licenses, but they cannot be destroyed if they have that identifying information. Under the current system, the same bike has been seized by police and recovered multiple times by different people, Donahue said.
Attorney General Karl A. Racine said riders can expect to be charged.
"[Riders] may think that they're just going out for a joyride, but they're causing a menacing and dangerous atmosphere, and they will be prosecuted," he said.
Between July 2013 and July 2015, about 169 arrests of dirt bike and ATV riders were referred to prosecutors, Racine said. About 85 percent of those cases were prosecuted. From July 2015 to Wednesday, prosecutors received 34 cases, and more are expected.
The offenders are mostly young adults age 18 to 24, but some are grown men, Racine said. First-time offenders usually are sentenced with probation.
MPD officers do not chase the vehicles because doing so puts officers and the public at risk, the police chief said.
"If a police officer in a police cruiser attempts to pursue these vehicles, what we know will happen, because we've seen it happen, is they will go up on the sidewalks and they will strike pedestrians. We're not going to do that," she said. "It's very frustrating for us as well."