U.S. marshals and local law enforcement are searching for a 15-year-old accused of attempted murder on a Prince George's County school bus, and sources say the teen is also wanted in a D.C. homicide.
The teen, who goes by "Baby K," is accused of trying to shoot another teen, and is connected to the killing of a D.C. woman whose sibling was arrested in the school bus attack, law enforcement sources tell News4, describing the cases as not connected.
Prince George's police have not publicly released the suspect's full name.
"We will find him and we're working very diligently," Prince George's County Police Chief Malik Aziz said at a public safety meeting Thursday.
We're making it easier for you to find stories that matter with our new newsletter — The 4Front. Sign up here and get news that is important for you to your inbox.
"We are confident that we are going to bring him to justice to answer for his crimes," he said.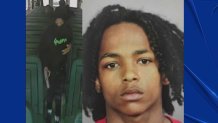 3 in Custody in School Bus Attack Where Gun Malfunctioned, Police Say
Local
Washington, D.C., Maryland and Virginia local news, events and information
Baby K boarded a bus with two other teens on the afternoon on May 1 and began to attack a teenage victim, according to Prince George's County police. The attack stemmed from a dispute, police said.
Baby K then tried to shoot the victim multiple times, but investigators believe the gun malfunctioned, and the victim was left with minor injuries, police said. Ammunition was found on the bus.
Prosecutors say a gang-related dispute led to the confrontation. They say it was targeted and planned.
"We have a young boy who was the victim who could have been killed," Prince George's County State's Attorney Aisha Braveboy said.
Police say they have arrested the two other teens seen in the bus attack, a 14-year-old boy from Suitland and a 15-year-old boy from Temple Hills.
A 14-year-old girl from Oxon Hill described by prosecutors as the "mastermind" of the attack has also been arrested. All three are charged as adults.
"I can't do anything," the victim's mother said. "I'm just an emotional wreck. Fearful. Anxiety. Panic attacks. The constant watching over your back. It's horrible."
She said she's trying to raise money so her family can leave the area.
Baby K faces charges including attempted first-degree murder, attempted second-degree murder, assault and firearms offenses in the school bus attack. He's also being charged as an adult.
Prince George's police and the U.S. Marshals Service Capital Area Regional Fugitive Task Force are looking for the suspect and offering rewards of $2,500 and $10,000.
"Where does a 15-year-old hide out?" Aziz said. "It just doesn't make any sense. So, there is someone who knows this young man, someone who knows exactly where he is at."
'Baby K' Also Sought in DC Homicide
Two days after the bus attack, 23-year-old Kaijah McCoy of Northeast D.C. was found shot to death in a residential building in the 3700 block of Jamison Street NE, D.C. police said.
McCoy was the older sister of one of the teens charged in the school bus attack, law enforcement sources told News4. Sources also say they believe the motives in each case were different.
Baby K is wanted in McCoy's homicide, law enforcement sources familiar with the investigation tell News4. A $25,000 reward is available in that case.
It wasn't immediately clear what sort of charges, if any, Baby K may face in connection to the killing.
This story has been updated from an earlier version.