New Virginia Gov. Glenn Youngkin's executive order lifting the statewide school mask mandate took effect Monday and was met with a lawsuit by five Northern Virginia school districts and two others.
The school boards of Alexandria City, Arlington County, the City of Richmond, Fairfax County, Falls Church City, Hampton City and Prince William County argued in a joint statement that Youngkin's executive action is unconstitutional and endangers children.
"With COVID-19 transmission rates high, our hospitals at crisis level, and the continued recommendation of health experts to retain universal mask-wearing for the time being, this is simply not the time to remove this critical component of layered health and safety mitigation strategies," the school boards said.
We're making it easier for you to find stories that matter with our new newsletter — The 4Front. Sign up here and get news that is important for you to your inbox.
Youngkin issued an executive order on his first day in office, Jan. 15, declaring that starting Jan. 24, families could opt out of mask mandates at K-12 schools. The Republican former business executive promised a new approach to the pandemic. He has encouraged vaccination but opposed vaccine and mask mandates, emphasizing personal choice.
The lawsuit filed Monday argues the state constitution gives local school boards the authority to run their districts. It also cites a state law that requires school systems to follow federal health guidelines, which include recommendations for universal masking.
"At issue is whether locally-elected school boards will maintain the exclusive authority and responsibility conferred upon them by Article VIII, Section 7 of the Constitution of Virginia to supervise the public schools in their respective school divisions or whether the Governor can unilaterally infringe upon that authority through an executive order," the lawsuit states.
Confusion has swirled over the implications of Youngkin's executive order on masks in schools. Some districts have interpreted the order as being at odds with a state law that deals with COVID-19 mitigation in schools and have opted to keep pre-existing mask mandates in place for students.
Youngkin urged patience and asked parents to listen to their children's school principals for the time being.
"Listen to a principal today. And I know that there are some school systems that are doing things that are inconsistent with respecting the rights of parents. ... Let's respect it right now and let this legal process play out," he said in an interview with Richmond radio station WRVA Monday morning.
He seemed to acknowledge the possibility of conflict, saying: "This is not a moment for us to forget that we're all in the same boat and love one another."
Youngkin spokesperson Macaulay Porter said the administration was disappointed that the school boards were acting counter to parents' rights.
"The governor and attorney general are in coordination and are committed to aggressively defending parents' fundamental right to make decisions with regard to their child's upbringing, education and care, as the legal process plays out," she said in a statement.
Supporters of the executive order say the state law is not in conflict with Youngkin's executive order because the Centers for Disease Control only recommends mask-wearing and does not mandate it.
Parents in Chesapeake Public Schools sued the governor last week, arguing that Youngkin's executive order violates state law. The school boards' lawsuit Monday is separate and was filed in Arlington Circuit Court, one school district said.
The Supreme Court took no action on the lawsuit last week. It was not immediately clear if there would be developments in the case Monday.
What Happened at Virginia Schools on Monday After the Mask Mandate Was Lifted?
As students reported to classrooms on Monday, there were no immediate reports of major issues requiring intervention by law enforcement.
In Loudoun County, no students were sent home Monday morning for defying the mask order, school district spokesman Wayde Byard said. Those who refused to wear masks were routed to school auditoriums, where they could do virtual work through the school's online platform, he said. Lunch periods were adjusted to ensure maskless students would receive lunch, he said.
Loudoun County mother Heather Jermacams said her daughter was moved into a separate classroom after she didn't wear a mask. Video shows Jermacams shouting into a phone, refusing to pick up her daughter.
"No, I am not picking my child up. She has an IEP, and I will call my lawyer next. She has an IEP and needs to be in her classroom. Do you understand me?" she said.
Across Loudoun County Public Schools, about 60 students refused to wear masks on Monday, the district said. Most were at Woodgrove High School, where parents confronted the principal and demanded to know the plan for educating students who weren't wearing masks.
"Please, we we will make sure that to the extent that we possibly can, given the circumstances, they have everything they need," the principal said.
Clint and Erin Thomas said their two daughters at Woodgrove High sat in an auditorium without a teacher for most of the morning.
"They didn't have a plan to actually have these kids start school on time," Clint Thomas said. "These kids are asking, 'I have a test today. What's going on?' The teachers didn't have the test ready. It's just kind of chaotic."
Parent Megan Rafalski was near tears when asked about her family's plan for the next day.
"I have been asked that several times and it has been — it's been a really hard day," she said.
What Does Youngkin's Executive Order on Masks in Schools Say?
Executive Order Number Two, issued on Jan. 15, 2022, says the parents of elementary and secondary school students "may elect for their children not to be subject to any mask mandate in effect at the child's school or educational program." It also applies to "school-based early childcare."
"No parent electing that a mask mandate should not apply to his or her child shall be required to provide a reason or make any certification concerning their child's health or education," the order says.
"A child whose parent has elected that he or she is not subject to a mask mandate should not be required to wear a mask under any policy implemented by a teacher," the order continues.
School districts should "marshal any resources available" to improve ventilation, inspection, testing and more.
The order makes a number of arguments about children's use of masks, including that children wear masks incorrectly; that kids' masks can collect "bacteria and parasites;" that they delay language development and that they increase feelings of isolation.
Go here to read the full text of the order.
Which Northern Virginia School Districts Are Implementing the Order and Which Are Not?
The public school districts in Culpeper County and Spotsylvania County said they will follow Youngkin's order. A number of districts said they'll keep mask requirements in place, including in Arlington County and Fairfax County. Here's what we know so far.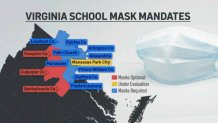 Arlington Public Schools
The school system says it will continue to require all staff and students to wear masks inside on school grounds and on buses, "as part of our layered approach to safety." The district signed on to the lawsuit filed Jan. 24 challenging Youngkin's executive order.
Alexandria City Public Schools
Masks are still required in Alexandria City Public Schools, the superintendent said in a message Jan. 21. "Any student or staff who arrives without a mask will be provided one by the school."
"On Jan. 20, 2022, the Alexandria City School Board voted to reaffirm its commitment to health and safety measures first adopted for ACPS in August 2020, including a universal mask requirement, daily temperature screenings and visitor limits for school facilities. The Virginia Constitution grants responsibility and authority to local school boards to operate and supervise schools in their division. These mitigation measures have been vital in making in-person learning possible so that ACPS can meet our students' social, emotional and academic learning needs and abide by the Virginia General Assembly adopted Senate Bill 1303."
The district signed on to the lawsuit filed Jan. 24 challenging Youngkin's executive order.
Culpeper County Public Schools
Culpeper schools announced on Jan. 18 that they will follow Youngkin's order. Students, staff and visitors are no longer be required to wear masks outdoors or inside school buildings and facilities. Masks still must be worn on school buses and any bus chartered by CCPS, per a federal order, the school system said.
Diocese of Arlington Catholic Schools
In a letter to pastors, principals and heads of schools on Jan. 20, the diocese's school superintendent directed schools to "continue following local public health guidance, without however, violating the rights of parents as described in Executive Order 2."
"The governor's executive order is clear on the right of parents not to have their child be subject to a mask mandate," the letter went on to say. "Heads of school and principals should provide updated school-specific guidance to faculty/staff and parents in the wake of this letter."
Fairfax County Public Schools
"FCPS continues to require universal mask wearing in alignment with CDC guidance. Our layered prevention strategies have proven effective in keeping transmission rates low in our schools." The district signed on to the lawsuit filed Jan. 24 challenging Youngkin's executive order.
Falls Church City Schools
The Falls Church City School Board directed the superintendent to issue regulations and/or implement practices to put a policy into operation that should include mask wearing opt-out provisions for students by parents. Opt-out provisions shouldn't go into effect until Feb. 14 or until the Virginia Department of Health designates Falls Church's level of community transmission of COVID-19 in the "moderate range." The district signed on to the lawsuit filed Jan. 24 challenging Youngkin's executive order.
Fauquier County Public Schools
The Fauquier County School board voted Jan. 20 to make masks optional for students and staff. The new policy started Jan. 24.
Fredericksburg City Public Schools
The school system says it will continue to require that all students, staff and visitors wear masks inside schools and on buses. "Layered prevention strategies have been successful in reducing the spread of COVID-19 in our schools which has allowed us to provide in-person learning that is required by Virginia law."
Loudoun County Public Schools
The Loudoun County School Board voted Jan. 18 to continue its mask mandate for students, staff and visitors as recommended by the CDC. "We acknowledge that these ongoing mitigation measures are not ideal or easy, and we will keep monitoring transmission data, advice from the Virginia Department of Health (VDH), and continue consultation with the local Loudoun County Health Department," a news release from the superintendent said.
Manassas City Public Schools
The school system will continue to require masks in alignment with CDC guidance. "MCPS is aware of the executive order issued by the Governor over the weekend. The School Board of the City of Manassas will continue to share any updated information around division COVID-19 protocols with the MCPS community as needed."
Prince William County Public Schools
Masks were still required through at least the week of Jan. 17. The district signed on to the lawsuit filed Jan. 24 challenging Youngkin's executive order.
"It is our highest priority to have students learning in-person, and to do so in a manner that protects the well-being of all students and staff," school board chair Babur Lateef said in a statement Jan. 24. "It is also important that School Boards retain their local decisional authority to take actions deemed necessary for the safety of their school community. With this legal filing, we do not seek to make a political statement. We simply seek clarification on the conflict between the Governor's recent Executive Order and existing state and federal law."
Spotsylvania County Public Schools
The Spotsylvania County School Board voted on Jan. 18 to rescind its policy that required masks for students, teachers and visitors. Go here for more info.
Stafford County Public Schools
The Stafford County School Board voted 5-2 to continue to require masks.
Is There a Punishment for School Districts That Keep Their Mask Mandates in Place?
It's unclear so far.
Arlington County said in a tweet on Jan. 15, Youngkin's Inauguration Day, that their school mask mandate would remain in place. Reporter Nick Iannelli, of News4's partner WTOP, asked the new governor about the school district's choice. Youngkin said his office would explore their options.
"The fact that that tweet came out from Arlington County within minutes of my executive order — what that tells me is that they didn't listen to parents yet," he said. "If there is one thing that hopefully everybody heard in November, is it is time to listen to parents. So, over the course of this week, I hope they will listen to parents, because we will use every resource within the governor's authority to explore what we can do and will do in order to make sure that parents' rights are protected."
What We Know About Masks in Schools and Virginia COVID Statistics
The U.S. Centers for Disease Control and Prevention recommends that students 2 and older, school staff and visitors wear masks in all K-12 schools, regardless of vaccination status.
COVID cases and hospitalizations climbed dramatically in the state in December and early January, and are now declining.
Research continues to show that masks are an effective way to reduce COVID transmission in schools, Linsey Marr, a Virginia Tech professor and engineer who specializes in airborne transmission of infectious diseases, previously told News4.
"This is an especially important time for us to be wearing better masks like an N95 because we're in the middle of a huge surge in omicron, and omicron is so much more transmissible than the other variants we've seen," Marr said on Jan. 13 in video footage released by Virginia Tech. Her comments were unrelated to Youngkin's plans.
Stay with NBC Washington for more details on this developing story.