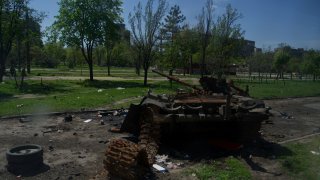 This was CNBC's live blog tracking developments on the war in Ukraine. Click here for the latest updates. 
Russia has moved its "depleted and disparate" forces to eastern Ukraine and Moscow still faces "considerable challenges" in its war against Ukraine, the latest intelligence report from the U.K. Defense Ministry said.
Returning from his trip to Ukraine, UN Secretary General Antonio Guterres said he was "moved by the resilience and bravery" of Ukrainians during his visit to Kyiv. "My message to them is simple: We will not give up," he said on Twitter.
In an interview with Saudi-owned Al-Arabiya, Russia's foreign minister Sergei Lavrov said NATO "considers itself" at war with Russia, even though Moscow doesn't see itself at war with NATO.
We're making it easier for you to find stories that matter with our new newsletter — The 4Front. Sign up here and get news that is important for you to your inbox.
Ukrainian President Volodymyr Zelenskyy's office says it has a planned operation to evacuate civilians from the blockaded Azovstal steel plant in Mariupol, the last holdout against Russian forces in the bombarded city.
Meanwhile, Russian strikes shook residential buildings in Kyiv overnight, as the UN chief and Bulgarian prime minister visited the city.
'We will not give up': UN chief tells Ukrainians
The United Nations will not give up, but will "redouble its efforts to save lives and reduce human suffering," Secretary-General Antonio Guterres said in a Twitter post on Friday.
The UN chief said he was "moved by the resilience and bravery of the people of Ukraine. My message to them is simple: We will not give up."
"In this war, as in all wars, the civilians always pay the highest price," he said.
Guterres has just returned from the war-torn country, where he visited the Kyiv suburbs of Borodianka, Bucha and Irpin nine weeks after Russia began its illegal and unprovoked war.
"When we see this horrendous site, it makes me feel how important it is [to have] a thorough investigation and accountability," he said Thursday, when he was in Bucha — where horrific photos of mass graves and executed civilians strewn in the streets sparked a global outrage.
"The war is an absurdity in the 21st century. The war is evil," he said during his visit to Ukraine, where he also met President Volodymyr Zelenskyy.
Russia has been forced to merge 'depleted and disparate' forces in Ukraine, UK says
Russia continues to face "considerable challenges" in its war against Ukraine, the U.K. Defence Ministry said.
"It has been forced to merge and redeploy depleted and disparate units from the failed advances in north-east Ukraine. Many of these units are likely suffering from weakened morale," the ministry said on Twitter.
"Shortcomings in Russian tactical co-ordination remain. A lack of unit-level skills and inconsistent air support have left Russia unable to fully leverage its combat mass, despite localised improvements," said the latest British intelligence report.
In a bid to fix problems that have constrained its advances, Moscow is trying to concentrate combat power geographically, shorten its supply lines and simplify command and control, the report said.
— Joanna Tan
U.S. and Canadian troops are training Ukrainian soldiers in Europe, Pentagon says
U.S. troops in Germany have started training Ukrainian soldiers on the use of heavy weapons to defend their country against Russian attacks, the Pentagon said Friday.
"These efforts build on the initial artillery training that Ukraine's forces already have received elsewhere and also includes training on radar systems and armored vehicles that have been recently announced as part of security assistance packages," Press Secretary John F. Kirby said.
This week, President Joe Biden called on Congress to authorize as much as $33 billion in humanitarian and military aid to Kyiv in its fight against Moscow's attacks.
Canada has given heavy artillery to Ukrainian forces, including M-777 howitzers and anti-armor ammunition, the Canadian government said last week.
Canadian service members are training Ukrainians on the M-777 howitzer in Europe, Kirby added, citing Canadian Defense Minister Anita Anand.
— Joanna Tan
Russia says it's not at war with NATO, blames alliance for war in Ukraine
Russia's foreign minister says Moscow does not consider itself at war with NATO.
In an interview with Saudi Arabia's Al-Arabiya TV channel, Sergei Lavrov said: "Unfortunately, NATO, it seems, considers itself to be at war with Russia."
"NATO and European Union leaders, many of them, in England, in the United States, Poland, France, Germany and of course European Union chief diplomat Josep Borrell, they bluntly, publicly and consistently say, 'Putin must fail, Russia must be defeated,'" he told the network.
"When you use this terminology," he said, "I believe you think that you are at war with the person who you want to be defeated."
Lavrov — who has been sanctioned by the U.S., U.K. and Europe for his role in the war — reportedly said his country's "special operation" in Ukraine is "a response to what NATO was doing in Ukraine to prepare this country for a very aggressive posture against the Russian Federation."
He told Al-Arabiya that Ukraine was given arms that can reach Russian territory, and that military bases were being built, including on the Sea of Azov — where the battle for the besieged port city of Mariupol continues today.
Russian forces have largely destroyed the city of Mariupol, though Moscow falsely claims that it doesn't target civilian areas.
Lavrov claimed many military exercises held on Ukrainian territory "were conducted under NATO auspices, and most of these exercises were designed against the [interests] of the Russian Federation, so the purpose of this operation is to make sure that those plans do not materialize."
— Joanna Tan
Zelenskyy says peace talks with Russia close to collapse
Ukrainian President Volodymyr Zelenskyy said there was a high risk that peace talks with Moscow would end, and U.S. lawmakers pledged to move fast on a plan to send as much as $33 billion to help Kyiv keep fighting Russia's assault.
U.N. Secretary-General Antonio Guterres had said during a visit to Kyiv on Thursday that intense discussions were underway to evacuate civilians from the steel works in Mariupol, which is under heavy Russian attack as part of an offensive in the south and east.
One of the fighters holed up in the city, a major target of Russia's invasion, told Reuters the comments gave him hope hundreds of civilians blocked with them at the plant for weeks would be evacuated after many failed attempts.
Zelenskyy's office had said an operation was planned to get civilians out of the plant on Friday but there was no sign of an evacuation as dusk fell. He later expressed pessimism over the prospect of continued peace talks with Russia, blaming public anger with what he said were atrocities by Russian troops.
"People (Ukrainians) want to kill them. When that kind of attitude exists, it's hard to talk about things," Interfax quoted him as telling Polish journalists.
— Reuters
Biden's $33 billion Ukraine aid request hits early snag on Capitol Hill
President Joe Biden's ask for $33 billion in aid to Ukraine hit an early snag on Capitol Hill, where a dispute over immigration policy threatens to hamstring urgently needed assistance to Kyiv.
Congressional Republicans object to Democrats' attempt to link the $33 billion requested for Ukraine with a separate bipartisan compromise providing $10 billion in additional Covid funding.
Republicans, who oppose a $10 billion plan to expand Covid relief, say they want to advance the aid to Ukraine without the coronavirus legislation tacked on.
Should Democrats insist that the bills be linked, Senate Republicans will likely force a vote on the Biden administration's controversial decision to end a pandemic-era policy called Title 42, which allowed border agents to turn away migrants at the U.S.-Mexican border.
Pentagon spokesman John Kirby becomes upset reflecting on war in Ukraine
Pentagon spokesman John Kirby became visibly upset during a press briefing when reflecting on the ongoing conflict and the horrific reports of potential war crimes in Ukraine.
When asked if the U.S. believed Russian President Vladimir Putin was a rational actor, Kirby quickly said that he was not a psychologist and could not make such an assessment.
"I'm not going to go into the psychology of Vladimir Putin. It's hard to look at what he's doing in Ukraine, what his forces are doing in Ukraine and think that any ethical, moral individual could justify that," Kirby said.
"It's difficult to look at the ... sorry," Kirby said, taking a few moments before continuing his response. "It's difficult to look at some of the images and imagine that any well thinking serious mature leader would do that."
Kirby, who spent nearly three decades in the U.S. Navy before retiring at the rank of Rear Admiral and who has worked as a spokesman at both the Pentagon and State Department, apologized for getting emotional at the podium.
"I didn't mean to get emotional. I apologize for that. I don't want to make this about me," he said.
"Innocent people shot in the back of the head, hands tied behind their backs, pregnant women being killed, hospitals being bombed. I mean, it's just unconscionable," Kirby added.
— Amanda Macias
Pentagon slams Russian rhetoric that war in Ukraine will soon expand to Moldova
Pentagon spokesman John Kirby slammed Russia's recent rhetoric on expanding its war past Ukraine's borders.
"We absolutely respect Moldova's sovereignty. We want every other nation in the world to respect it. A Russian general out there claiming that Moldova is next is clearly irresponsible rhetoric," Kirby said, referencing remarks made by Russian commander Rustam Minnekayev.
Last week, Minnekayev said that Moscow wanted "full control" of eastern and southern Ukraine and would seek to create a "land corridor" from Russia in the east to Transnistria to Crimea, a peninsula on the Black Sea that Russia forcefully annexed from Ukraine in 2014.
"I'm not going to get into hypotheticals about what the Russians will do," Kirby said, adding that the U.S. was aware of reports of attacks in Transnistria, which shares a border with Moldova and Russia.
The ongoing war next door has put the landlocked country of Moldova, a former Soviet republic and one of Europe's poorest nations, in a precarious position. Moldova is Eastern Europe's smallest nation, with a population of fewer than 3 million and a landmass slightly larger than the state of Maryland.
Adding to Moldova's vulnerability on Eastern Europe's frontlines is its complete reliance on Russian gas supplies.
— Amanda Macias
The American $176,000 anti-tank weapon that could change the war in Ukraine
One of the most capable and expensive weapon systems being supplied to Ukraine is the FGM-148 Javelin, a U.S.-made anti-armor weapon that costs about $176,000 each.
Watch this video to find out what the Javelin is, how it it used and what it will take for the U.S. to produce more of them.
U.S. forces resume training with Ukrainian troops at three sites outside of Ukraine
Pentagon spokesman John Kirby said that the U.S. has resumed joint training with Ukrainian troops at three locations in Europe.
In November, 160 members of the Florida National Guard, assigned to the 53rd Infantry Brigade Combat Team, deployed to Ukraine to train with local forces. Secretary of Defense Lloyd Austin ordered U.S. troops who deployed to Ukraine last year to leave the country and reposition elsewhere in Europe.
The new marching orders came as an estimated 100,000 Russian troops equipped with advanced weaponry lined Ukraine's eastern border and the northern border with Belarus.
"I can announce that the United States has commenced training with Ukrainian armed forces on key systems at U.S. military installations in Germany. These efforts build on the initial artillery training that Ukraine's forces already have received," Kirby said, adding that there would be additional training on radars and armored personal vehicles.
"The recent reunion of the Florida National Guard members with their Ukrainian colleagues, we are told was an emotional meeting, given the strong bonds that were formed as they were living together before parting ways in February," Kirby added.
— Amanda Macias
Starlink internet becomes a lifeline for Ukrainians
Parts of war-torn Ukraine that have little or no internet service have found an alternative: emergency Starlink receivers.
The SpaceX-run satellite internet service that CEO Elon Musk touted at the start of the war has emerged as a lifeline for many areas of the country, with over 10,000 dish antennas in service and more on the way. 
In Ukraine, Starlink's technology has found a place where it can prove itself, especially being used in ways other than how it was intended. Throughout its invasion, Russia has consistently attacked Ukrainian communications infrastructure with both military weapons and cyberattacks. 
Read the full story here.
— NBC News
Russia aims to avert historic debt default with last-ditch dollar bond payments
Russia looks to have averted a historic sovereign default by tapping its domestic reserves and attempting to make overdue dollar payments on its international debt obligations.
Earlier Friday, Russia's Finance Ministry said that it had attempted the dollar payments — a dramatic U-turn after the country had previously attempted to make the payments on its dollar-denominated bonds in Russian rubles.
The ministry said it had made a payment of $564.8 million on a 2022 eurobond and a payment of $84.4 million on a 2042 eurobond, according to Reuters, with both in dollars — which was originally stipulated on the debt agreements.
The funds have reportedly been channeled to the London branch of Citibank but it's unclear whether they will reach their intended recipients. The payments were due to be made in April and had entered a 30-day grace period before official default on May 4.
Russian government bonds rallied on Friday afternoon after the news from the Finance Ministry. But close Moscow watchers like Timothy Ash, emerging markets strategist at BlueBay Asset Management, were unsure whether it would still be able to avoid a default.
— Matt Clinch and Elliot Smith
Russian forces are behind schedule in the Donbas, U.S. Defense official says
Russian forces are a few days behind schedule in the Donbas region of Ukraine, a senior U.S. Defense official said.
The official, who spoke on the condition of anonymity to share new details from the Pentagon's latest assessment of the war, added that Russian troops are still beset with a range of challenges, including food and fuel shortages.
"We do believe and assess that [the Russians] are behind schedule in what they are trying to accomplish in the Donbas," the official said.
In recent weeks, the U.S. has accelerated its weapons packages to Ukraine due to Western intelligence that indicated Russian forces were leaving key positions near Kyiv and relocating to areas in the east of Ukraine for an intensified fight.
On Thursday, the official said that the U.S. had observed the Russians making "slow and uneven progress" in the Donbas.
— Amanda Macias
Cryptocurrency group lobbies U.S. Congress against bills that target Russian oligarchs
The cryptocurrency industry has been quietly lobbying U.S. lawmakers against legislation designed to prevent Russian oligarchs from using digital currencies to evade sanctions imposed on Russian President Vladimir Putin's allies and their companies following Russia's attack on Ukraine.
The Blockchain Association, a lobbying group that represents more than 70 crypto platforms including Ripple, Crypto.com and Dragonfly Capital, is trying to convince Congress that cryptocurrencies aren't being used by wealthy Russians to to avoid sanctions. It's working with lobbying shop Forbes Tate Partners against legislation that would impose more sanctions on already penalized Russians who are aiming to use crypto as a way to avoid sanctions. The bill would also empower the Treasury secretary to block crypto trading platforms based in the U.S. from doing business with those in Russia.
Two bills have been introduced in U.S. House and Senate that gives the Biden administration the authority to prohibit U.S. crypto exchanges from processing payments from Russia. The bills would also allow U.S. authorities to sanction foreign exchanges that process transactions by sanctioned Russian people or companies.
The legislation poses a grave threat to the industry, which critics say has become popular for clandestine transactions because they cannot be traced. It would essentially subject digital currencies to some of the same rules that require federally insured banks to know their customers, combat money laundering and report suspicious transactions to regulators.
— Brian Schwartz
Netherlands reopens embassy in Kyiv, warns citizens to still not travel to Ukraine
The Dutch Ambassador to Ukraine Jennes de Mol returned to Kyiv with a small number of embassy staff, the Ministry of Foreign Affairs wrote in a statement.
"A diplomatic mission in Kyiv is of great value in maintaining contact with the Ukrainian government. Embassies of other EU countries are also returning. It is important for the Netherlands to work closely with all these countries, including in Ukraine," the statement said.
The Netherlands Ministry of Foreign Affairs added that citizens should not travel to the war-weary country.
The Netherlands is the latest country to reopen its diplomatic mission in Ukraine's capital, following France, Italy, Turkey, Lithuania, Slovakia, Slovenia, the Czech Republic, Portugal, Belgium and Austria. The European Union has also reopened its diplomatic mission in Kyiv while the United States has returned its diplomatic mission to Lviv.
— Amanda Macias
Ukraine claims it has retaken a strategic village that Russians were using to shell Kharkiv
The Ukrainian military claims it has retaken a strategically important village along the highway connecting the major city of Kharkiv in Ukraine with the Russian city of Belgorod.
According to a Telegram post from the official channel of the Land Forces Command of the Armed Forces of Ukraine, the village of Ruska Lozova in the Kharkiv oblast has been liberated and is now completely under the control of Ukrainian troops.
CNBC was unable to independently verify the status of Ruska Lozova, but Ukrainian troops have been slowly moving eastward from the Kyiv suburbs and liberating town after town occupied by Russian forces during the first few weeks of the war.
Ruska Lozova is important because it is one of the villages that Russian forces retreated to after they failed to take Kharkiv, Ukraine's second-largest city.
Unable to fully occupy Kharkiv, Moscow has instead chosen to shell civilian infrastructure and residential neighborhoods in the city almost constantly for weeks, using artillery placed in outlying villages like Ruska Lozova.
--- Christina Wilkie
UN says 2,899 killed in Ukraine since start of war, warns death toll is likely higher
The United Nations says it has confirmed 2,899 civilian deaths and 3,235 injuries in Ukraine since Russia invaded its ex-Soviet neighbor on Feb. 24.
Of those killed, the U.N. has identified at least 210 children.
The Office of the UN High Commissioner for Human Rights said Monday that the death toll in Ukraine is likely higher, citing delayed reports due to the armed conflict.
The international body said most of the civilian casualties recorded were caused by the use of explosive weapons with a wide impact area, including shelling from heavy artillery and multiple launch rocket systems, as well as missiles and airstrikes.
— Amanda Macias
Ukraine says Russia taking 'colossal losses' in eastern battle
Ukraine acknowledged it was taking heavy losses in Russia's assault in the east, but said Russia's losses were even worse, as U.S. President Joe Biden called on Congress to send as much as $33 billion to help Kyiv withstand the attack.
President Volodymyr Zelenskyy praised Biden's offer of help, which amounts to nearly 10 times the aid Washington has sent so far since the war began on Feb. 24.
Having failed in an assault on Kyiv in the north of Ukraine last month, Russia is now trying to fully capture two eastern provinces known as the Donbas. Ukraine has acknowledged losing control of some towns and villages there since the assault began last week, but says Moscow's gains have come at a massive cost to a Russian force already worn down from its earlier defeat near the capital.
"We have serious losses but the Russians' losses are much much bigger ... They have colossal losses," presidential adviser Oleksiy Arestovych said.
— Reuters
Two British aid workers captured by Russian forces, NGO says
Two British aid workers have been detained by Russian forces near Ukraine's southern city of Zaporizhzhia, the U.K.-based non-profit Presidium Network said.
The group's founder Dominik Byrne told the BBC on Friday that the two men "got through a Ukraine checkpoint to go south through Russian controlled area when we lost contact on Monday morning."
Presidium said that the two volunteers were civilians working independently but as part of a mission in Ukraine to provide medical supplies, food and evacuation help.
Byrne said he was working "to get the support we need from the U.K. government and from the international community, as well as on the ground," and that he was seeking "clarification about how they are and how safe they are" and whether they were being "treated properly."
The U.K.'s Foreign Office "is doing all it can to support and identify these two people," British trade minister Anne-Marie Trevelyan told Sky News on Friday.
— Natasha Turak
Britain sending experts to help Ukraine prosecute war crimes: Foreign secretary
The U.K. is sending experts to help Ukraine's government collect evidence and prosecute Russian war crimes against civilians, Foreign Secretary Liz Truss said. Ukraine says it is investigating more than 7,000 potential war crimes in the wake of Russia's unprovoked invasion.
"Russia has brought barbarity to Ukraine and committed vile atrocities, including against women. British expertise will help uncover the truth and hold Putin's regime to account for its actions," Truss said. The foreign secretary is traveling to The Hague to meet with International Criminal Court President Judge Piotr Hofmanski and Dutch Foreign Secretary Wopke Hoekstra.
"The specialist team will assist the Ukrainian government as they gather evidence and prosecute war crimes and will include experts in conflict-related sexual violence," a foreign office statement said.
— Natasha Turak
Former U.S. Marine reportedly killed fighting alongside Ukrainian forces
American citizen Willy Joseph Cancel was killed while fighting alongside Ukrainian forces in Ukraine, CNN has reported.
Cancel, a former U.S. Marine, was 22 years old and working for a private military contractor when he was sent by his company to fight in Ukraine, his mother Rebecca Cabrera said.
"He wanted to go over because he believed in what Ukraine was fighting for, and he wanted to be a part of it to contain it there so it didn't come here, and that maybe our American soldiers wouldn't have to be involved in it," Cabrera told CNN in a phone interview.
Cancel entered Ukraine via Poland in mid-March and was killed on Monday, his mother said.
NBC has reached out to Cancel's family and the State Department. Quoted by CNN, a State Department official said they are "aware of these reports and are closely monitoring the situation."
"Due to privacy considerations, we have no further comment," the official added. "We once again reiterate U.S. citizens should not travel to Ukraine due to the active armed conflict and the singling out of U.S. citizens in Ukraine by Russian government security officials, and that U.S. citizens in Ukraine should depart immediately if it is safe to do so, using any commercial or other privately available ground transportation options."
More than 20,000 foreign fighters from 52 countries, many of whom are military veterans, have volunteered to fight against the Russian invasion in Ukraine, according to Ukraine's Defense Ministry, which created the International Legion to serve that purpose.
— Natasha Turak
Should the West prepare for war with Russia? Strategists examine what could come next
Russia has repeatedly warned of the risks of nuclear war and of swift retaliation "if necessary" as its invasion of Ukraine continues and it faces stiff resistance from Ukrainian forces armed with advanced Western weaponry.
Moscow has warned NATO states to stop arming Ukrainian forces, and has made frequent reference to its war arsenal, which includes nuclear weapons. But strategists have told CNBC that Putin is playing on risk aversion in the West and that the chances of a nuclear war are remote.
One close Russia watcher said Western governments need to imbue their populations with a "war mentality" to prepare them for the hardships they could face as the economic fallout from the war continues.
Those include rising energy costs and disrupted supply chains and goods from Russia and Ukraine, among the world's biggest "bread baskets."
— Holly Ellyatt
There will be 'lessons learned' over Ukraine war, UN deputy secretary-general says after criticism
The United Nations has faced scathing criticism over what many describe as its slow and ineffective response to Russia's invasion of Ukraine. In response to that, its Deputy Secretary-General Amina Mohammed admitted that there will be "lessons learned" over the conflict, and that it came as "a big shock to the system."
"Of course, there are things that we could have done to stop the war, but perhaps those are going to be lessons learned again, when the Security Council, the General Assembly leaders will look back and say, 'what could we have done, and make sure that we prevent the next war, the next pandemic'," Mohammed told CNBC.
"These are all things that we are learning. I think history tells us that we're not very good learners when it comes to that."
"I hope that the learnings will find ways to make us more accountable to put in the checks and balances that this doesn't ever happen again, and that we are working towards peace," Mohammed added.
U.N. Secretary-General Antonio Guterres visited Moscow to meet with Putin and later traveled to Kyiv, after being criticized for not playing a strong enough role in the conflict and for visiting Russia before Ukraine.
— Tania Bryer and Natasha Turak
Difficult 'if not impossible' for Europe to substitute Russian gas in the short term, CEO says
Replacing Russian gas with other sources will be next to impossible in the near term, Alfred Stern, CEO of Austrian oil and gas company OMV, told CNBC.
"On the supply of gas for Europe, I think we should be rather clear, that in the short run it will be very difficult for Europe if not impossible to substitute the Russian gas flows," Stern told CNBC's "Squawk Box Europe."
Some countries have the possibility of drawing on alternate sources of the commodity, "but if you look at the total European picture, the quantities just work out in such a way that we will not be able to substitute in the short run the full quantity with European production or imports from other sources," the CEO said.
"The capacity currently is not here, it can be built up over time, but in the short run this is not possible."
The comments come days after Russia announced it was cutting off its gas supplies to Poland and Bulgaria, after the two countries refused a Russian demand to pay for the imports in rubles, since Moscow is cut off by sanctions from being paid in euros or dollars.
As the EU, which imports 40% of its gas from Russia, grapples with the reality of Moscow using its energy as a weapon, analysts and executives have warned of a recession in Europe if Russia fully turns off the taps.  
"It will be critical because it could have significant impact on our economy, on the running of industry, because we depend on the availability of energy for this," Stern said. 
— Natasha Turak
Russian strikes in Kyiv injure 10 people amid UN leader's visit
Russian strikes in Ukraine's capital Kyiv on Thursday hit residential buildings and wounded 10 people, Ukrainian emergency services said.
Witness reported large explosions in Kyiv's northwestern Shevchenkivsky district that left windows blown out and parts of buildings blackened. It came as UN Secretary-General Antonio Guterres and Bulgarian Prime Minister Kiril Petkov visited the city, and as Ukrainian residents begin to return.
"Shocked and appalled about the Russian missile strikes on Kyiv and other Ukrainian cities. Russia demonstrates again its blatant disregard for intl law by bombarding a city while @UN Secretary General @antonioguterres is present, alongside Bulgarian PM @KirilPetkov," the EU's foreign policy chief Josep Borrell said in a tweet.
— Natasha Turak
Russia may be preparing to hold 'sham referenda' in Ukraine, U.S. ambassador says
Russia may be preparing to stage "sham referenda" in Ukraine's south and east — in areas it has illegally seized since Feb. 24 — to legitimize its illegal invasion and assert control there, said the U.S. ambassador to the Organization for Security and Cooperation in Europe.
Russia is planning to force Ukraine's government to surrender, including dissolving all local municipal governments, while setting up new government structures in "liberated" territories under Russian control, ambassador Michael Carpenter said in a speech to OSCE.
He added that Russian officials and so-called separatists are developing plans for a new government and constitution.
"This planning includes a moratorium disallowing legitimate Ukrainian leaders and those supporting Ukraine's legitimate government from any leadership positions," Carpenter said.
He added that the plans are "straight out of Russia's playbook" of orchestrating "so-called referenda in the Ukrainian regions of Crimea, Luhansk, and Donetsk — each time with faked high percentages of public support" and installing puppet regimes there.
Russia annexed Crimea in 2014, and the country has been supporting a separatist rebellion in the Donbas — made up of Ukrainian cities Luhansk and Donetsk — since 2014.
Carpenter added that Russia is likely to intensify ongoing deportations of Ukrainians.
"We should expect Russia to intensify its ongoing forced transfers of local populations from areas of Ukraine's south and east to Russia or Russia-controlled parts of the Donbas via so-called "filtration camps," Carpenter said.
— Chelsea Ong
Ukraine plans an operation to get civilians out of Mariupol's blockaded steel plant
Ukraine says it has a plan to evacuate the roughly 1,000 civilians who are holed up in the massive Azovstal steel plant complex in the besieged city of Mariupol.
"An operation is planned today to get civilians out of the plant," President Volodymyr Zelenskyy's office said, without further elaboration.
The site has become one of the last significant holdouts of Ukrainian forces in an otherwise Russian-occupied city.
Mariupol, a strategic port city in Ukraine's south and just 30 miles from the Russian border, has seen some of the most brutal bombardment of the entire Russian campaign, and has been cut off from electricity, food, and most humanitarian aid since the start of March. Satellite imagery has revealed what Western and Ukrainian officials believe are mass graves just outside the city.
Russia's defense ministry has in past days said it was opening a humanitarian corridor for civilians to leave the steel plant. But multiple previous attempts have failed, with Kyiv blaming Russian forces for not holding their fire to allow safe passage. Moscow, meanwhile, blames Ukrainian forces for the failure.
— Natasha Turak
Battle for Donbas is Russia's main focus, but Ukrainian resistance is limiting its gains: UK MoD
The battle for Donbas is Russia's primary focus, as it aims to take over Ukraine's eastern Luhansk and Donetsk regions, the U.K. Ministry of Defence wrote in its daily intelligence update Friday.
So far, significant Ukrainian resistance is hampering Moscow's progress, it added.
In the Donetsk and Luhansk oblasts (or administrative districts), "fighting has been particularly heavy around Lysychansk and Severodonetsk, with an attempted advance south from Izium towards Slovyansk," the ministry wrote on Twitter.
"Due to strong Ukrainian resistance, Russian territorial gains have been limited and achieved at significant cost to Russian forces."
— Natasha Turak
Ukraine's prosecutor identifies 10 Russian soldiers accused of Bucha atrocities
Ukraine's prosecutor general has identified 10 Russian soldiers she said were involved in the atrocities in Bucha, Ukraine, according to the Associated Press.
Iryna Venediktova appealed to the public on Facebook to help gather evidence against those soldiers whom she said were "involved in the torture of peaceful people." They were from Russia's 64th Separate Motorized Rifle Ground Forces Brigade whose work President Vladimir Putin recently honored, the AP said.
"During the occupation of Bucha, they took unarmed civilians hostage, killed them with hunger and thirst, kept them on their knees with hands tied and eyes taped, mocked and beat them," she reportedly said, adding that the soldiers threatened to shoot the civilians and looted houses.
On Thursday, United Nations Secretary-General Antonio Guterres visited Bucha, calling for an investigation into possible war crimes in Ukraine.
— Chelsea Ong
U.S. Embassy in Kyiv says staffer was killed in war in Ukraine
The U.S. Embassy in Kyiv says one of its employees was killed in the Kremlin's war in Ukraine.
"Volodymyr, who took leave from his job as an Embassy bodyguard to rejoin the army and defend Ukraine," the U.S. mission in Kyiv wrote.
"We will never forget his kind spirit, dedication, and bravery. Our deepest condolences go to his family and friends," the embassy wrote in a tweet.
U.S. Secretary of State Antony Blinken told lawmakers Wednesday that the Biden administration is working on reopening the U.S. Embassy in Kyiv.
— Amanda Macias
Read CNBC's previous live coverage here:
Biden requests $33 billion for Ukraine war; Putin threatens 'lightning fast' retaliation to nations
Copyright CNBC