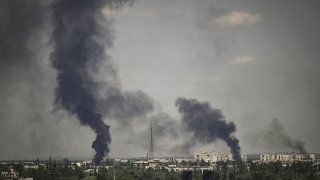 This has been CNBC's live blog covering updates on the war in Ukraine. [Follow the latest updates here.]
The European Union has agreed on a plan to block more than two-thirds of Russian oil imports as part of new punitive measures against the Kremlin.
European Commission President Ursula von der Leyen said the move would effectively cut around 90% of oil imports from Russia to the bloc by the end of the year.
We're making it easier for you to find stories that matter with our new newsletter — The 4Front. Sign up here and get news that is important for you to your inbox.
The EU has also agreed on sanctions to cut Russia's largest bank, Sberbank, from the SWIFT messaging system and to ban three more state-owned broadcasters.
Meanwhile, Russia has claimed it now controls one-third of the city of Sievierodonetsk as the Kremlin's troops continue their offensive in the Donbas region.
UNICEF says 5.2 million children require humanitarian aid
The war has rendered 3 million children inside Ukraine and over 2.2 million children in refugee-hosting countries in need of humanitarian aid, according to UNICEF, which estimated 2 in 3 children have been displaced by the fighting.
On average, more than 2 children are killed and more than 4 are injured every day in Ukraine due mostly to attacks using explosive weapons in populated areas, according to reports verified by the Office of the United Nations High Commissioner for Human Rights.
Civilian infrastructure critical for children, including 256 health facilities and hundreds of schools, have also been damaged or destroyed in the war.
— Chelsea Ong
Biden says U.S. will provide Ukraine with longer-range rocket systems
U.S. President Joe Biden said in a New York Times opinion piece that he will "provide the Ukrainians with more advanced rocket systems and munitions that will enable them to more precisely strike key targets on the battlefield in Ukraine."
The rocket systems refer to longer-range Multiple Launch Rocket Systems, NBC News reported, citing the White House Security Council.
U.S. officials have been hesitant to send MLRS to Ukraine over concerns that Russia may view it as an escalatory action because of the system's range, NBC News reported.
The MLRS can fire numerous rockets from an extensive distance away — much further than any of the systems Ukraine already has, CNN reported.
Russia said earlier this week that it would strike "decision making centers" including those "not in Kyiv," if the U.S. sent long-range rocket systems to Ukraine.
But a U.S. senior administration official said Ukraine has agreed not to use the MLRS to launch rockets into Russia, NBC News reported.
— Chelsea Ong
U.S. supports shipment of Russian grain, fertilizer to ease food insecurity, UN envoy says
The U.S. ambassador to the United Nations said the Biden administration supports the shipment of Russian grain and fertilizer to address increasing global food insecurity sparked by the war in Ukraine.
Linda Thomas-Greenfield told reporters at U.N. headquarters that there are no U.S. sanctions on Russian shipments of grain and fertilizer, but she said companies are "a little nervous" and have been holding back.
Thomas-Greenfield said the United States is prepared to give "comfort letters" to grain and fertilizer exporters and insurance companies in an attempt to get badly needed agricultural products out of Russia.
She said the Biden administration is "very supportive" of efforts by U.N. Secretary-General Antonio Guterres to allow grain exports out of Ukraine by train and the Black Sea, as well as his work to ensure Russian food and fertilizer have unrestricted access to global markets.
— Associated Press
Pentagon chief, Ukrainian defense minister discuss military aid
U.S. Defense Secretary Lloyd Austin and Ukrainian Defense Minister Oleksii Reznikov spoke about continued aid for the Ukrainian military as it fights off a Russian invasion.
The pair discussed "weaponry supply" and the "strengthening" of Ukraine's defense capabilities, Reznikov wrote in a tweet.
President Joe Biden recently signed a nearly $40 billion aid package for Ukraine that will allow his administration to send military equipment and humanitarian aid to the country for months.
— Jacob Pramuk
Poland is on a 'good path' to receiving EU aid to support Ukrainian refugees, PM says
Poland's Prime Minister Mateusz Morawiecki said the country is on a "good path" to receive new financing from the European Union to support Ukrainian refugees and compensate for weapons Poland gave to Ukraine.
More than 3 million refugees have entered Poland from Ukraine. While some passed through and others returned home, most are still in Poland and receiving government support.
Poland has also been supplying various weapons to Ukraine.
"Albeit slowly, but this (EU) support for Poland is coming … and we are on the good path to receive new means for the help for the refugees as well as linked to the weapons that we have handed to Ukraine," Morawiecki said.
— Associated Press
EU calls on nations not to restrict trade in farm products as threat of food crisis grows
The European Union urged its international partners to avoid placing trade barriers on farm products as Russia's war on Ukraine risks further fueling a possible global food crisis.
"We call on all partners not to restrict trade on agricultural products," European Commission President Ursula von der Leyen said after an EU summit in Brussels.
Ukraine has said Russia is blocking the export of 22 million tons of its grain, some of it destined for Africa. African countries imported 44% of their wheat from Russia and Ukraine between 2018 and 2020, according to the U.N.
Von der Leyen said the EU is trying to help get food out by road and rail, but land transport assistance might only provide for a fifth of Ukraine's usual monthly exports.
"It is of course more tedious and expensive, but it is necessary to get this wheat out," she said.
— Associated Press
Ukrainian bomb disposal team clears unexploded rocket outside Kyiv
Bomb disposal experts from the Ukrainian State Emergency Service make safe a Russian BM-30 Smerch rocket and remove it from a field in Borodyanka, Ukraine.
The demining and clearing of unexploded ordnance in Ukraine after the Russian invasion could take between five-to-seven years. In the Kyiv region alone, over 36,000 items of dangerous ordnance have already been removed.
— Christopher Furlong | Getty Images
Russia's blockade of Ukraine's ports risks 'catastrophic scenario,' African Union chair says
The chair of the African Union, Senegal's President Macky Sall, has told European Union leaders that Russia's blockade of Ukraine's ports is paving the way for a "catastrophic scenario" of widespread shortages and price hikes across his continent.
In an address to leaders gathered in Brussels for a summit focused on helping Ukraine, Sall said that a halt to grain and fertilizer exports via the Black Sea is very worrying for a continent hosting 282 million undernourished people. He said that the price of fertilizer across Africa has already tripled compared to 2021.
"According to some estimates, cereal yields in Africa will fall by 20 to 50 percent this year," Sall said. "We would like to see everything possible done to free up available grain stocks and ensure transportation and market access."
Charles Michel, the EU Council president, said that "the EU is sparing no efforts to free Ukraine's exports over land and exploring alternative sea routes."
African countries imported 44% of their wheat from Russia and Ukraine between 2018 and 2020, according to U.N. figures. The African Development Bank is already reporting a 45% increase in wheat prices on the continent.
— Associated Press
Zelenskyy: Ukraine's classrooms 'froze' after Russian invasion
Ukraine President Volodymyr Zelenskyy said that Russia's invasion of his country has damaged "more than 1,800 educational institutions."
"Broken windows, damaged desks. Life froze in school classrooms back on February 23," Zelenskyy said in a social media post, according to an NBC News translation.
"But no matter how difficult it is now, Ukrainians cannot be broken. We will fight, develop, study. For the sake of freedom and our future victory," Zelenskyy wrote.
— Kevin Breuninger
After Ukraine, 'whole world' is a customer for Turkish drone, maker says
Ukraine's destruction of Russian artillery systems and armoured vehicles with Turkish Bayraktar TB2 aerial drones has made "the whole world" a customer, according to its designer.
Selcuk Bayraktar, who runs the Istanbul firm Baykar with his brother Haluk, said the drones had shown how technology was revolutionising modern warfare.
"Bayraktar TB2 is doing what it was supposed to do – taking out some of the most advanced anti-aircraft systems and advanced artillery systems and armoured vehicles," he told Reuters in English beside the new Akinci drone at an exhibition in Baku. "The whole world is a customer."
— Reuters
Ukraine cheers new EU plan to ban most Russian oil imports
Ukraine applauded European Union leaders for striking an agreement on a new package of sanctions against Russia that includes an embargo on most Russian oil imports.
The EU's plan to ban 90% of Russian crude imports to the trading bloc by the end of the year "will speed up the countdown to the collapse of the Russian economy and the military machine," Ukrainian Foreign Minister Dmytro Kuleba said in a statement.
But Kyiv also expressed disappointment that the package was not approved earlier, and that it includes an exception for pipelines supplies. Ukraine pinned the blame for those shortcomings on "Hungary's resistance to the oil embargo."
Talks over the weekend were reportedly held up by Hungary, a heavy user of Russian oil whose leader, Viktor Orban, is on good terms with Russian President Vladimir Putin.
Still, Ukraine's Foreign Affairs Ministry cheered the new sanctions package, which it said will deprive Russia's military of "tens of billions of dollars" for its invasion of Ukraine. "By deciding on an oil embargo, the EU will not only make it harder for the Kremlin to finance Russia's aggression, but will also strengthen its energy security," Kyiv said.
— Kevin Breuninger
Photos show the ghost town of Pripyat near the Chornobyl Nuclear Power Plant
Photos show the northern Ukrainian ghost town of Pripyat near the Chornobyl Nuclear Power Plant.
More than 100 employees who had shown up just hours before for their night shift were now trapped as Russian forces crossed into Ukraine and seized swaths of land as they marched toward Kyiv. 
The capture of Chornobyl by Russian forces kicked off a weeks-long ordeal that saw power briefly cut at the facility and employees carefully monitored by the invaders as they grappled with fresh uncertainty during the invasion's early days.
— Dimitar Dilkoff | AFP | Getty Images
Russia's Gazprom cuts off supplies to Dutch gas trader over payment dispute
Russia's state-controlled energy giant Gazprom has cut off supplies to Dutch gas trader GasTerra over a gas-for-rubles payment dispute.
Gazprom has said payments for gas from foreign buyers must be made in rubles, as per the Kremlin's orders. Russia has already halted gas supplies to Poland, Bulgaria and Finland — while Danish energy firm Orsted has warned Gazprom could soon cut off its supplies.
GasTerra said on Monday it would not adapt to what it described as Gazprom's "one-sided payment requirements."
The company, which buys and trades on behalf of the Dutch government, said it had repeatedly urged Gazprom "to respect the contractually agreed payment structure and supply obligations but to no avail."
In late March, Russian President Vladimir Putin said countries deemed "unfriendly" by the Kremlin would need to pay for Russian gas in rubles. His comments came in the wake of an unprecedented barrage of punitive economic measures following Russia's onslaught in Ukraine.
— Sam Meredith
Fighting in Sievierodonetsk has 'split the city down the middle,' official says
The head of Sievierodonetsk says fighting between Russian forces and Ukrainian troops has cut the city in half.
Speaking to Ukrainian television, Oleksiy Stryuk said, "Unfortunately the frontline split the city down the middle."
His comments come as Russian forces continue their offensive in the Donbas region. The Kremlin claims it has seized control of one-third of Sievierodonetsk, although troops had not been able to advance as rapidly as they had hoped.
— Sam Meredith
Heavy shelling continues in Ukraine's key eastern city of Sievierodonetsk, UK says
The U.K.'s Ministry of Defence says heavy shelling continues in the key eastern city of Sievierodonetsk, with street fighting likely taking place on the outskirts of the town.
In its latest intelligence assessment, the ministry said Russian forces had "achieved greater local successes than earlier in the campaign by massing forces and fires in a relatively small area."
"This forces Russia to accept risk elsewhere in occupied territory," the ministry said.
"Russia's political goal is likely to occupy the full territory of Donetsk and Luhansk Oblasts. To achieve this, Russia will need to secure further challenging operational objectives beyond Sieverodonetsk, including the key city of Kramatorsk and the M04 Dnipro-Donetsk main road," the ministry said.
— Sam Meredith
Ukrainian court sentences two Russian soldiers to jail for war crimes
A Ukrainian court sentenced two captured Russian soldiers to 11 and a half years in jail on Tuesday for shelling a town in eastern Ukraine, the second war crimes verdict since the start of Russia's invasion in February.
Alexander Bobikin and Alexander Ivanov, who listened to the verdict standing in a reinforced glass box at the Kotelevska district court in central Ukraine, both pleaded guilty last week.
"The guilt of Bobikin and Ivanov has been proven in full," Judge Evhen Bolybok said.
Both acknowledged last week being part of an artillery unit that fired at targets in the Kharkiv region from the Belgorod region in Russia.
— Reuters
EU leaders split on Russian gas embargo
European Union leaders are split over whether to target Russian gas imports in the bloc's next set of sanctions against the Kremlin. It comes shortly after the EU imposed a partial oil ban as part of its sixth package of sanctions.
Estonia's Prime Minister Kaja Kallas told reporters that the EU should go even further and discuss a plan to target Russia's gas imports in its seventh set of economic measures.
Austria's Chancellor Karl Nehammer abruptly rejected this idea, however, saying it will not be a topic for discussion this time around.
Russia supplies around 40% of the EU's natural gas and 27% of its imported oil.
— Sam Meredith
Russia hits back at the EU over partial oil embargo, says it will find other importers
Russia has suggested it will find other importers for its oil following the EU's decision to impose a partial embargo.
Russian diplomat Mikhail Ulyanov said via Twitter: "As she rightly said yesterday, #Russia will find other importers." His comments refer to European Commission President Ursula von der Leyen.
"Noteworthy that now she contradicts her own yesterday's statement. Very quick change of the mindset indicates that the #EU is not in a good shape," he added.
The EU's von der Leyen has said the bloc's sixth round of economic measures against the Kremlin would effectively cut around 90% of Russian oil imports by the end of the year. She added the EU would soon return to the issue of the remaining 10% of pipeline oil.
— Sam Meredith
Russian forces claim a third of Sievierodonetsk is now under their control
Russian forces claimed to have seized control of one-third of the city of Sievierodonetsk, as they continue their offensive in Ukraine's Donbas region.
The Donbas refers to two eastern Ukrainian regions of Luhansk and Donetsk — a major strategic, political and economic target for the Kremlin.
"We can state it already that one-third of the city is under our control already," Leonid Pasechnik, head of the Russian-backed Luhansk People's Republic, told Russian state media agency Tass.
Pasechnik conceded that Russian forces had not been able to advance as quickly as hoped in the key eastern city, with fighting currently raging in an urban area.
— Sam Meredith
Zelenskyy says 32 media workers have been killed in the war
Ukrainian President Volodymyr Zelenskyy says 32 media workers have been killed since Russia invaded Ukraine on Feb. 24.
Among them is Frédéric Leclerc-Imhoff, a French journalist with the TV channel BFM TV, who suffered a fatal neck wound while riding in an armored evacuation vehicle that was shelled by Russian forces, Sky News reported.
"A little over a month ago, I gave an interview to this particular TV channel," Zelenskyy said in his nightly address. "This was my first interview with the French media during a full-scale war."
"My sincere condolences to Frédéric's colleagues and family," Zelenskyy said.
— Chelsea Ong
Oil prices rise after EU agrees to ban about 90% of Russian crude
Crude prices rose during Asia hours after EU leaders agreed to ban about 90% of Russian oil by the end of 2022.
The move would immediately affect 75% of Russian oil imports, says Charles Michel, president of the European Council.
The ban is part of the European Union's sixth sanctions package on Russia since it invaded Ukraine.
"The European Council agrees that the sixth package of sanctions against Russia will cover crude oil, as well as petroleum products, delivered from Russia into Member States, with a temporary exception for crude oil delivered by pipeline," according to a May 31 statement from the European Council.
That temporary exception covers the remaining Russian oil not yet banned, European Commission President Ursula Von der Leyen said in a press conference.
— Weizhen Tan
Sanctioned Russian billionaire completes the sale of the British soccer team he owned
A British soccer team owned for 19 years by a sanctioned Russian-Israeli billionaire linked to Vladimir Putin has been sold.
A consortium led by Los Angeles Dodgers co-owner Todd Boehly has purchased the Chelsea soccer team from Roman Abramovich, the billionaire who was sanctioned by the British government over his ties to Putin following Russia's invasion of Ukraine, in a £4.25 billion ($5.38 billion) deal.
Abramovich put the Chelsea team up for sale on March 2, a week after the invasion and a few days before the British government added his name to a list of sanctioned Russian oligarchs. Among other conditions, the sanctions barred the Chelsea team from signing new players or offering new contracts.
With the team now under new ownership, those restrictions will be lifted.
— John Rosevear
Read CNBC's previous live coverage here:
EU leaders reach deal to ban most Russian oil; French journalist killed in Ukraine
Copyright CNBC