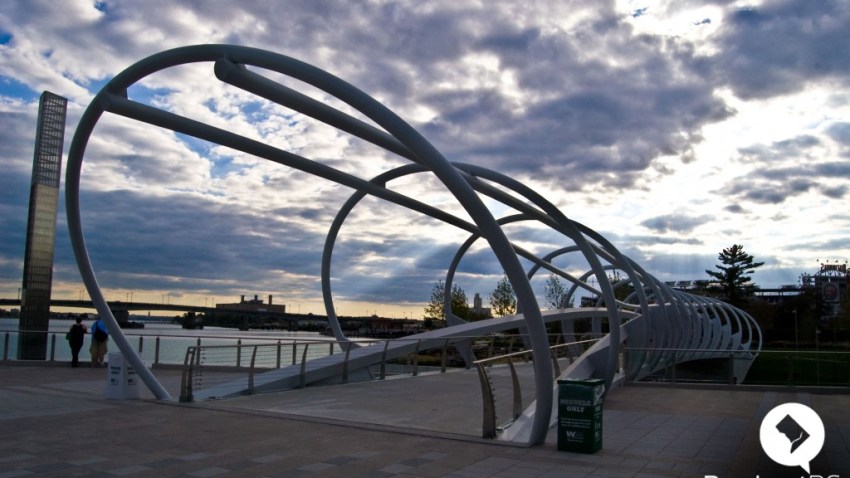 Whoever would have thought that D.C.'s riverfront had so much potential?
When some of us think of the riverfront, we think of walking the Tidal Basin during cherry blossom season and looking down to discover a dead fish floating belly up.
This is no longer the case.
Yards Park, located at 10 Water St SE, is where it is at. Seriously. We recommend this place as a legit date spot.
This past weekend, the first phase of Yards Park opened to the public and exceeded expectations. The developer is Forest City Development, and their mission is their commitment to building superior, long-term value for its shareholders and customers.
Over the weekend Yards Park was filed with people from every walk of life out to enjoy the beautiful weather, art, music, food and RIVERFRONT LANDSCAPING!
Art Whino teamed up with the Yards Park and Capital Riverfront to host the art show Beautiful Minds in the open air skeleton of the Navy Yard Lumber Shed building. This building will continue to be developed into a two-level glass retail pavilion comprising 34,700 square feet in the near future.
The park itself is professionally finished with a waterfall, fountains, boardwalk, comfortable outdoor seating, designated areas where ivy is set to grow up the walls, and a state-of-the-art pedestrian bridge, all of which is configured with an intricate and enchanting lighting system for evening enjoyment.
There is a super neat passage under the waterfall on the lower tier of the park where there is a pool to dip your feet on a hot summer day. The small attention to details set the mood of enjoyment, which was highlighted by the festival that ended with a spectacular show of fireworks.
Copyright RSDC - Ready Set DC