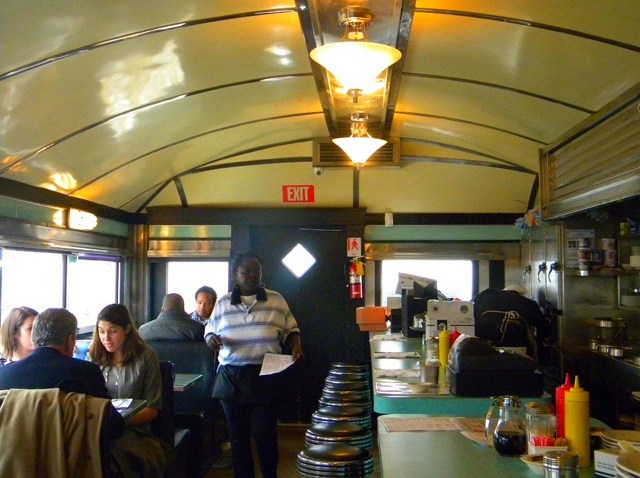 When you run a restaurant out of a space the size of a studio apartment, you've gotta get creative.

That's what Patrick Carl and Matt Ashburn have discovered. Their new Capital City Diner has space for a handful of booths, a row of stools... and not a whole lot of storage space. Tired of the headaches that go along with city permits, they've halted plans for a shed out back, instead storing extra supplies under seats. Carl says he was keeping canned goods in his car for awhile -- and we offered him our extra trunk space if we could have some French fries as a rental fee. Hey, that's only fair, right?

Carl and Ashburn purchased the 1940s chrome diner on eBay, of all places, and had the whole thing hauled down from New York to Bladensburg Road N.E. in the Trinidad neighborhood last summer.

After months of prepping the space and dealing with bureaucratic red tape, the structure formerly known as the Silk City Diner held a so-called soft launch on Friday -- "if you can call 500 people a soft launch," Carl points out.

The place has had a steady flood of customers since Friday, and since the place will stay open non-stop on weekends, one cook worked 20 hours straight. Carl confesses he stuck off a few times for brief naps, though.

Trinidad resident Pamela Mitchell lives nearby, and she's so enamored of vintage culture -- and the concept of this chrome-covered piece of nostalgia in her own neighborhood -- that this former truck driver is now serving up pancakes and burgers herself.

She snagged a few minutes at the counter to nosh on corned beef hash -- she says it's her favorite thing in the diner, but it's not yet on the menu. "We had some customers ask for it earlier today, so Charlie [the cook] made it."

Both Carl and Mitchell are thrilled about the response to the place so far. Mitchell says during opening weekend, the order tickets clipped above the griddle were two deep.

The food is typical diner fare -- hearty breakfasts, sandwiches and burgers -- but it's beautifully prepared and not at all greasy. And whether this sounds odd or not, we have to admit that the smell of waffles and fresh paint is an unbelievably cheery combination, bringing a bright spot to a neighborhood that could use one.

But it's not just the food that's classic here -- Capital City Diner is all about the retro. Indoor and outdoor speakers piped in Motown and early '60s hits (with a Michael Jackson tune or two sneaking in now and again). A heavy black rotary phone rests on the counter; a positively gorgeous dark red Frigidaire is tucked into a corner, right near an avocado green milkshake machine.

The entire place feels like a lovely time warp, and even once our perfect pancakes had disappeared, we didn't quite want to leave. We'll be back -- soon.