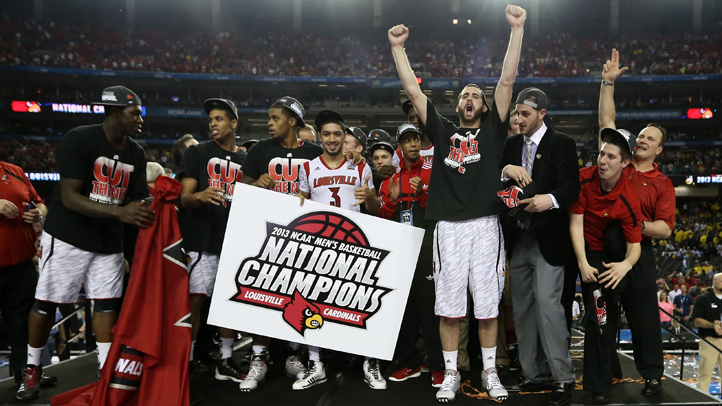 The Louisville Cardinals defeated the Michigan Wolverines 82-76 Monday night, claiming their first national championship since 1986 -- but it didn't look like that would be the case late in the first half.
That is, until Luke Hancock showed up.
Michigan jumped out to a 33-21 lead with less than four minutes remaining in the first half, but Hancock, the George Mason transfer, went on a tear, scoring 14 straight points to cut Louisville's deficit to 36-35.
Hancock finished with 22 points and was named the Final Four's Most Outstanding Player, becoming the first reserve player to win the award.
The junior was a key player on the Patriots' 2011 NCAA tournament team, hitting the go-ahead three-pointer to lift them to a second-round win over ninth-seeded Villanova, but when head coach Jim Larranaga left Fairfax for Miami, Hancock left for Louisville.
Long story short, the AP Coach of the Year and the Final Four MOP were at George Mason two years ago.
That being said, between Larranaga and Hancock, George Mason made an indirect impact on the NCAA tournament, even if it couldn't win the freakin' CBI.
---
Follow Adam on Twitter @AdamVingan and e-mail your story ideas to adamvingan (at) gmail.com.