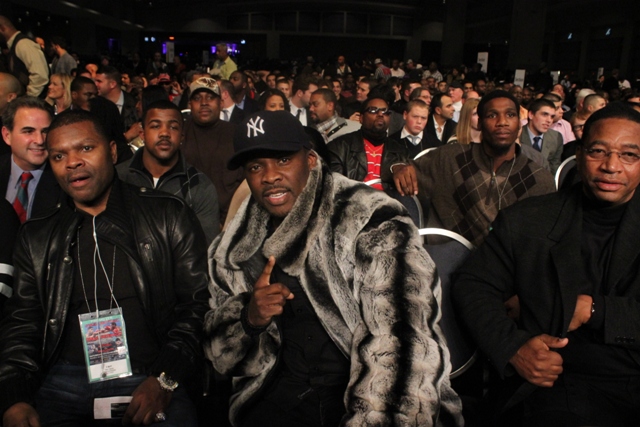 The boxing was good Saturday night -- real good. But it's hard to keep your eyes on the ring when there's so much, umm... fur around.
I'm not exactly sure how many animals lost their God-given coat that evening at the Amir Khan vs. Lamont Peterson fight at the Washington Convention Center, or even how much polyester was sacrificed for a faux look. But I can tell you one thing: Washingtonians have got some style, and apparently it involves all things furry.
Here's the thing -- you don't realize right away. It starts with one person in the crowd donning some sort of mink-like long coat. Then you notice someone else with their matching rabbitty hat-and-jacket ensemble. Next thing you know, there's a full-on leopard fur vest and even a jacket that looked like someone skinned poor Elmo.
You just don't see this stuff every day. Don't get me started on the women. Ladies! I applaud your fearlessness. There were short SHORT dresses in sequins, gold, silver and purple. I think I sprained my ankle just looking at their stilettos. I saw jump suits and wigs. I mean, who can pay attention to the fights when there are so many shiny objects running around.
So, I'm sure the big question on everyone's mind is, "So what did you wear?" Moi? Well, let's just say I rocked my suede platform boots. But I kept it rated G -- only because I was technically "working."
Besides, if I knew fur (or at the very least faux fur) was the new black, then I think poor Cookie Monster would have been sacrificed. I mean, who doesn't need a furry blue vest?