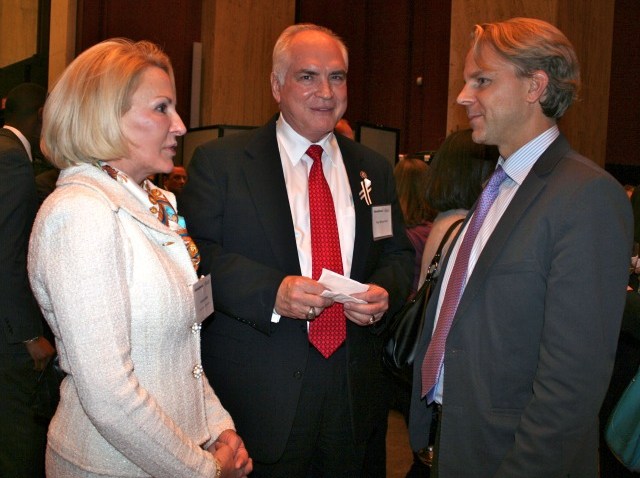 The best place to get a date in Washington last night was on Capitol Hill at the State of The Union address; just ask Reps. Peter King (R-N.Y.) and Anthony Weiner (D-N.Y.) who did their part in promoting the idea by sitting together, although we doubt they held hands. They, of course, were the "couple" that made national news on how Date Night should work. Niteside explored the phenomenon a step further at reception hosted by the National Journal.

The "Kumbaya"-style seating was the brainchild idea of Sen. Mark Udall (D-Colo.), who suggested Republicans and Democrats do a little rendition of musical chairs to give the appearance of love, honor and respect for each other during the State of the Union address.
For those too young to remember, "Kumbaya" was a song catapulted to fame by Peter, Paul and Mary whose lyrics suggested laughing, praying, crying and singing together accomplished by holding hands and swaying to the music.

But how did this night really play out for congressional members? Niteside asked several guests at The National Journal and The Atlantic's pre-speech reception for the newest members of the 112th Congress, held at the Library of Congress, to weigh in on whether they thought these dates would develop into second dates, longterm relationships or (holy horrors) just be one-night stands.
John Fox Sullivan, publisher-at-large of Atlantic Media Company, wondered how many of them went out and had dinner afterwards or even talked to each other or even had a second date. "Is this just the first trial, the first touch, the first experience or are they going to keep doing it?" he asked. "I think they'll be divorced by 9:12 or at least by 10:15."
When asked how he felt about Nancy Pelosi (D-Calif.) turning down Eric Cantor (R-Va.) to be his date, he said, "Good choice on her part because I don't think she could fake it and pretend they were really having a good time together. I doubt if they will end up anywhere within a hundred feet of each other, now or any time."
Rep. Mike Kelly (R-Penn.) didn't have a date; he was planning to sit with his friends form Pennsylvania. "You know what?" he said. "I thought that with all the things that are going on, who I sit with is well, not important. These things get footballed around too much. I really didn't make a conscious decision to sit with anyone."
Rep Steve Cohen (D-Tenn.) had four dates. Wondering where that was going, Niteside asked him to explain the arrangement. "Well, at first I was going to sit with Dan Burton [R-Ind.], but Congressman Burton had a familial circumstance so he wasn't going to make it. So then, my friends Mary Bono [R-Calif.] and Connie Mack [R-Fla.] who operate as a team, joined in so I will be both bipartisan and bicoastal. And Dana Rohrabacher (R-Calif.) is joining us. He is one of my good buds, so the four of us will be together."
Rep. Randy Hultgren (R-Ill.) wasn't all that pumped up about date night. "I'm just going to go over and find a seat. Where ever there is a seat open, I'll take it."
Rep. Donna Edwards (D-Md.) wanted us to know that she plunged into the Potomac over the weekend -- it was 18 degrees and the water was 34 -- to show us that she was fun. And yes, she had a date. "I'm wearing pink," she said, "because I'm sitting with the congressional women's softball team and we play for breast cancer. We are a bipartisan group and we already like each other."
As to whether she thought this whole gimmick was useful, she said, "You know, when I first came to Congress, I didn't even know you were supposed to sit anyplace special, and I actually ended up sitting on the wrong side of the aisle." (More holy horrors.)
Sens. Mark Begich (D-Alaska), Mike Johanns (R-Neb.), Bob Corker (R-Tenn.) and Edwards (D-M spoke on "insights, from policy and protocol to people and places to know." Justin Smith of Atlantic Media promised not to bore us with the detail of their new website design. We were grateful.
As for date night, the whole thing sounded like the movie "Eat, Pray, Love" and that move bombed.
Pictured: Rep. and Mrs. Mike Kelly and Justin Smith, President of Atlantic Media