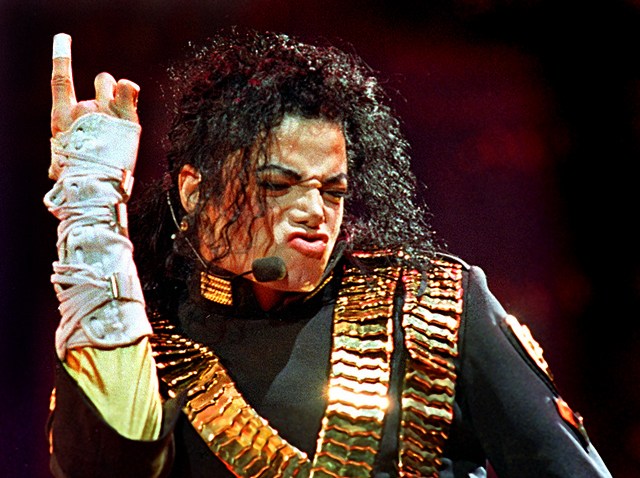 It was never intended to be a shrine. Jewel Lewis-Hall just couldn't help herself.
On the day Michael Jackson died last year, the 55-year-old grandmother placed a photo of the King of Pop on the cluttered front porch of her northeast Washington rowhouse. She added another. And another and another. Soon 10 pairs of Michael Jackson's eyes stared at passersby on her busy block of Eighth Street between Florida Avenue and rapidly gentrifying H Street. Then 25 pairs.
As the months went by, Lewis-Hall and her daughter, Maxcine Lewis, 27, kept adding to their public display of affection. Posters. Album covers. A beaded glove. Stuffed animals. Giant red plastic hearts. A rose.
A huge shade drops down from the porch ceiling to reveal the message:
Michael Jackson
King of Entertainment
We'll Never Say Good bye!
Love Always
Jewel
On some days a television placed on the porch plays Jackson videos and concert footage. It's hard to walk up the steps and into the house without knocking a Jackson likeness off its pedestal.
Intended or not, a shrine had been built, the Washington Post reported.
As the Michael memorabilia multiplied, more and more passersby stopped to stare back. Bus riders would get off in front of the home for a closer look. Someone painted a portrait of Michael and left it on the stoop. A couple of pictures were swiped. That hurt.
"You know, all they would have had to do is ask me," Lewis-Hall said. "I would have gone back in the house and gotten them a picture."
On Friday, the first anniversary of Jackson's death, Lewis-Hall and her family are throwing a party. Music and dancing. Ribs and corn, potato salad and prizes. It's come one, come all. There's only one requirement.
"You gotta bring that Michael Jackson spirit!" Lewis-Hall shouted to a young man who slowed down on his bike to ask about it.
They're not simply obsessed, this mother-and-daughter pair. Their feelings for Michael are much deeper. They love him. And have for many years. They never met him or saw him perform in person, but they have a history with him. As a little girl, Maxcine secretly wished that her mother would meet Michael Jackson and marry him and that he would become her stepfather. They would then live happily ever after at Jackson's Neverland Ranch. On one of Jackson's long-ago visits to Washington, Jewel sent a letter to his hotel inviting him to services with her Jehovah's Witness congregation. They feel tied to Jackson, and their porch is how they stay connected with someone they still can't quite believe has died.
"When someone that I love is gone, I still want to see them. And I can sit right here on my porch and, bam! I can see him," Jewel said. "He's like family."
"He was such a great entertainer," Maxcine added. "He was giving. He didn't just cater to blacks. He catered to whites and Asians and everyone. He was just a real genuine person, and his music spoke to everyone."
Lewis-Hall, who works nights cleaning Senate office buildings and days serving food at Anacostia High School, has been accumulating her collection for years. But lately she's been going overboard on all things Jackson, scooping up old albums and posters at flea markets and T-shirts at department stores.
"Every time I get a chance I go and buy $50 worth," she said.
After guessing that she has 100 Jackson photographs, she took a visitor inside and revealed easily several times that number. As she leafed through them, she displayed the excitement of a kid showing off prized baseball cards.
"Look at Michael!" she squealed pulling out an early Jackson 5 vintage photo. "Look. At. Michael."
On the walls, pictures of Jackson (and several of President Barack Obama) shared equal billing with photos of children and grandchildren. On the turntable, Jackson's "Dirty Diana" played softly.
When asked what her husband thinks about the shrine, Lewis-Hall just smiled. A long, long smile. The smile of victory.
"He knows I'm crazy about Michael Jackson," she said finally.
"He just really doesn't have a say-so," her daughter added, laughing. "If he told her to pack this stuff up, he'd have to leave."
They can laugh about what the porch of the home they've owned for 13 years has become, but they're serious about M.J. and they clearly enjoy the stir their passion has created. None of their neighbors has complained, they said, and almost all of the feedback they've received has been positive. Almost all. Jewel said one man stopped to ask why they were "promoting a pedophile," and she shot back asking who had made him judge and jury. Then, "I told him to get his little self up the street."
As she looked forward to Friday, she imagined the day will be both joyful and difficult.
"I think it's going to feel like it just happened," she said. "Like we're living his death all over again."
But she was also excited about getting friends and strangers together to celebrate "Michael's spirit and his joy."
As for the shrine, she'll probably clear it all away soon, right?
"No, I really can't see myself taking it down," she said slowly, as if the thought has made her sad. "If anything, I'll get more stuff. Better stuff."
Copyright AP - Associated Press