A large uptick in historic license plates on Maryland cars is worrying some safety experts.
The News4 I-Team found a loophole that could allow thousands of older cars to avoid safety and emissions inspections. One traffic safety expert said Maryland lawmakers should act to close that loophole.
Starting during the pandemic and continuing today, cars are more expensive than they used to be. Buying an older car can save money, and in Maryland, registering a car as "historic" can save even more: The registration fee is lower, and under Maryland law, historic cars don't need safety or emissions inspections. 

"Part of the safety inspection is checking the tires, checking the brakes, checking the windshield," Montgomery County Police Lt. Adam Currie told the I-Team. "None of those things are done [on a historic car]."
Currie told the I-Team he hopes Maryland lawmakers would work quickly to close what he agrees is a "loophole" in state law.
We're making it easier for you to find stories that matter with our new newsletter — The 4Front. Sign up here and get news that is important for you to your inbox.
The same Maryland law, however, prohibits those cars with historic tags from being used as daily commuter cars. As part of the application, Maryland requires the vehicle owner to "certify the vehicle will be maintained for use in exhibitions, club activities, parades, tours, occasional transportation and similar uses. The vehicle owner further certifies the vehicle will not be used for general daily transportation or primarily for the transportation of passengers or property on highways."
The I-Team, however, found plenty of so-called historic cars outside of car shows. On recent mornings, some were found driving on D.C. roads before sunrise, several at Maryland Park & Rides, one at a grocery store parking lot, and more on side streets, including one pickup loaded with work tools.
Figures from the Maryland Motor Vehicle Administration (MVA) show 165,763 vehicles registered with historic tags across the state. Data provided to the I-Team shows the agency issued 46,215 historic plates in 2022 alone.  That means 28% of all historic Maryland tags on the road were issued last year.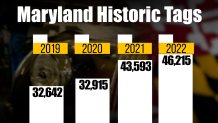 "Has Maryland all of a sudden discovered classic cars?" the I-Team asked Mario Bruno, a classic car mechanic who owns Bruno's Classic Muscle in Rockville. Laughing, Bruno replied, "No, I don't think so."
He walked past a 1940 Packard -- "an unbelievable car," Bruno noted -- a '69 Mustang getting a final buff before its owner picked it up, and a '57 T-Bird with historic tags.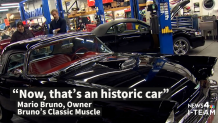 "Now, that's a historic car," Bruno said.
Local
Washington, D.C., Maryland and Virginia local news, events and information
But the law doesn't distinguish between classic and historic. And long as the car is at least 20 years old, it qualifies for the historic tag and the perks that go with it.
The I-Team found some drivers who don't appear to know that. One driver parked outside his Northwest D.C. office said, "If it's over 20 years, the best thing to do is get historic tags, register historic, and then you don't have to go through it all."
Asked how he knows his "historic" Jeep was safe to drive, he said, "Well, ah, you take a chance." In his case, he knows there are issues. He claimed a mechanic fixed it but the car would likely fail inspection due to a hole in the frame.
Safety experts also point to a concerning trend of advertising the safety-skipping benefits of historic cars.
"You'll see a lot of people, advertising vehicles, you know, historic vehicle, you don't need the safety inspection," Currie said.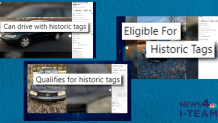 A quick look at Facebook found samples:
a 21-year-old Honda that "can drive with historic tags"
a 23-year-old Infinity "eligible for historic tags"
a 20-year-old Volkswagen which "qualifies for historic tags ... so no inspection required."
"It concerns me," Currie said. "The big point of the inspection is to make sure these vehicles are safe to be on the road."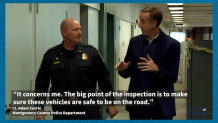 Virginia and D.C. have similar license plates, but they aren't as easy to get or keep. D.C. checks mileage on some historic cars -- which must be at least 25 years old -- every two years. Virginia won't give drivers a historic tag unless they have a traditional plate on another car.
There are no such limits in Maryland's statute.
Maryland's MVA turned down numerous interview requests from the I-Team to talk about the increase and any enforcement. In a statement, an MVA spokesperson said, "When a vehicle owner applies for a historic registration, the owner must certify specific requirements and limitations, which are laid out in the certifying document. Signing and submitting that document to the MDOT MVA is acknowledgement and understanding of those qualifications. Using a registered historic vehicle outside of those qualifications is subject to enforcement under Transportation Article §13–411 and Title 13-704 (b)."
The agency added it "is not the enforcing authority for historic plate misuse. MDOT MVA Investigation's personnel are administrative investigators and cannot initiate traffic stops on violators misusing tags, or issue citations. If an investigator has suspicion of misuse, the investigator can flag the registration for additional documentation. The enforcement process is handled by local law enforcement."
The MVA says, "The increase of registered historic vehicles is within expected range."
In a separate email, the MVA noted anyone can submit a complaint about a misused historic tag. A spokesperson told the I-Team a manual search of cases found four complaints last year of historic plate misuse but said it was unaware of any investigations that resulted in historic tags being revoked stemming from a complaint through the Investigations Unit in the past five years.
Reported by Ted Oberg, produced by Rick Yarborough, shot and edited by Jeff Piper, and shot by Steve Jones.