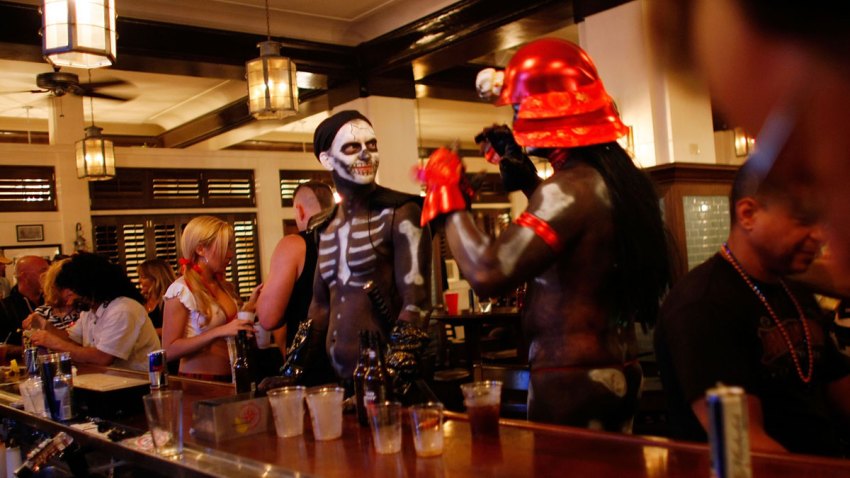 Here's the deal, interwebbers. Halloween is right around the corner and it's time to start making plans to freak out. Because we care so much about the state of your holiday weekend, we've compiled a series of lists of deliciously bad ways for you to ring in the holiday. You're welcome.
HALLOWEEN NIGHT OR BEYOND:
Halloween Social at POV Lounge at the W
515 15th St. NW
Party it up for a good cause. Thursday, Oct. 31 at 8 p.m., P.O.V. Lounge at the W Hotel is hosting its third annual Halloween social with proceeds benefiting the Washington Humane Society.
The Social will feature llive performances by DJ Ghost and DJ Phillipz, craft cocktails and a costume contest, with the winner to be awarded a W Washington, D.C. sleepover package which includes an overnight stay in one of the W WOW Suites and breakfast in bed. Ooooh, swanky.
Tickets ($40) are available online here.
Clarendon Halloween Crawl: The Rise of the Day Walkers
Arlington, Va.
Freak out with this Arlington crawl that will prepare mere mortals to usurp the Halloween-themed power from things that go bump in the night. The humans will rise again! Well, they'll rise Nov. 2, from 2 to 9 p.m., anyway. The crawl will saunter through some of Arlington's most popular bars including Whitlow's, Spider Kelly's, Claredon Grill and plenty more. Each bar will host special deals all day.
Tickets are available now and early birds can purchase their tickets at a discount ($10) until Wednesday, Oct. 16 at 11:59 p.m., when ticket prices will increase. As with all good crawls, costumes are encouraged, and prizes will be awarded to the best-dressed. To get in on the fun, purchase tickets here.
Blue Öyster Cult
The Hamilton
Because the occult can be scary too. If trick-or-treating and bar crawls are less your scene this Halloween, or you just need something to do in addition to that other stuff, join Blue Öyster Cult at the Hamilton on Halloween night, Thursday, Oct. 31.
Doors open at 6:30 p.m. for this legendary band and the show begins at 7:30 p.m. Join the BOC to sing about the Reaper, Godzilla and Citites on Flame. Well, the flames were caused by the rock'n'roll, but it still fits the holiday spirit.
The show offers both seating and standing room tickets for $54 apiece (when purchased in advance), and $59 when purchased on the day of the performance. Tickets can be purchased through the Hamilton website.
PAST:
Monster Crawl
Clarendon, Arlington, Va.
Clarendon's Monster Bar Crawl will kick off the weekend before Halloween on Friday, Oct. 25, leaving you plenty of time to take advantage of this uber fun crawl as well as a plenty more cool stuff on the list too. The crawl will kick off at 4 p.m. and last until 9 p.m., which leaves plenty of time for whatever shenanigans you can cook up for the rest of the night. Get tickets online here.
Nightmare on M Street
South of Dupont Circle
Nightmare on M Street bills itself as D.C.'s largest costumed pub crawl and is a fixture in Halloweentown local life. This annual event, held this year on Saturday, Oct. 26, will feature a midnight costume contest, have insane food and drink specials, and open up 30+ DC bars to crawl in and around, including staples The Front Page, Maddy's and McFadden's. Specials include $2 Coors Lights, $3 Blue Moons and $4 Bacardi drinks. You can get tickets ($22.50) online here.
Spirit Cruises' Boo Cruise
Departs from 600 Water St. NW, Pier 4
Not technically a booze cruise, but Boo Cruise is pretty close, right? Right. The cruise will hit water Saturday, Oct. 26 and cruisers are encouraged to come fully costumed. Try not to dress too creepily. We don't want you sending anybody overboard. Hors d'oeuvres and a dessert station should leave you with a full belly (although you may want to exercise caution around the Sweet & Sour Goblin Eyes.) Learn more and book your spot online here.
Halloween at Carnegie Library
801 K St. NW
Silence in the library is getting thrown out the window for this Halloween bash, a three-level, two-band, four-DJ, four-hour spectacular set for Saturday, Oct. 26. You'll also find an open bar, well, seven open bars and four party areas for your social enjoyment. Go in costume and don't forget the proper identification. This is a 21+ event.
Ticket prices range from $65 to $95 and include the open bars, different floor accesses and tickets to exclusive before- and after-parties hosted at the George and Mason Inn. For tickets, visit their website.