Holiday light displays are shining all over the Washington, D.C., area to brighten up these long, wintry nights.
Holiday festivities can't be complete without decorations, and few things can add a merry and bright twist to your evening than twinkling bulbs, illuminated statues and shining lanterns.
Whether you want to stay in the warm comfort of your car or take a walk to view the lights up close, there's something for everyone below.
Here's a guide on the dazzling light displays and decked-out trees you can visit in the 2023 holiday season in D.C., Maryland and Virginia.
We're making it easier for you to find stories that matter with our new newsletter — The 4Front. Sign up here and get news that is important for you to your inbox.
Holiday lights in D.C.
ZooLights
📅 Select days, Nov. 24 to Dec. 30
📍 National Zoo
💲 $6 per person
🔗 Get tickets here
The Scene
The most fun things to do and places to be in D.C., Maryland and Virginia
The zoo will glimmer and sparkle with 130 lights, 3D animal lanterns and displays showing habitats from oceans to grasslands to deserts.
The 15th year of ZooLights comes with one big change: a $6 price tag per ticket.
"The ticket fee is needed to offset the significant increase in costs associated with running this event," the National Zoo said in a press release.
The carousel will be running, weather permitting, and tickets to ride cost $4 each. Visitors can listen to live music by local artists and school groups or browse at gift shops. Several zoo restaurants will be open, and special holiday treats will be sold along with hot chocolate and wintery adult beverages.
Here's the full list of ZooLights dates:
Nov. 24, 25 and 26
Nov. 30, Dec. 1, 2 and 3. Nov. 30 is a Member Night.
Dec. 7, 8, 9 and 10. Dec. 7 is a Member Night.
Dec. 14, 15, 16 and 17. Dec. 14 is a Member Night.
Dec. 21, 22 and 23
Dec. 26, 27, 28, 29 and 30.
ZooLights runs from 5 p.m. to 9 p.m. most days. On Sundays, it ends an hour earlier, with the zoo closing at 8 p.m.
Indoor exhibits will be closed so animals can rest, the zoo said, but you can get separate passes to visit the zoo during its regular hours. The zoo will close at 4 p.m. and then reopen for ZooLights.
The event is rain or shine. Zoo parking costs $30 for nonmembers. It's also accessible from the Cleveland Park and Adams Morgan-Woodley Park Metro stations on the Red Line.
Enchant: Reindeer Games
📅 Nov. 24 to Dec. 31
📍 Nationals Park
💲 Tickets from $32 (adult) and $24 (junior)
🔗 Details
An all-new light maze, ice skating through a forest of Christmas lights and a holiday shopping village await in Nationals Park.
Kids can meet Santa and romp around the Play Place. Special theme nights include Paws n' Claus (pets welcome!), College Night and Military Night.
It's open on Christmas Eve, Christmas Day and New Year's Eve.
Georgetown Glow
📅 Dec. 1 to Jan. 7, 2024
📍 Georgetown Park
💲 Free
🔗 Details
Georgetown Glow features light-up and photo-worthy commissioned work from national and international artists. Visitors can enjoy the curated outdoor light art nightly from 5 p.m.
Events around Glow include more than 30 walking tours (tour guides charge a fee), a special shopping night, a cocktail crawl and more.
The outdoor public art will feature five works of art titled "Rotifers," "Follow the Light," "Talking Heads," "Darth Fisher" and "Neighborhood." Details on specific locations are on this map.
DC Holiday Lights
📅 Nov. 17 to Jan. 7, 2024
📍 Main Streets of D.C.
💲 Free
🔗 Details
Explore D.C.'s dazzling lights and decor in your neighborhood and beyond, including Logan Circle, Petworth, Columbia Heights and more. After exploring D.C.'s Main Streets, visitors can cast a vote on which corridor has the best displays.
The fun includes a scavenger hunt where visitors can earn prizes like gift cards starting at $25. You can sign up for updates on their website.
Columbia Heights Tree Lighting & Market
📅 Fri., Dec. 8, 4-8 p.m.
📍 Columbia Heights Civic Plaza
💲 Free
🔗 Details
After a tizzy over last year's Tiny Timber, Columbia Heights says this year's tree lighting will be back "bigger, much bigger, than last year." There will be family-friendly programming from 5-7 p.m., and an artisan market from 4-8 p.m.
CityCenterDC
📅 Sat., Nov. 25, 5-7 p.m.
📍 825 10th St NW, Washington, D.C.
💲 Free
🔗 Details
CityCenterDC's 75-foot Christmas tree is lighting up the night near the Gallery Place-Chinatown Metro station. It's a great place to stop for some holiday cheer after visiting the Downtown Holiday Market.
Holiday lights in Maryland
Garden of Lights
📅 Nov. 17 to Dec. 31
📍 Brookside Gardens
💲 $10 per person
🔗 Details
Visitors can stroll through the half-mile display in a magical winter wonderland in Brookside Gardens. Garden of Lights is open Nov. 17 through Dec. 31. It's open every night except for Nov. 20-23 and Dec. 24-25.
Tickets are $10 per person, ages 5 and older, and are timed-entry. This is a rain-or-shine event.
Hot chocolate and snacks will be available for purchase.
Winter City Lights
📅 Nov. 18 to Dec. 30
📍 4501 Olney-Laytonsville Road, Olney, Maryland
💲 $31 for kids; $34 for adult
🔗 Details
Take in the over one million lights in this 1.5-mile-long trail in Olney, Maryland. Visitors can walk through the woods and view the different displays and lights. According to the website, Winter City Lights is "one of the most technologically advanced Christmas light experiences in the country."
Adult tickets are $34 and children's tickets for those aged 4 to 12 are $31. Children under 4 are allowed free entry.
There will be bonfires, a Christmas tree, a snow tubing ride (for an additional fee), an ax toss and an assortment of concessions on site.
It's open on Christmas Eve, Christmas Day, every weekend and many weeknights through Dec. 30. Winter City Lights opens at 5 p.m. and stays open until 9 p.m., 9:30 p.m. or 10 p.m. depending on the night.
ICE! and Christmas at Gaylord National
📅 Through Dec. 31
📍 National Harbor
💲 $29.99+
🔗 Details
The National Harbor hotel's annual snowy spectacular has opened its doors.
ICE! brings Christmas classic Rudolph the Red-Nosed Reindeer to life with hand-carved sculptures made from more than 2 million pounds of ice. Tickets start at $29.99.
It's open on Thanksgiving Day, Christmas Eve, Christmas Day and New Year's Eve.
The winter wonderland doesn't end there. Fill up a day of cool activities with ice tubing, skating, the "Cirque: Spirit of Christmas" show, a snowball build and blast and storytime with Mrs. Claus.
Ticket bundles are available if you plan to hit multiple attractions.
Lights on the Bay at Sandy Point State Park
📅 Nov. 19 to Jan. 1
📍 Sandy Point State Park, Annapolis, Maryland
💲 $20 per car
🔗 Details
Watch the Chesapeake Bay come alive in this 2-mile scenic drive through Sandy Point State Park. In the 29th annual light show, drive past 70 animated and stationary displays. You can rent 3D glasses for $5 to really make the experience pop.
This year's displays are inspired by Annapolis. Kids can play a fun scavenger hunt during the drive, challenging them to find clues within the show and answer display-related questions. At the end, they can enter a drawing to win a prize.
Funds benefit the SPCA of Anne Arundel County.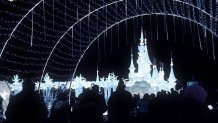 LuminoCity Festival
📅 Nov. 24 to Jan. 15, 2024
📍 Montgomery County Fairgrounds (501 Perry Parkway Gaithersburg, Maryland)
💲 General admission: $35
🔗 Details
Immerse yourself into a winter wonderland of colorful lights. In this 6-acre experience, the Montgomery County Fairgrounds transforms into a world with 20 holiday-themed areas.
A doughnut tunnel, a panda habitat and an Arctic wonderland are just a few of the things you might spot, along with a towering castle.
Winter Festival of Lights
📅 Nov. 24 to Jan. 1, 5-9:30 p.m. nightly
📍 Watkins Regional Park, Upper Marlboro
💲 $10 per car online; $15 at the gate
🔗 Details
For over three decades, families have been able to enjoy the holiday lights as they drive through Watkins Regional Park and 2023 is no different.
Visitors on Saturdays and Sundays are advised to arrive before 6 p.m. to avoid waits.
This year, attendees should enter from Route 202.
Washington, D.C. Temple Festival of Lights
📅 Nov. 30 to Jan. 1
📍 9900 Stoneybrook Dr, Kensington, Maryland
💲 Free
🔗 Details
The white towers of the Church of Jesus Christ of Latter-day Saints temple in Kensington are an eye-catching sight any time of year, and there will be extra sparkle for the Christmas season.
Christmas lights will illuminate between 4:45 p.m. and 9 p.m. nightly, and musical performances are scheduled most nights. Free parking is available.
Everyone is welcome to attend; visitors are requested to "dress modestly, use clean language, and treat everyone with respect."
More holiday lights in Maryland:
Holiday lights in Northern Virginia
Bull Run Festival of Lights
📅 Nov. 10 to Jan. 7
📍 Bull Run Regional Park, Centreville, Virginia
💲 $30 per vehicle
🔗 Details
Take a 2.5-mile drive through light displays, then stroll around the Christmas Village and a carnival.
The Festival of Lights will be open nightly from Nov. 17 until the end of the season. The schedule is 5:30-9:30 p.m. from Monday to Thursday. It will stay open until 10 p.m. on Friday, Saturday and Sunday nights, plus holidays.
It's open on Thanksgiving Day, Christmas Eve, Christmas Day, New Year's Eve and New Year's Day.
Tickets are on sale now. Visitors only need to buy one ticket per vehicle. Buses carrying more than 15 people will need to buy a $75 pass.
Note that the Village and carnival are closed on Tuesday, Nov. 21, due to weather.
Meadowlark's Winter Walk of Lights
📅 Nov. 10 to Jan. 7
📍 Meadowlark Botanical Gardens in Vienna, Virginia
💲 $18-$22
🔗 Details
Take an evening stroll through Meadowlark Botanical Gardens and be surrounded by lighted trees and displays featuring nature, winter and holiday themes.
Visitors can drink a hot beverage as they walk through the half-mile display. Top the evening off with roasting marshmallows for a yummy s'more.
The walk is wheelchair- and stroller-accessible. It's open on Thanksgiving, Christmas Eve, Christmas Day, New Year's Eve and New Year's Day.
Ice & Lights The Winter Village at Cameron Run
📅 Nov. 17 to Jan. 1 (ice skating opens Dec. 1)
📍 Cameron Run Regional Park (4001 Eisenhower Avenue, Alexandria, Virginia)
💲 $8 (Village, purchased online), $20 (Village and ice skating)
🔗 Details
Skate under the stars and take a family selfie in front of the light displays.
Ice skating tickets must be purchased online.
Daytime ice skating will also run Dec. 18 to 30 and Jan. 6 to Feb. 25.
Winter Lantern Festival
📅 Nov. 24 to Feb. 18
📍 8025 Galleria Drive, Tysons, Virginia
💲 Tickets from $17.99 (children 4-13) to $25.99 (adult)
🔗 Details
The Winter Lantern Festival's night walk surrounds visitors with the culture and craftsmanship of traditional Chinese lantern festivals. The lanterns will illuminate tunnels, light swings and life-size majestic creatures.
The LED lanterns, created by skilled artisans, are made with small pieces of silk cloth.
Along with viewing the 1,000 lantern display, visitors can also experience dino rides, a bounce house and picture opportunities.
Neabsco Boardwalk Holiday Walk of Lights
📅 Fridays, Saturdays and Sundays, Dec. 1-17, plus Dec. 12 and Dec. 20-23
📍 Neabsco Regional Park, Woodbridge, Virginia
💲 Free
🔗 Details
Stroll the boardwalk, walking under light tunnels and festive displays at Prince William County's free light display.
Dec. 12 is a sensory night. Lights and volume will be reduced, and Neabsco expects smaller crowds.
Free parking is available at Rippon Middle School and Porter Traditional School, with overflow parking open at Featherstone Elementary. A shuttle bus will take visitors right to the light display.
Concessions and restrooms are available at the park.
More holiday lights in Northern Virginia
Want to know what's up for your weekend? Sign up for The Weekend Scene, our newsletter about events, experiences and adventures for you and for your family around the DMV.