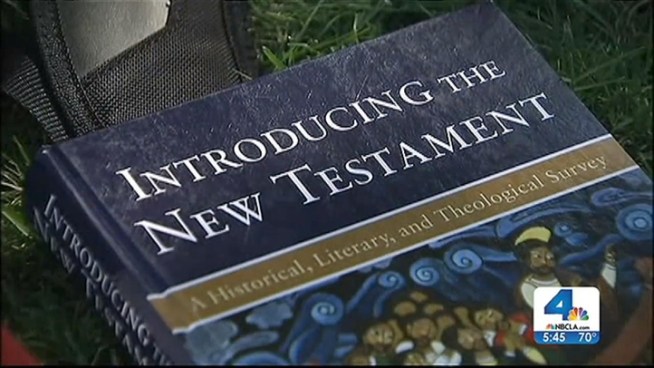 A theology professor at Azusa Pacific University is fighting to save his job after coming out as transgender to university officials. H. Adam Akley was asked to step down when he requested the university recognize his name and gender change. A version of this report aired during the NBC4 News at 5 p.m. on Oct.2, 2013.
Students rallied Wednesday behind a theology professor who was asked to step down from his position after coming out as transgender to officials at a Christian university.
When Azusa Pacific University Professor H. Adam Ackley, formerly Heather Ann Clements, formally asked the private school in Azusa to recognize his name and gender change, the university immediately asked him to leave his post.
Ackley's lawyer said the professor of 15 years did not violate any school policies.
"He's the greatest professor I've ever taken, so by taking him out of the classroom, especially mid-semester, is doing the students a huge disservice and it's a huge loss to the university," said student Margaret van der Bie.
Students said Ackley was still teaching at least for another week, and the university said it was in ongoing dicussions with him on his employment.
The school said it respects the students' right to protest.
"It doesn't necessarily mean we'll all agree on the same thing, but we are very much committed to the care and compassion of our students," said Kim Denu, an Azusa Pacific professor.
Ackley, who was once the school's chair of theology and philosophy, said he has received an "overwhelming amount of support" from students and colleagues, as well as on social media, since his story came to light.
More Southern California Stories: