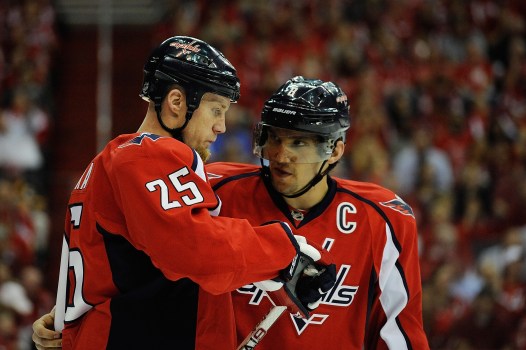 Getty Images
WASHINGTON, DC - APRIL 16: Alex Ovechkin #8 talks with Jason Chimera #25 of the Washington Capitals during the first period against the Boston Bruins in Game Three of the Eastern Conference Quarterfinals during the 2012 NHL Stanley Cup Playoffs at Verizon Center on April 16, 2012 in Washington, DC. (Photo by Patrick McDermott/Getty Images)
During the Washington Capitals' 4-3 loss to the Boston Bruins Monday, the latter spent most of the game - especially the third period - antagonizing the former. Words were exchanged and shots were fired, but none like what Jason Chimera did to Brad Marchand early in the final frame
Chimera "was trying to be sneaky," according to Marchand, but it did not work as Chimera earned a slashing penalty for his troubles.
If you ask me, I say the whole thing is pretty nuts.
---
Adam Vingan is co-founder and editor of Kings Of Leonsis, a Caps-centric blog, and is the Capitals Editor for SB Nation. Follow him on Twitter @Adam_KOL and e-mail your story ideas to adamvingan (at) gmail.com.