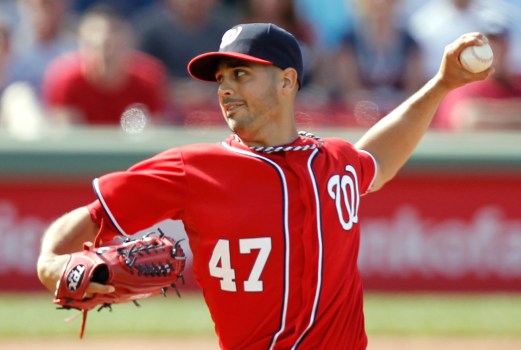 Getty Images
Will it be you hanging from Gonzalez's arm this weekend?
The Washington Nationals are hosting their annual Dream Gala Saturday at the Gaylord National Resort and Convention Center at National Harbor.
It is a lavish, black tie event where guests can mingle and/or schmooze (whichever your prefer) with players and coaches.
Yet, you -- and by you, I mean a "sexy single lady" age 21 or over (sorry, gentlemen) -- could be a very special guest as the date of pitcher Gio Gonzalez:
While I appreciate Gonzalez's honesty, I feel as if his personal ad is lacking some creativity. How about something like this:
Starting pitcher looking for a changeup. Throws a 10-to-4 curveball, but would like someone who can hang 24/7. An "A"-plus personality with a WORLD of knowledge. Loves traveling, family and comics. A gentleman, but wants to unleash my "NatGio" side.
You're welcome, Gio.
---
Adam Vingan is co-founder and editor of Kings Of Leonsis, a Caps-centric blog. Follow him on Twitter @AdamVingan and e-mail your story ideas to adamvingan (at) gmail.com.