The Winter Classic is finally here, and Thursday's weather is almost ideal -- despite a sun glare on the ice that had threatened a timely start to the game.
The glare led the National Hockey League to have the Washington Capitals and Chicago Blackhawks switch ends at the 10-minute mark of the first period, to eliminate any advantage created by the sun.
To eliminate any advantage created by sun glare, teams will switch ends at 10:00 mark of the first period. #WinterClassic

— NHL (@NHL) January 1, 2015
Raw Video: Intense Sun Glare at Nats Park Ahead of Winter Classic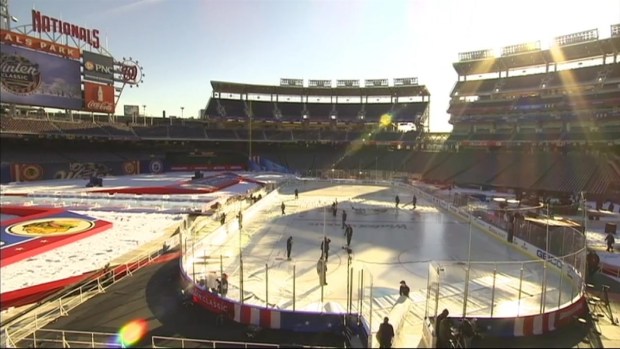 Ted Leonsis says no delay announced for start of 2015 #WinterClassic; if there is a delay it will be brief. Live now: http://t.co/jXFZ5YasNn

— NBCWashington (@nbcwashington) January 1, 2015
All this talk about the sun glare here at the Winter Classic. It's no joke. The reflection is blinding and brilliant off the ice. #Caps

— Dianna Marie Russini (@NBCdianna) January 1, 2015
The sun's shadow will help the situation over the stadium by the middle of the game, said Storm Team 4 Meteorologist Veronica Johnson.
As for the weather, arctic air -- thanks to an arctic area of high pressure -- will keep the ice cold at Nationals Park, with temps in the 30s and a clear sky.
Ok this is just SO cool!!! #WinterClassic. We are live at 11 on #NBC4pic.twitter.com/oVeqwbToNH

— Doug Kammerer (@dougkammerer) January 1, 2015
WEATHER FOR PREVIOUS WINTER CLASSICS
Last year's Winter Classic in Ann Arbor, Michigan, was awfully cold, not only for spectators but for the players themselves, who battled temperatures in the teens and even snow on the ice. That, of course, made moving the puck more difficult.
Many of the other Winter Classics over the past five years have had borderline ideal conditions, with temps in the 40s.