Heavy and slow-moving rain turned some D.C. roads into rivers, sent water crashing through the ceiling of a Virginia restaurant and flooded multiple levels of a mall parking garage Wednesday evening.
Flood warnings are in effect for D.C. and its suburbs.
About 1 to 3 inches fell down in most areas Wednesday night, Storm Team4 said. The rain tapered off about 10:30 p.m., but the National Weather Service said flooding issues would continue through the night.
Numerous roads are closed Wednesday night and it's not known at this time which of those roadways will be open for the morning commute.
Evening Weather, July 25
The National Weather Service said Sligo Creek in Silver Spring, Maryland, and Cranberry Branch near Westminster rose 4 to 7 feet in the span of just an hour. Flooding on Sligo Creek has been deadly in previous years, the NWS warned on Twitter. Rock Creek also surpassed its flood stage about 8:30 p.m.
Earlier in the evening, the NWS urged people in Georgetown, areas near the National Zoo, Rock Creek National Park, Connecticut Avenue and American University in Northwest D.C. should seek higher ground immediately. Creeks and streams in that area were rising rapidly as 1.5 to 2 inches fell in one hour, NWS said.
Turn Around, Don't Drown: How to Drive Safely in Flood Conditions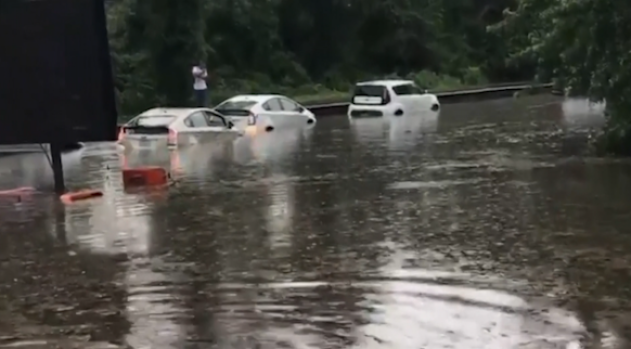 Flood warnings for the area have been extended to last until various times Thursday morning. In Stafford and Spotsylvania counties and Fredericksburg, a flood warning expires at 1:45 a.m.
A flash flood watch for D.C. and surrounding areas has been extended to last until 2 a.m. Thursday.
See a full list of alerts here.
Heavy rain has soaked the region for days. In some parts of the D.C. area, 10-12 inches of rain have fallen over the past seven days.

Thursday is expected to be mostly dry, but there is a threat of heavy storms from 4 p.m. to 10 p.m. Friday.
#DcsBravest on scene of 2nd water rescue call Grant Rd and 27th St NW. 2 Occupants of vehicle self evacuated and sheltered at nearby home. Large tree also fell close to DC FEMS vehicle. No injuries. Conditions in Rock Creek Park are very hazardous. pic.twitter.com/GIvkGvZuK1

— DC Fire and EMS (@dcfireems) July 26, 2018
#DCsBravest on scene Grant Rd & Davenport St NW. Mail truck over turned in the water. We searched area and found no victims. Avoid Rock Creek Park roadways due to debris and flooding. pic.twitter.com/Wk0RgUYUSl

— DC Fire and EMS (@dcfireems) July 25, 2018
Broad Branch Road. Again, this is a road — but it is not one to be driven on. Not until the flash flood threat subsides. pic.twitter.com/7TCfTyntfh

— Dave Dildine (@DildineWTOP) July 25, 2018
@capitalweather An hour ago in Ballston at SER Restaurant on Glebe. It started raining inside and the roof started falling in. Luckily I don't believe anyone was hurt. pic.twitter.com/m6mXcTL8L7

— Tracy Hardaway (@TracyMHardaway) July 25, 2018
@capitalweather Ballston Mall garage right now ... standing water on a lot of the floors pic.twitter.com/qrXXYBUe2V

— LB (@L_BO18) July 25, 2018
Flash Flood Warning for areas in RED until 9:15pm! PLEASE, never Drive through Flooded roadways! Numerous roads are closed and seeing rising water. pic.twitter.com/IDA6CxVTmA

— Doug Kammerer (@dougkammerer) July 25, 2018
Areas in green are under flood warnings through late tonight (until around 11PM). Turn around, don't drown as we deal with areas of heavy rain tonight. pic.twitter.com/UKUAlUT63W

— Amelia Draper (@amelia_draper) July 25, 2018
The rain has picked up in the last hour. Driving on Georgia Avenue near Olney. #nbc4dc@nbcwashingtonpic.twitter.com/imNyGhDVfO

— Jay Alvey (@nbcphotog35) July 25, 2018
W Willard rd in #poolesvillemd flooded out from heavy rain @nbcwashington@dougkammerer@amelia_draper@OhMyGOFF@JimCantorepic.twitter.com/rL35GW3ZCI

— NBCPhotog (@bforte22) July 25, 2018
Downpours soaked the region Tuesday morning, and a short-lived tornado damaged property at a high school in Fairfax County just ahead of the morning rush.
Small Tornado Damages Alexandria High School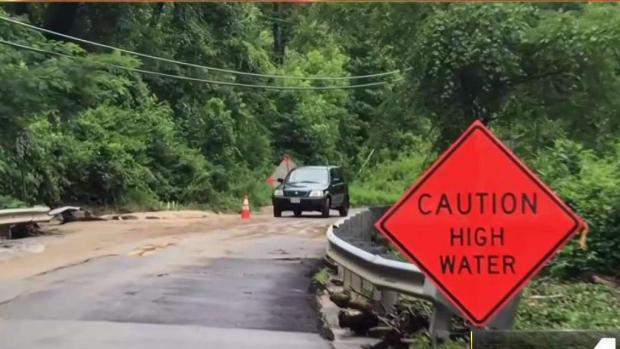 Multiple roads were closed Tuesday in Fairfax County, Virginia, due to flooded streets and downed trees. Police were maintaining a list of closed roads online here. Monday night, a woman was killed after a tree fell onto her home, possibly due to soaked ground, authorities said.
Rising Monocacy River Causes Flooding in Frederick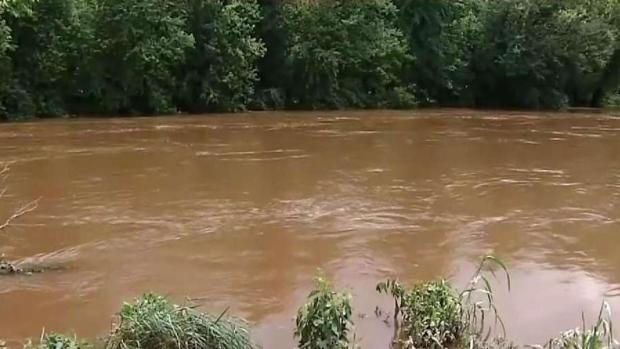 In Frederick, Maryland, the Monocacy River crested above the flood stage at 20 feet Wednesday. Grassy areas of Baker Park were soaked. Crews began work there Monday to battle the threat of flooding.
Several cars got stuck on flooded roads in a short period of time Tuesday morning, said Fairfax County Fire & Rescue. Three calls came in within a 30-minute period for cars stuck in the Reston, Annandale and Springfield areas. Not long after, another water rescue was reported at Arlington Boulevard at Prosperity Avenue in Fairfax.
Prince George's County's automated pumping stations were working to clear water before more storms rolled over the county.
Prince George's County Prepares for More Flooding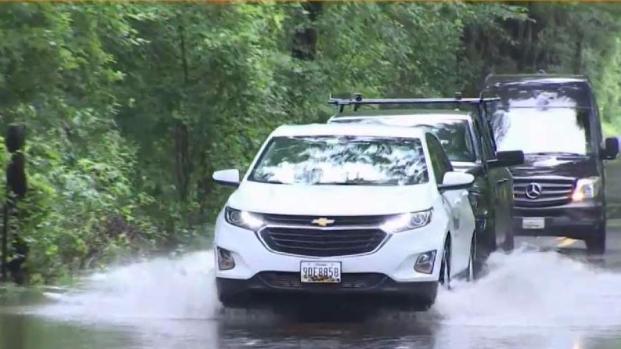 The tree that fell onto a Burke, Virginia, home, killing a woman Monday night, was likely toppled due to the soaked ground, Fairfax County Battalion Chief Willie Bailey said.
"Obviously with all the rain in the past couple of days, the roots of these trees have really loosened up," Bailey said.
The tree fell through the roof and onto the second floor, killing the woman. Her husband was nearby but survived.
Tree Falls on House, Killing Woman in Fairfax County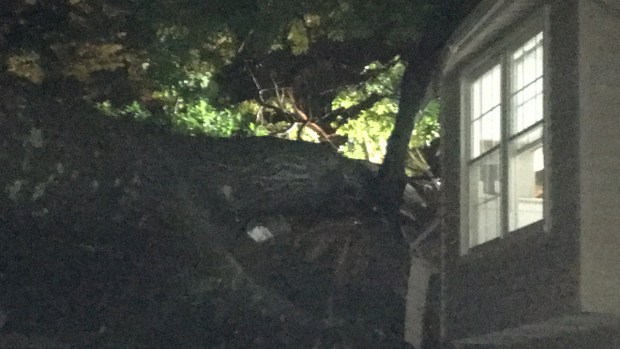 Impact Lingers From Saturday's Heavy Rain
In Baker Park in Frederick, Maryland, preparations began Monday to stymie the impact of floods.
Rivers and streams were still swollen from Saturday's heavy rain, which broke rainfall records at the area's airports. Storm Team4's Somara Theodore said parts of southern Maryland got an additional four inches on Sunday. D.C. wasn't hit quite as hard, with an additional 1.35 inches.
Crews in Montgomery County worked through Monday to repair a sinkhole that opened after heavy rains over the weekend.
Sinkholes Appear in Maryland After Heavy Rain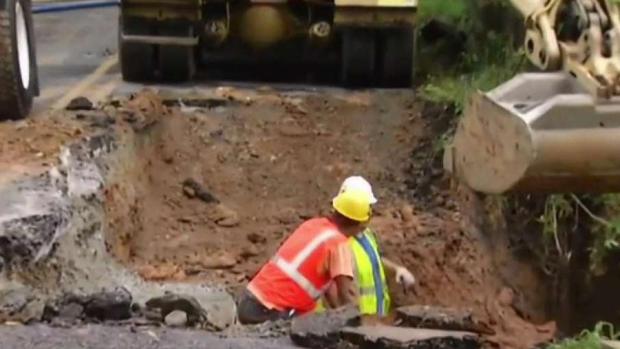 Heavy rain caused a sanitary sewer overflow at Washington Suburban Sanitary Commission's Broad Creek Wastewater Pumping Station in Fort Washington, Maryland.
WSSC says its water and wastewater systems are separate and that the overflow did not affect drinking water.
Massive Sinkhole Closes Road in Germantown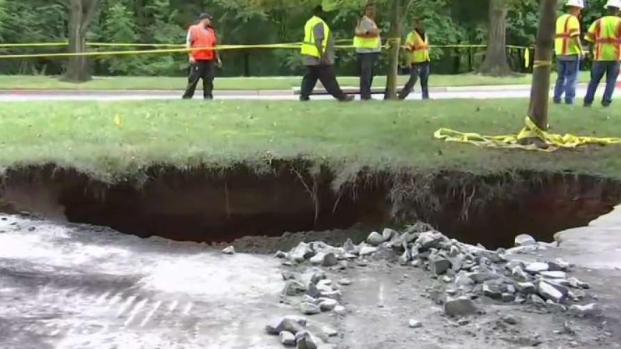 On Saturday, firefighters rescued two people who were trapped in a vehicle on Bradley Boulevard in Montgomery County, Maryland. Fire and rescue spokesman Pete Piringer said numerous roads were closed in the county because of flooding, and many residents' basements were flooded.
In Great Falls, Virginia, rescue workers saved three people who were stuck in a vehicle on a bridge.
Record-Setting Rainfall Soaks Region
Tuesday's rain was record-setting at Baltimore International Airport. The 4.07 inches that fell there was a record for that date and brought the monthly total there to more than 15 inches.
The weekend's storms shattered rainfall records at all three major airports.
Dulles International Airport's 1973 rainfall record of 1.15 inches of rain was far short of the whopping 5.02 inches that fell on Saturday.
With more than 4 inches of rainfall, Reagan National and BWI broke records from 1911 and 1887, respectively.