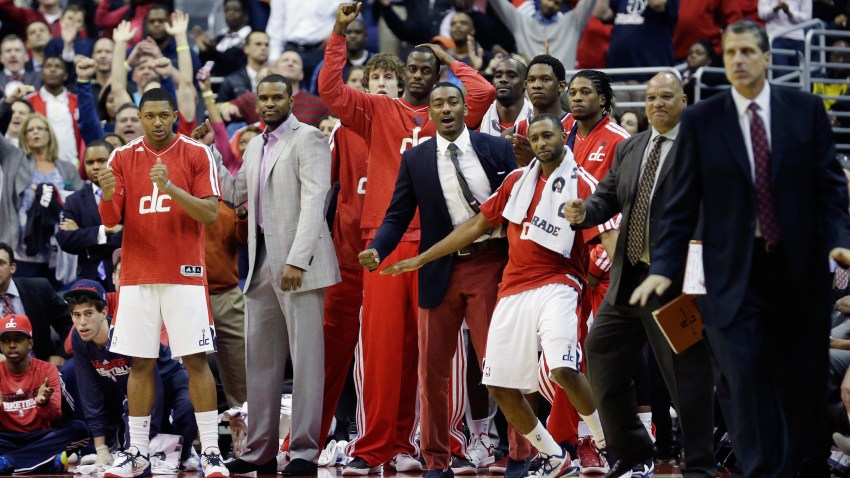 One night after leading the Washington Redskins to a 17-16 victory over the New York Giants on Monday Night Football, Robert Griffin III relaxed by taking in a basketball game at Verizon Center Tuesday. Oh, and the NBA-worst Wizards defeated the defending champion Miami Heat.
I think I may have buried the lead.
Yes, you heard me -- well, read me -- right. The Wizards, all 1-13 of them, beat LeBron James, Dwayne Wade and the league-leading Heat by a 105-101 score. Washington's victory was actually historic; their .071 winning percentage entering the game was the worst ever for a team that defeated the defending champion (with a minimum of 10 games). Hooray?
For more, we go to Heat owner Micky Arison.
Crap — Micky Arison (@MickyArison) December 5, 2012
Thanks, Mick.
Anyways, the Wizards beating the Heat is all well and good, but what about RGIII? Where did he sit? (Courtside in Ted Leonsis's seats) What did he wear? (A blue Adidas jacket) How much dap did he get? (A lot) If RGIII's mere presence can spur the Wizards to victory, then we need him at any future "fiscal cliff" hearings and NHL lockout bargaining sessions.
At first, I was a little skeptical, but after the Wizards' victory, I am now a firm believer in Black Jesus.
---
Follow Adam on Twitter @AdamVingan and e-mail your story ideas to adamvingan (at) gmail.com.