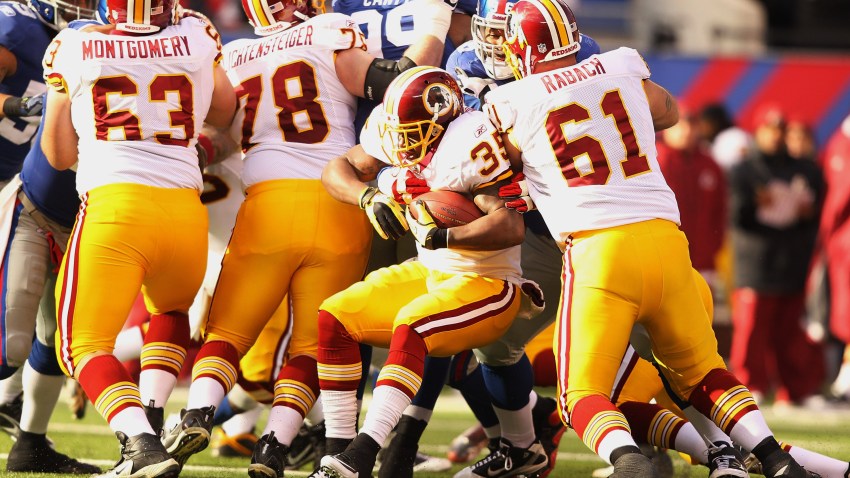 With the Redskins season having reached a merciful conclusion on Sunday with a 17-14 loss at home to the Giants, the focus shifts to the future, specifically which of the players being evaluated over the past few weeks by head coach Mike Shanahan have earned lasting roles with the team.
Of course, the coming months should see resolutions for the Albert Haynesworth and Donovan McNabb soap operas that came to define the Redskins in 2010. While Haynesworth is virtually assured to be gone, there remains some lingering possibility that McNabb could stay, with Shanahan on Sunday cagily saying that "nothing is out of the realm of possibility."
Those are the latest two reminders that the splashy "offseason champs" persona that the Redskins have assumed during the Dan Snyder era is in need of jettisoning for a more conservative approach to team building. To that end, the 'Skins draft position could make it difficult to get the attention-grabbing quarterback that one would assume the team would seek if it is indeed finished with McNabb.
Washington will select 10th in the first round, which is almost certainly too low for the team to get the two most prized quarterbacks coming out this year: Andrew Luck and Jake Locker. The Panthers, Cardinals, 49ers and Titans could all be looking to draft quarterbacks with their pick in the first round. Nevertheless, should he decide to forgo his senior season at Auburn, controversial quarterback Cam Newton could possibly be available for the Redskins. Newton would be an intriguing selection for a number of reasons, but the coming months will reveal just how concerned NFL teams are with the commitment scandal that has followed Newton this season.
There is also the possibility that the Redskins could attempt to trade ahead of the Cardinals into the top five to get either Luck or Locker. The problem with that would be that the Redskins would have to sacrifice a slew of draft picks that the team lacking depth can't afford to squander. And even with the success of Sam Bradford, the top pick in last year's draft, taking a quarterback high in the draft is still far from a sure-fire success.
However the Redskins decide to shape the team for next season, the team could face a fairly favorable schedule. Washington in 2011 might face only three playoff teams from this season, but one game against a playoff team will be on the road in Philadelphia.
In interconference play, the NFC East matches with the AFC East. Luckily, the Redskins will have a whole year to prepare for the Patriots and the Jets, who will both be visitors in Landover next season.
---
Fan, Follow and Text: Get the latest from NBCWashington.com anytime, anywhere. Follow us on Twitter and Facebook. Sign up for our e-mail newsletters and get breaking news delivered right to your mobile phone -- just text DCBREAKING to 622339 to sign up. (Message and data rates may apply.)