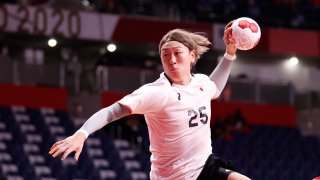 Norway upset Group A winner France in handball action on Sunday, but the highlight of the day was a frenetic ending in which Japan upset Portugal, letting Bahrain slip past the Portuguese for the final quarterfinal slot from the group.
Hosts slip Portugal with frantic late flurry
Japan 31, Portugal 30
Tokyo Olympics
Watch all the action from the Tokyo Olympics live on NBC
Anyone still not sold on team handball as a crazy-athletic, fast-paced, high-scoring, did-you-see-THAT sport just hasn't been watching.
If you watched Sunday's Group B see-saw battle between previously winless Japan and Portugal, you know. And you're likely sticking around until medals drape necks.
Japan and Portugal won't be on the podium; they'll be gone when group play ends. But the host country likely will have some pretty fond memories when it's all over, because they provided the finish of the men's tournament thus far Sunday at Yoyogi National Stadium and got its first win in five matches.
Down 29-28 with 2:32 left on the clock after Portugal snapped the penultimate tie of a match that had many, Japan tied it back up 26 seconds later, snapped the final tie with 1:04 left, then got the insurance it'd so desperately need with a goal at 0:20.
Portugal scored with five seconds remaining to close the scoring but fell to 1-4 as well.
- Mychael Urban
Other games
GROUP B
Egypt 30, Bahrain 20: Seemingly determined to make a splash in Tokyo, Egypt's men maintained the momentum they've established in Group B by doubling up Bahrain, 30-20. Up 15-7 at halftime, Egypt was on cruise control thereafter while improving to 4-1 in the group, which is headlined by Rio 2016's gold medalists from Denmark. Bahrain is 1-4 in the group but advanced thanks to Portugal's loss. MATCH STATS
Sweden 33, Denmark 30: Defending Olympic champions Denmark finished as Group B winners despite Sunday's 33-30 loss to Sweden. The Danes will face Norway in the quarterfinals. In a rematch of their world championship final earlier year, in which Denmark won its second straight title, it was Sweden who dictated terms as Jonathan Carlsbogard and Lukas Sandell scored six goals each. The defeat ended Denmark's perfect record in Tokyo. MATCH STATS
GROUP A
Spain 36, Argentina 27: Looking for its first win in group play, Argentina got off to a solid start but trailed at the half, 17-12, and eventually it was clear that only one team on the floor was a legitimate medal hopeful. That was Spain, of course, which pulled away after the break to finish second in Group A. MATCH STATS
Norway 32, France 29: The top team in Group A didn't need a result from this one but still made Norway work for the confidence-building win ahead of the quarterfinals. Norway broke a 23-23 tie with a 3-1 run midway through the second half, but France clawed back to within one with 2:40 left. Norway scored the last two goals to beat the team that has gone gold-gold-silver in the last three Olympics. MATCH STATS
Germany 29, Brazil 25: Led by Juri Knorr and Steffen Weinhold, Germany advanced to the quarterfinals and will face Egypt. MATCH STATS
Copyright NBC Olympics – Tokyo