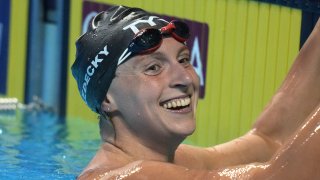 With five Olympic gold medals and 15 world championship gold medals, Katie Ledecky is the best female swimmer of all time.
Washington, D.C.-born, Bethesda-raised Ledecky is the world record holder in the women's 400-, 800-, and 1500-meter freestyle.
Our hometown hero has already won Olympic medals in Tokyo, including earning gold in the first-ever women's 1500-meter race.
After a year-long wait due to the pandemic, the summer games kicked off on July 23. Since Tokyo is 13 hours ahead of the Eastern Time zone, some competitions might be tricky to watch live. But we've got you covered. 
Sign up for our Olympics newsletter to get the latest Olympics news on Ledecky and all the athletes on Team USA right to your email first thing in the morning. You will receive a daily email at 8 a.m. with six stories about top competitions, viral moments, updates on U.S. Olympians and breakout stars. Our last email will come after the Olympics closing ceremony on Aug. 9.
Thanks for subscribing!