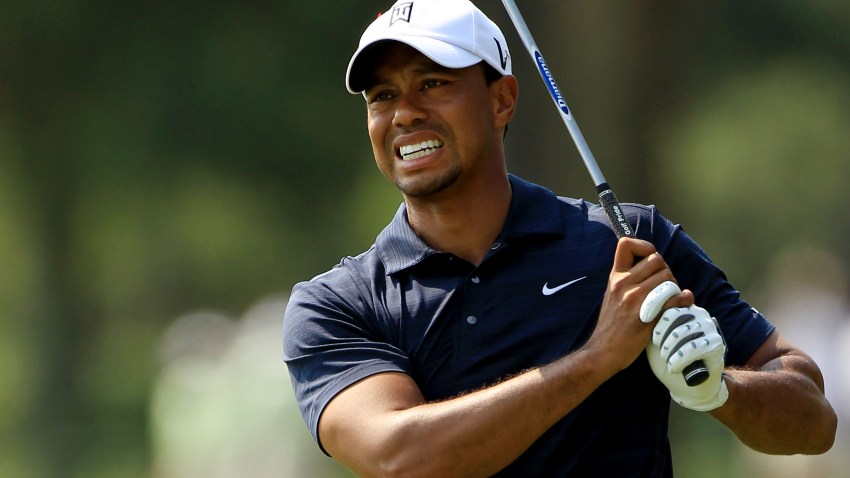 Tiger Woods lasted just nine holes at The Players Championship before withdrawing Thursday because of leg injuries.
What that means for his possible participation at next month's U.S. Open at Congressional Country Club in Bethesda, Md., is anyone's guess.
Woods, who hurt his left knee and Achilles' tendon during the third round of the Masters, limped noticeably during his nine holes Thursday. His 42 on the front nine was his second-worst score for nine holes in his PGA career.
After recording a bogey on the par-5 ninth hole, he handed his card to Martin Kaymer and then told Matt Kuchar that he was leaving early, according to the AP.
"I'm having a hard time walking," Woods told reporters after his round when asked where the pain ranked on a scale of 1 to 10.
The New York Times gives a good description of what it was like on the course and after his called it quits for the tourney:
By the seventh hole, Woods was trailing well behind his playing partners as he worked his way slowly down the fairway. By the time he walked across the bridge at the ninth hole, there was little question that he would not be going on. And when he removed his glove and gave it to his caddie, Steve Williams, beside the ninth green, all doubt was gone.

As he stood and answered questions, Woods did not once shift his weight off his right side. He said he did know that he had reinjured himself, but did not know the degree and would not know until consulting with doctors who, he said, had given him the O.K. to play.
Was the pain as bad as when he limped through the 2008 U.S. Open at Torrey Pines?
"No, my leg was broken there," he said, managing a smile. "It wasn't that bad."
So what does this mean for Tiger's immediate future -- especially the Open?
"I don't know," Woods said. "I just finished nine holes. Give me a few days to see what the docs say, and we'll take a look at it."
Oh, and if you're wondering, odds on Tiger winning the Open in Bethesda have dropped from 7-1 to 10-1, putting him in a tie with Phil Mickelson, according to Covers.com.