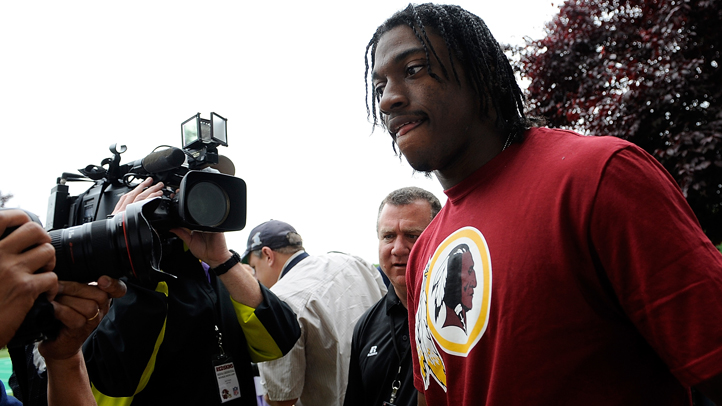 Robert Griffin III has yet to take a professional snap, and the kid is already firmly entrenched in the spotlight.
He's been on late-night talk shows; he's already won an ESPY; he's endorsed by a wide array of sponsors, hawking everything from video games to sub sandwiches (earning enough to realistically live off the sponsorship income during his first season).
So it should come as no surprise that when the Washington Redskins' rookie quarterback addressed the media for his first training camp interview Wednesday, it seemed like the local news cycle had come to a screeching halt. Every Washington-area news station and even the NFL Network stopped what they were doing and aired RGIII's comments. If only the air traffic control at Dulles would have gotten the memo.
Yet, even with the focus squarely on him, Griffin did not bask in the cameras' glow. While RGIII may be touted as the face of what has recently become a moribund franchise, he understands that a working body requires several parts.
"There really is no true 'face of the franchise,' because if we just had faces, we'd all be dead," he said. "You've gotta have a heart, some legs, some skin. That's those guys in there. I'm just the mask. Those guys are the body of the real team."
Griffin made sure to spend the time learning about those parts, convincing his receivers to join him in Waco, Texas, to work out during the five-week layoff between OTAs and training camp. For Griffin, the passing camp was not just about learning the playbook, but also learning more about his teammates and developing a level of camaraderie.
"Throwing with the guys over the break and doing those types of things gets you more familiar with them," Griffin said. "You can really see who's truly dedicated and who you have to continue to stay on to make sure they can show the team they are dedicated. But aside from that, working with those guys is a great thing."
"I wanted those guys to get a feel for who I was," he continued. "Sometimes you can try to explain to somebody who you are, where you come from, but it's best to just show them sometimes."
To his fellow Redskins, according to Griffin, he is not RGIII, the corporate spokesman with the flashy smile. He is simply "Robert," whose sole job is to "lead them to victory." Of course, that is easier said than done, especially for a team that has won three playoff games in the last 20 years and has gone through 13 starting quarterbacks since 2000. But Griffin, as evidenced again Wednesday, has a habit of saying the right things, so it's difficult not to believe him.
"It's just all business now," Griffin said. "We're getting down to the season time and I think everybody came back in great shape. Everybody's ready to go out and compete and I am too."
Others will surely judge Griffin on how he lives up to the hype surrounding him, but Griffin himself will not have any part of it. He's not focused on statistics (he said that "doesn't always believe in them") or his own personal stardom (he made it clear Wednesday that he will not be attending any award shows or doing any commercials during the season. "All that's done," he said). Instead, Griffin, who was sporting a burgundy shirt with "No Pressure, No Diamonds" emblazoned in gold across the front, will judge his worth on what the Redskins do collectively.
"Success for us is winning football games," he said. "How many that is, I have no idea. It's definitely more than one, more than two, more than three. I don't set individual goals, so everything I do is based on the team: if we're winning."
---
Follow Adam on Twitter @AdamVingan and e-mail your story ideas to adamvingan (at) gmail.com.