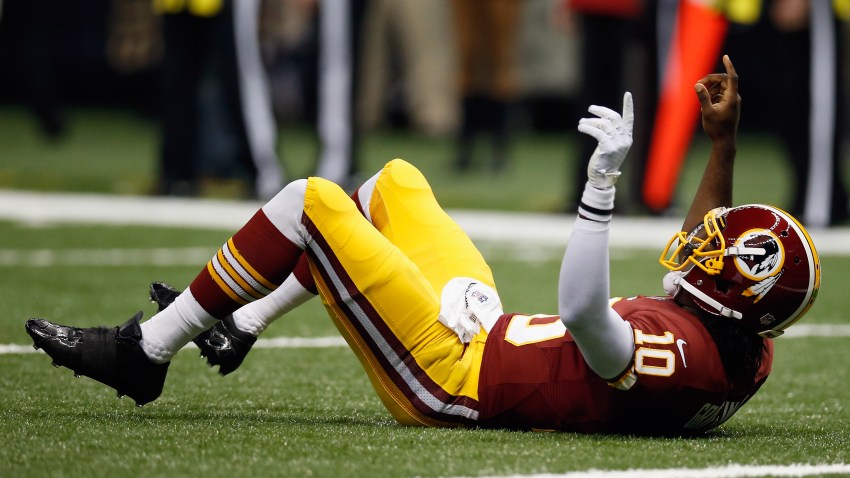 Ever since Malcolm Jenkins flattened Robert Griffin III prior to throwing his first career touchdown pass Sunday, "Griffining" has been all the rage.
What simply was a knee-jerk reaction (though his knees weren't necessarily involved) to a 88-yard touchdown has now become an iconic pose à la "Tebowing." Everyone from children to grown men have willingly sat on the floor to pay homage to Griffin. Even ESPN covered the craze, so you know it's real.
During his weekly press conference Wednesday, it was only a matter of time before somebody asked RGIII about the latest phenomenon sweeping the nation (well, Redskins Nation, at least).
"Who would have thought getting knocked on your butt and throwing a touchdown would start a phenomenon like that?" he said. "'Griffining' and 'RGIII' and whatever they want to call it, I'm not opposed to it. It's pretty funny to me."
"I haven't seen anyone do it," he continued. "Some of my teammates have made fun of me for it, like I started it on purpose. It is what it is. People are going to have fun with what they're gonna have fun with and I'm not gonna stop them."
Hear that, 'Skins fans? He hasn't seen anyone do it and he's not going to stop you. Sounds like an invitation to me.
---
Follow Adam on Twitter @AdamVingan and e-mail your story ideas to adamvingan (at) gmail.com.